Retro Film Review: Bowfinger (1999)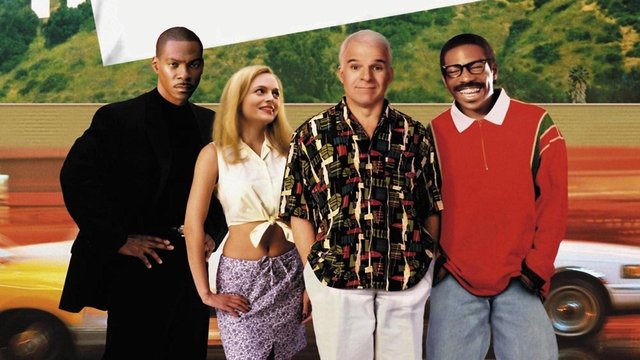 Audacity was never a virtue much appreciated in Hollywood. It was even less appreciated when film-makers tried to be audacious while making a films about Hollywood itself. This explains why Bowfinger, 1999 comedy directed by Frank Oz, wasn't as great film as it could have been.
Protagonist of the film is Bobby Bowfinger (played by Steve Martin), enthusiastic but not very talented or successful Hollywood film-maker. With his career and personal finances in dire straits, Bowfinger sees salvation in the form of science fiction script written by his accountant. He tries to pitch that story - aliens invading Earth in the form of raindrops - to the most powerful Hollywood executives but only Renfro (played by Robert Downey Jr.) seems willing to consider it, albeit under one condition. Bowfinger must convince major star Kit Ramsey (played by Eddie Murphy) to take part in the project. Ramsey, of course, refuses, but that doesn't discourage Bowfinger. He has decided to have Ramsey in his film one way or the other so Bowfinger and his crew begin to film Ramsey without actor's knowledge. Hollywood superstar begins noticing some odd characters around him and becomes increasingly paranoid, while Bowfinger tries to convince his sceptical crew that the actor's strange behaviour is part of revolutionary acting technique.
In this film Steve Martin doesn't only show a great comedic talent, but also, as a scriptwriter, an ability to satirise some aspects of Hollywood – place where success is owed more to ruthlessness and good connection than to genuine talent. His talent is, however, under the shadow of Eddie Murphy who used the character of Kit Ramsey for a little bit of self-parody. Murphy is great both in double role of Hollywood superstar increasingly disconnected from reality and his "developmentally challenged" stand-in. Bowfinger is very funny film, even in scenes that have less to do with Hollywood itself and more with Martin settling some of his personal issues, especially in the scenes in which Heather Graham plays aspiring actress who builds her career on casting couches (and whose character was allegedly modelled on Martin's ex-girlfriend Anne Heche).
On the other hand, Bowfinger is less effective when it tries to make fun of those on the very bottom of Hollywood food chain - small independent film-makers who try to compensate lack of money and clout with their ingenuity. The comedy is too broad and many gags aren't as funny as they could be. In the end the very Hollywood mediocrity that this film tried to mock wins over and the finale of Bowfinger is predictable and not very effective. Another problem of Bowfinger is pacing - the beginning is painfully slow and it takes some time for viewers to really begin laughing. However, a solid acting, some really funny scenes and capable direction manage to turn Bowfinger into entertaining little comedy that should be forgiven for not living to its potential.
RATING: 5/10 (++)
(Note: The text in its original form was posted in Usenet newsgroup rec.arts.films.reviews on December 2nd 2004)