Retro Film Review: Lost in Space (1998)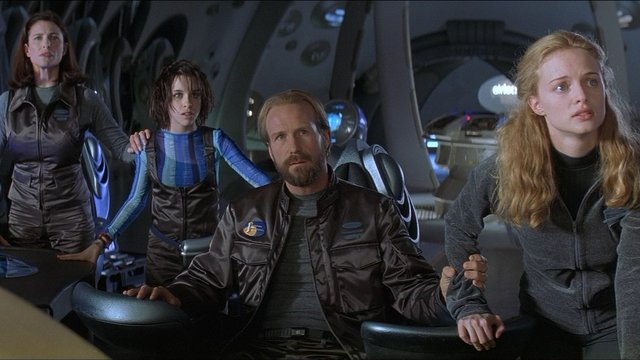 Turning old films and television shows into modern Hollywood blockbusters doesn't have to always produce disastrous results. When such disasters happen, they are usually result of Hollywood studios playing safe and remaking successful titles instead of bad ones. Common sense tells us that the remakes of bad films are more likely to be better and more successful than the originals. But such opportunities don't always get exploited. Good example for that is
Lost in Space, 1998 science fiction adventure directed by Stephen Hopkins.
The plot of the film is inspired by cult 1960s television show Lost in Space. The show, based on the idea of typical American family having to travel through space, quickly succumbed to camp and never had chance to claim the same loyal following as Star Trek. That, of course, hasn't prevented New Line studios from trying to emulate success of Star Trek movie franchise. Studio executives were apparently unconcerned with the fact that the most loyal fans of the show were people in their 40ies and 50ies - hardly the crowd that would flock to theatres at the weekends. The story and characters were, however, slightly updated.
Unlike the show, set in 1990s, the film starts in 2058. Planet Earth is some ten years away from having all of its resources stripped away and thus becoming uninhabitable for mankind. The only hope lies in colonisation of Alpha Prime, project that can be made viable only if the time for interstellar travel is shortened. The interstellar portal is built in the Solar system, but someone has to travel to Alpha Prime and set the similar portal on the other side. Professor Robinson (played by William Hurt), his wife, three children and military pilot Major Don West (played by Matt Le Blanc) have volunteered for the job. Their space ship Jupiter 2, however, is sabotaged by Dr. Zachary Smith (played by Gary Oldman), evil scientist working for terrorist organisation known as Global Sedition. But things don't go as planned and, instead of being killed, Robinsons and their ship end upin the unknown corner of galaxy. Together with Smith, who remained stuck on their ship, they must find a way home.
The ending of Lost in Space suggests a sequel that never came. And this is hardly surprising, because the screenplay was written by Akiva Goldsman, author whom many fans blame for the destruction of Batman film franchise. Somewhat interesting opening is followed by the series of spectacular action scenes intertwined with poor one-liners, jokes that could hardly make anyone laugh and Goldsman's lame attempts to portray Robinsons as 1990s dysfunctional American family in futuristic suits. Few more elements are thrown in more than obvious attempts to attract as much crowds as possible. One is romantic subplot involving dashing Don West and Robinsons' older daughter, played by Heather Graham. Another is cute little CGI alien named Blawp, introduced in order to bring more money to the studio through toy sales.
Lost in Space, on the other hand, isn't complete disaster. Futuristic production design by Norman Garwood is truly impressive, and, together with special effects, creates images that closely resemble visions of future depicted in 1960s science fiction novels and magazines. Director Stephen Hopkins, although unable to compensate for the flaws of Goldsman's text, handles action scenes very well. The acting is solid and in some cases even surprisingly good. Lacey Chabert is impressive as annoying brat while Gary Oldman, in his role of the villain, tries to channel the actor from the original series rather than deliver another of his over the top performances. Yet, despite that, a great chance for successful film franchise was lost.
RATING: 3/10 (+)
(Note: The text in its original form was posted in Usenet newsgroup rec.arts.films.reviews on May 3rd 2004)