Retro Film Review: The Man in the Iron Mask (1998)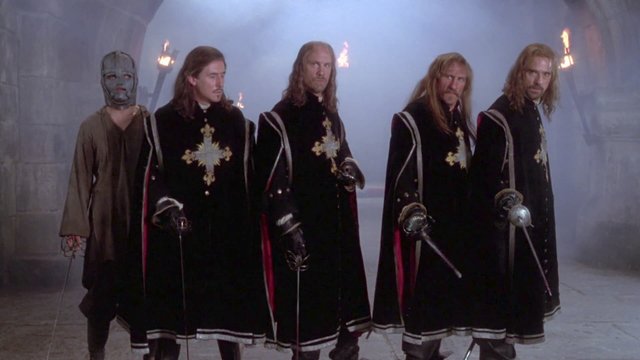 Unprecedented commercial success of Titanic was often explained with teenage girls repeatedly buying tickets only in order to see Leonardo Di Caprio. Hollywood, in its perpetual search for cash cows, saw Di Caprio as a new screen idol and hoped that more projects like Titanic could benefit from his presence. The Man in the Iron Mask, 1998 historic adventure written and directed by Randall Wallace, made all those hopes unfounded.
The plot is based on the novels by Alexandre Dumas père and starts few decades after the events described in The Three Musketeers, Dumas' most popular book. In 1662 France is an envy of the world with its progressive science, thriving culture, booming economy and formidable military. The only thing that prevents France from becoming world's superpower is King Louis XIV (played by Leonardo Di Caprio), spoiled arrogant youth whose unrestrained desire for instant self-gratification takes a heavy toll on his subjects and long-term national interests. The latest such incident happens when the king decides to seduce young Christine Bellefort (played by Judith Godreche). Raoul (played by Peter Sarsgaard), Royal Musketeer officer and Christine's fiance, is sent to war with the Dutch only to be killed and thus allow King to make advances on girl. Raoul's father is Athos (played by John Malkovich), former Musketeer who becomes enraged with King's actions and decides to avenge his son's death by bringing the monarch down. He is joined by old comrades Father Aramis (played by Jeremy Irons) and Porthos (played by Gerard Depardieu). Their plan for bringing Louis down revolves around mysterious prisoner of Bastille whose face is always covered with iron mask. Old Musketeers set him free and the youth is revealed to be Philippe, Louis' long-lost twin brother. Their plan is simply switch Louis with Philippe during court festivities and thus save France with quiet palace coup instead of bloody revolution. But their scheme meets serious impediment in the form of D'Artagnan (played by Gabriel Byrne), their old comrade who now commands the Royal Guard and feels bound by oath of allegiance to the King.
Randall Wallace is best known as the screenwriter of Braveheart and many thought that he could be the best choice for compressing romance, political intrigue and action into entertaining period film. Unfortunately, Wallace obviously had more difficulty with classic literary source than with myths of medieval Scotland. There is very little action in the film until the very end, and what precedes it has very little to do with complex and fascinating political intrigues of 17th Century France. What we get instead is simplistic and over melodramatic plot which is actually annoying at the end with its twist revelations more suitable for soap operas.
On the other hand, costumes and sets look authentic, while Neil Glennie-Smith's musical score takes a lot of inspiration from the period. Acting quality varies, though. Gabriel Byrne is very good in the role of a man faced with terrible ethical dilemma, while Depardieu delivers another excellent performance in semi-comical role of a hedonist faced with realities of aging. Di Caprio, on the other hand, seems to be at odds with his complex dual role and never actually manages to convince the audience of being 17th Century French monarch. The Man in the Iron Mask didn't make enough money at the box office and god-like status of Di Caprio wasn't justified. Those who like period films or the Dumas' novel are going to be more receptive to other film versions of the story, including 1970s television adaptation with Richard Chamberlain.
RATING: 4/10 (+)
(Note: The text in its original form was posted in Usenet newsgroup rec.arts.films.reviews on April 14th 2004)