Now, here is A WESTERN!: HOSTILES
Now, here is A WESTERN! These movies remind me of those times that my dad sat down to watch movies with me and my brothers and instead of paying attention he told us that in a past life he had been "the fastest gunman on the west" and that he killed 100 bandits in 10 seconds (ha ha ha ha). This movie caught me after watching his trailer and cast, so I decided to give it a try and I was glad to do it.
HOSTILES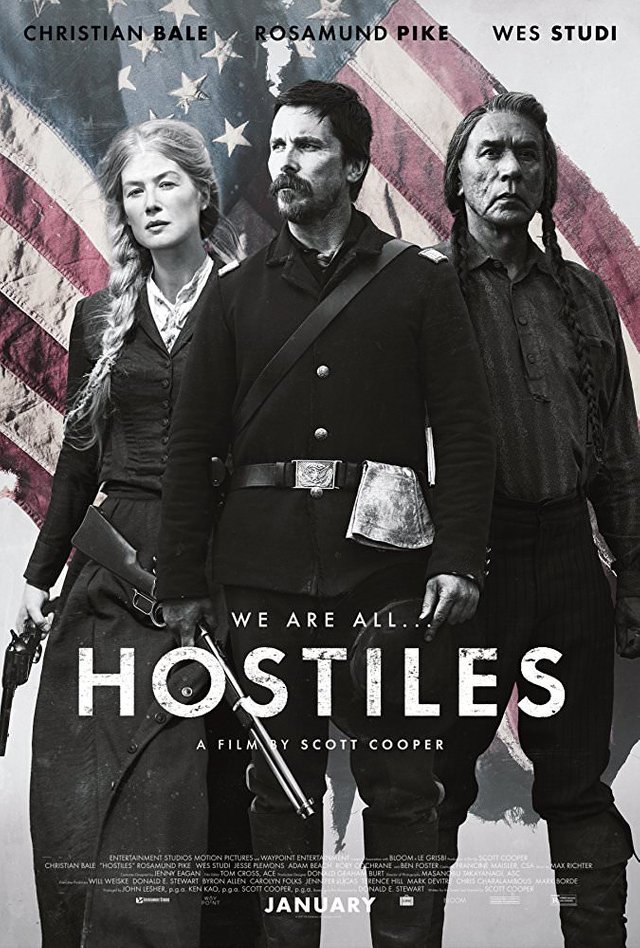 Fuente
---
In 1892 the legendary Captain Joseph J. Blocker, famous for fighting for 20 years against the Native Americans and destroying with almost his entire population throughout the New Mexico area, has been entrusted with one last mission: to command a trip to through New Mexico to take back the elder Chief Cheyenne "Yellow Falcon", who is dying of cancer and his family to his former territory in the mountains of Montana. At the beginning of the journey they are obtained with a newly widowed and still disturbed Rosalie, whom the dangerous comanches snatched from her entire family including her husband and three young children who are dead around her. After burying his family, he joins the campaign with the intention of leaving it in a safe place. On a trip that shows the true dangers of the American West where anyone could be your enemy, whether white or native, and the union between them would make it possible for the trip to come to an end.
---
Christian Bale embodies Captain Joseph J. Blocker, in his interpretation he shows the struggle he had to do to accept to take his enemy to his final abode, because throughout his military career all his companions were brutally dismembered by the American Indians. We also have Rosamund Pike as Rosalie, with a spectacular performance and in particular in the heartbreaking scene where he cries his dead family. However, in my opinion, mourning passed very quickly, immediately overcoming his traumas and hatred of the American Indians and making him a great friend of these. Many will remember this actress as one of the most hated movies (after Jenny of Forrest Gump) for the movie Gone Girl.
---
Scott Cooper directed and wrote this movie as a means of showing that not all Indians are bad, as well as all whites are not good, looking for a way to do justice without benefiting any side, which under my eye seemed something else very condescending. Unfortunately there were no nuances in the characters, they were very flat or with only one emotion; the only well-built character, with many nuances, was that of Cap. Blocker There came a point that surpassed the sensibility being unbelievable, and more in the case of rude men of the American West who fought these mortal adversaries who ended up being their supporters to continue with the dangerous journey. Despite these words, it is a movie worth seeing, with memorable scenes and good battles between Indians and whites.
---
What I loved most was the cinematography by Masanobu Takayanagi, who has already participated as a cinematographer of films like * Spotlight *; with a particular eye for photography that plays with earthy, green, blue and backlit shots, which make a magnificent composition. It also shows us incredible landscapes of the American landscape, something we are not used to seeing in these Hollywood productions.
---
I recommend that if they are going to see it they must have a stomach to do it, because it is something raw, not suitable for all audiences or for sensitive minds. If anything you will have a few minutes at the beginning of peace and tranquility and then enough tension and some action. I hope you were looking forward to watching the movie after this review. I will leave here the trailer for those who want to see this wonderful movie. If you saw her, comment and tell me how you like it.
TRAILER