Abuse Series: Call to Action
         Sometimes, Steemians think abuse fighters constantly look for abusive behavior on the blockchain. While I can attest that many of them do, there are times members of the community contribute by sending tips. Sometimes, the abuse involves large payouts that cannot be tackled by a few flaggers.
         When it is impossible to neutralize the abuse alone, it is time to involve the community. Many Steemians are more than willing to lend a helping flag.
The Story
         Recently, @steemflagrewards received a mention from @nathen007 about an abuser.
Warning: do not randomly tag entities. You may attract unwanted attention when you do not mean business.
         These were serious accusations that required immediate attention. The author-in-question had a large potential payout with votes from promotional services. Based on the title of the post, most seasoned Steemians knew the number was not organic.
Intro to Bots 101: those are bought votes.
         I proceeded to check out @maria99's post history and examined her more recent post. I needed to verify @nathen007's claims. A quick search revealed that the content was plagiarized. Since I was conversing with @bullionstackers over Discord, I passed on the information. He prepared to strike against the abuser. Here is the excerpt of the post I examined:
I give this spinning a D-minus. I have seen better.
         One instance of plagiarism was all I needed to flag the poser, who was gloating about her "success" as a blogger. A group of Steemians had also started showing their disapproval with flags. Some appealed to owners of promotional services to revoke their votes. In this case, @maria99 bought all her votes from that account. That made it easier to approach vote sellers about questionable content.
         Some promotional businesses have venues to report abuse. Make sure you understand their terms of service before reporting a breach of their terms. In this case, plagiarism is generally frowned upon by most services.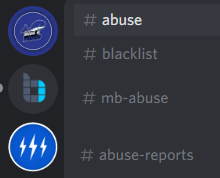 Here are examples of abuse report channels on Discord. From the top: @buildawhale, @minnowbooster (BuildTeam Public), @smartsteem
Please note that not every bot owner will take immediate action. This should not be a cause for discouragement. Be patient and seek reinforcements.
         While I was in @minnowbooster, I found out that the plagiarist was a whitelisted user. That raised questions, but I was glad @BuildTeam staff took appropriate action. They revoked her whitelist status.
         Usually, large abuse also requires great countermeasure. I made sure members at @steemcleaners knew about the exploit that took place. The previous posts may have received their payouts, but they were still grounds for abuse. Since this instance involved continual plagiarism and identity deception, it was under their scope.
The Aftermath
         In the end, the community was able to wipe out all pending payout on the offending post. This was possible through the combined efforts of all the entities involved. It was clear that the abuser was not amused, but such was the price of plagiarism.
         Her reputation dropped below zero and into the negatives. Last time I checked, the account dwelled around -6. Labeling other Steemians who called her out as scammers did not help her situation at all.

It took 69 flags from the community and several revoked votes to zero it out.
The Afterthought
         As I mentioned before, this instance raised some questions and concerns. The motive for most abusers is simple: money.
1. How did the person gain whitelist status?
         I noticed two spun posts at a quick glance. This was way before @maria99 took on the persona of a young woman from the United States. The tag #trending was aplenty in all the posts.
         There was a discrepancy between her posts and her comments. There was a dramatic gap between her English skills. This was a good indicator that she could have copied her content from somewhere else.
2. Did the person plan on using gained status to better conceal future abuse?
         Sometimes, a bad actor gains status in the community in order to carry out more nefarious schemes. This can happen in any community, even in a robust one such as @curie.
3. Why did the abuser draw attention to herself by announcing her supposed success?
         I could not tell if this was a case of her underestimating the public or a delusional attempt at grasping for fame. It could also be the lack of understanding of the blockchain technology.
         There are many Steemians who seem to be not aware of the fact that they cannot hide what they put on the blockchain. One could see @maria99 transitioned from Indian to a young American woman.
Conclusion
         Anti-abuse initiatives work best when coupled with community cooperation. Addressing questionable behavior is exercising your right as a stakeholder. It is also a way to uphold the values of the platform.
         But, I would advise upcoming abuse fighters to pick battles they know they can win. If not, defer to greater entities. Never take on more retaliation than you could bear. For the fearless, it does not matter. There are those who received heavy return fire and still remained on the platform.
Remember, you can call on the community if you need help mitigating abuse. You do not have to do it alone.
         Looks like the journey from 25 to 56 in a month became a swift fall to -6 due to bad behavior. Moral of the story? Do not be a bad actor. The just deserts will come when you least expect it.

         Abuse Series can sometimes be found under the #utopian-io tag. It can be educational under certain circumstances.
Previous post: Deceit
Next post: For Profit Promotions