My Actifit Report Card September 28 2020
I just think that today was the craziest day of my office life where everything went havoc the whole day then there was a twist at the end of it when life rewarded me a nice new mobile phone, so I just want to share this with you. I have never posted in Actifit Report Card so here goes my first try, hope you will like it.
Breakfast
I started my day today with a nice breakfast at 7.30am, Muesli with fresh fruits, fresh hot milk, and honey. And the drink was a hot Nescafe Tarik and warm water. In Malaysia, we always ordered hot drinks that have milk with this 'Tarik' instruction means that the drink must be pulled up and throw into another glass so that you have these bubbles. Hahaha sorry if my explanation is confusing you. I also don't know how to explain it better.
Muesli with fresh fruits, fresh hot milk and honey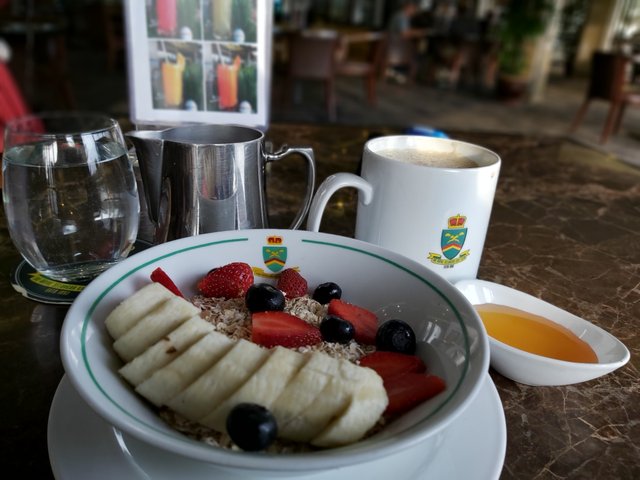 After breakfast, I entered my room and my printer faced problems because water was leaking on the printer from the ceiling. The facilities manager said that the leak on the ceiling was a severe case and it needs some time to call the right contractor to fix this so okay fine. Then I called the maintenance guy to relocate my printer to avoid that ceiling leakage and I have to wait for him to make this nice covered extension to connect my printer to the new location and then we found that the cartridge is empty so okay, changed the cartridge.
*The printer cartridge'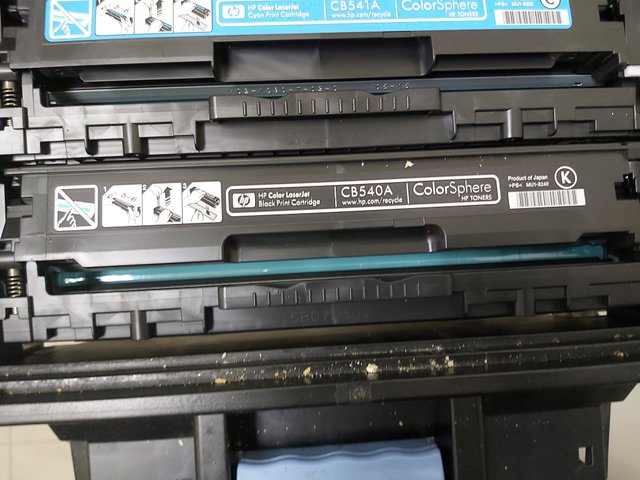 And then I went for my morning meeting with all the Managers. Okay finished that around 9.30am then I went back to my room and that maintenance guy still busy fixing that cable. An incident happened this morning while I was standing watching the maintenance guy fix that wiring. A signage supplier was delivering some signs for the office. So I showed him where he should fix them then I went back to my office. After he has completed his job fixing all those signages, he came back asking me to sign his delivery order, so I signed then I gave him a piece of paper while looking at the maintenance guy and I told that guy to go send that document to process his payment. He looked at me confused holding that document, then I asked him, why are you looking at me like that? Didn't I ask you to go to purchasing with that document to process your payment? I could not understand why he was too much fear talking to me. After 5 minutes, the cost controller came back with that supplier guy and showing me that document, "Miss Ainie, actually this document is for what?". I got confused also, "What happened?". I took that document from his hand and to my surprise, it was an order form for a book and not his Delivery Order document. Then I looked at my table and saw that Delivery Order form on my table. And that supplier guy was looking at me with a scared face. Hahahahah I started laughing, "Sorry Guys, my mistake, I have given him the wrong document, here it is", while still laughing, there goes my professionalism down the drain today. That supplier guy must have thought that I am crazy right hahaha.
Next, after the maintenance guy completed his job, I sat on my chair but the wheel like got stuck in a hole. So I checked my chair and there it was, a hole, sigh... again I have to call a maintenance guy to fix the hole. Nope, he said this job cannot be done immediately so you have to change the position of your computer and sitting so that I can fix this hole. Okay, so I called the IT Manager to change my computer position because there were lots of cables tangling and I dare not do that myself. Okay he has done it and my computer now faces the door and everyone who walks pass by room would stop and asked me "Why are you sitting in this position?". So I have to explain the entire story, again and again, gosh I just wish I could paste a memo on my door about this.
A broken floor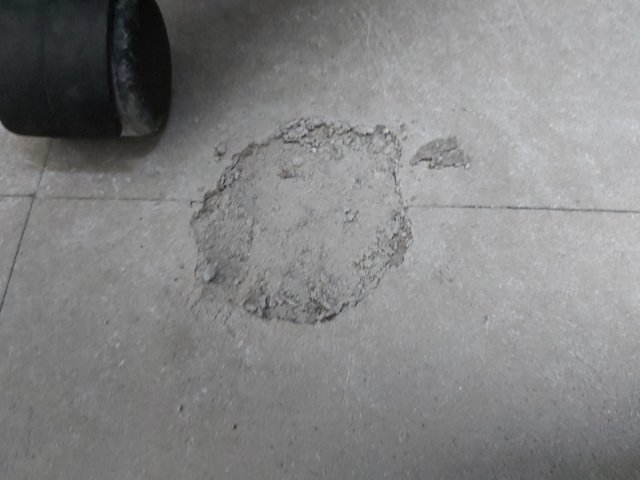 This is my lunch for today at Modestos Restaurant, I had a dried chili chicken followed by a dessert Ice Cream with Fresh Fruits. A nice lunch for such a silly day for me.
Dried Chilli Chicken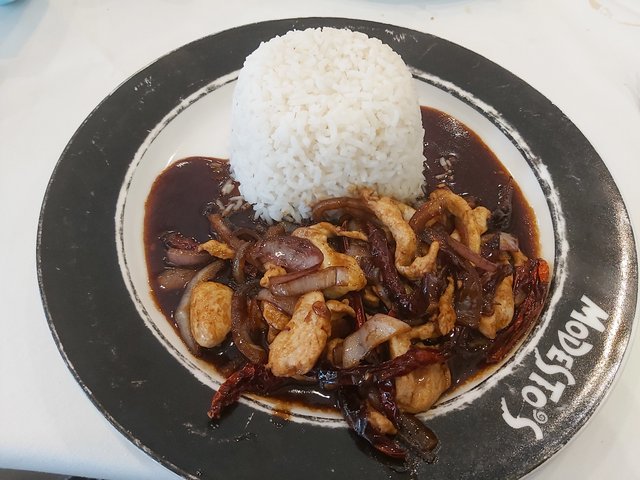 Desserts: Ice cream with fresh fruits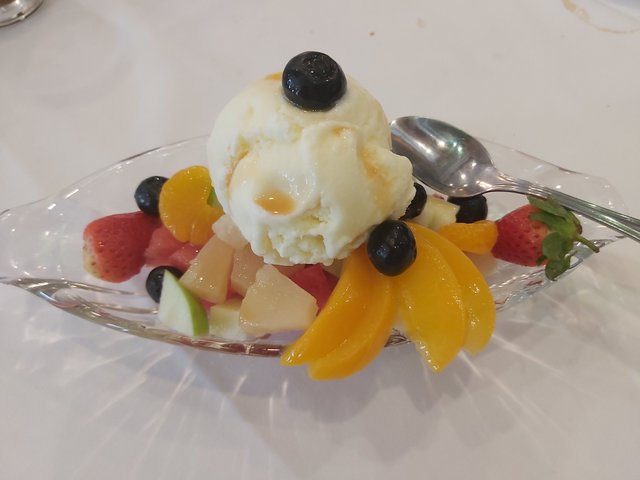 After lunch, the Captain would like to have a photoshoot for his Captain's Corner in the magazine so I ran down on time to deliver his jacket to his photoshoot location.
Then when I reached my office, I received a call from the Front Desk, they said: "Miss Ainie, are you expecting anyone because a Maxis delivery guy is down here to deliver something to you." Oh okay, more exercise for me today, so I had to run down again from my first-floor office to go to the Front Desk. And then this delivery guy said, "I called you so many times but you did not pick up your call!" Huh really, okay sorry I said. I already knew about this delivery yesterday, Maxis was giving me a brand new phone, Samsung A21s for its 25th Anniversary Celebrations. It just slipped my mind because of so many things happening today. I actually was just asked to pay RM1 for this new phone, quite an amazing gift right. Thanks Maxis for this awesome gift and Happy 25th Anniversary Celebrations!
Voila, my new mobile phone, Samsung A21s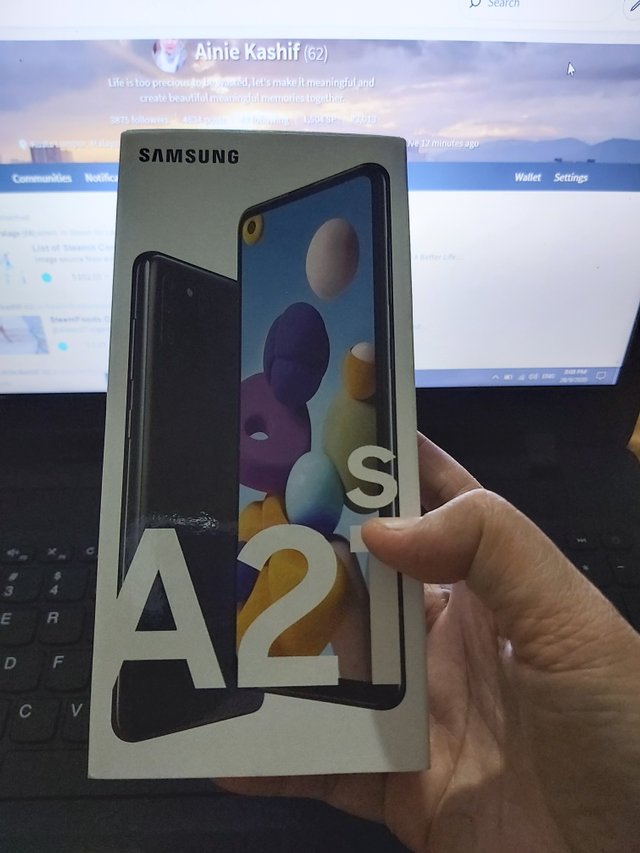 ---
That's all for now, wishing you a #BeautifulDay #LifeIsBeautiful
Take care and Stay Blessed!
Yours truly,