Analyst Announces Year-End Price Target for Cardano (ADA) to Peak $ 1.55
On Wednesday, April 14, Cardano (ADA) managed to continue its rise, making ADA one of the best performing cryptocurrencies of the year, driven by the excitement surrounding the soon listing of #Coinbase shares on the #Nasdaq.
In the morning today, #Cardano ( #ADA) surged to $ 1.55 and set a new all-time high.
The debate continues over how far Cardano's (ADA) rise could last. Cryptocurrency analyst Justin Bennett told more than 39,000 followers on Twitter on April 12 that the ADA price could gain 10 times by the end of 2021.
The analyst also stated that he finds the $ 10 price target for ADA conservative. He added that $ 20 to $ 30 wouldn't surprise him.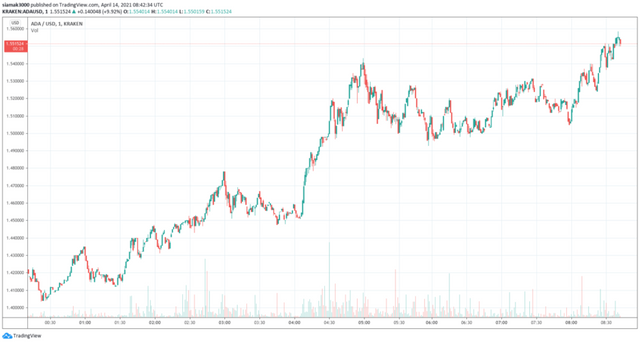 #Cardano (ADA), which gained 10% value in the last 24 hours, is trading at $ 1.49 as of the time of publication