Why Is Cardano An Ethereum Rival? Attention To These Causes!
#Cardano's network and community are preparing for the implementation of the smart contract platform #Plutus. Currently, its developer, #IOG, will stress-test the platform before integrating it with the mainnet at the #Hard #Fork Combinator " #Alonzo" event.
Popular analyst #Coin #Bureau uploaded a video showing which cryptocurrencies they keep in their portfolio. Cardano, alongside Bitcoin, Ethereum, Polkadot and others, accounts for 8% of its investment in cryptocurrencies.
Cardano has been making new highs since July 2020, after breaking the $ 0.08 limit in more than a year. Since then, it has hit an all-time high of $ 1.54 in the past 24 hours and has been gaining a strong upward momentum. The analyst said:
"Like #Polkadot, I see Cardano primarily as a hedge in case anything goes wrong with Ethereum. I'm a big fan of Cardano's peer review approach to research and development. "
➡️Cardano's Greatest Power
As the comparison continued, the Coin Bureau predicted that smart contracts on Cardano could become available in less time than Polkadot. In theory, this makes the platform developed by IOG "the next runner up to #Ethereum". The analyst said:
"One big advantage Cardano has over Polkadot and many other cryptocurrencies is the size and involvement of the Cardano community. Some of my most watched videos are about Cardano , and Charles Hoskinson's YouTube channel seems to be growing faster than mine. "
According to the Coin Bureau, among its drawbacks are the few competing projects under development for Cardano. Also, the analyst believes that smart contracts on this platform will not be tested in "real world" conditions.
"This increases the potential risk of breakage, although it is very unlikely to occur, but it could be larger than on Polkadot. The second will test its platform with Kusama's deployment.
➡️ Coin Bureau also emphasizes:
"More than 60% of all ADA in circulation is also in the approximately 2,500 staking pool. Cardano may not have as many dApps waiting to be deployed as Polkadot, but they probably have millions of people waiting to use them. "
The analyst has devoted most of his portfolio to Ethereum. Unlike Bitcoin, a cryptocurrency that it sees as a store of value, Coin Bureau predicts that ETH is closer to being the "decentralized money computer of the world" than its competitors.
However, Cardano is shaped to be a strong competition if it can meet expectations. Once smart contracts are launched, Cardano has projects ready to enter, such as Liqwid Finance, which is the first protocol for automatic lending and liquidity provision that can kick-start the DeFi industry.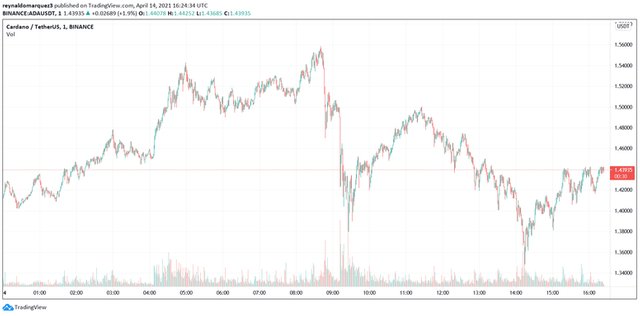 ADA is trading at $ 1.44, with 3.3% on the 24-hour chart. On the 7-day and monthly chart, ADA rose by 14.5% and 35%, respectively.