Advent Drawing Challenge 2019: December 16 Bells And Bows
Hello my Steemit friends,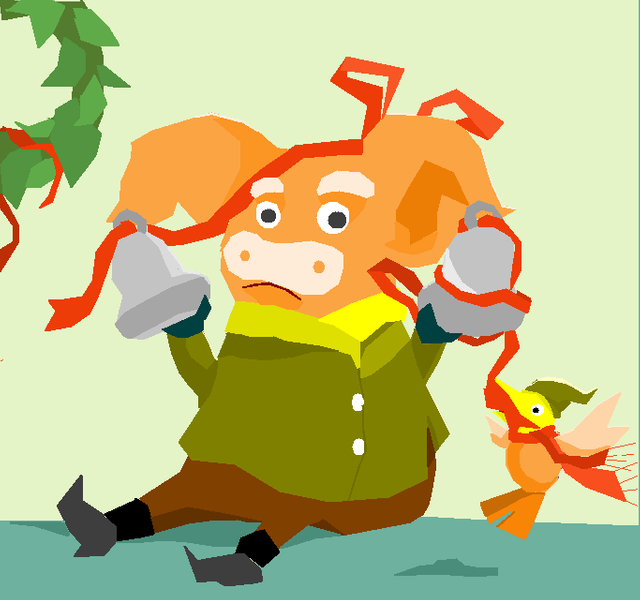 Bells and bows will give you a few ideas that you can work on for this day challenge. I think these two are enough to spark some inspiration and get you started. December 16 came so fast and to those who are attending the misa de gallo back in the Philippines I hope you can complete the nine days mass. I miss this one already just thinking about it. Bells and bows to cheer us up should we be experiencing any holiday blues. Hang the most vibrant bow preferably red to stir that holiday vibe. Hang something like a bell to relieve you from that static energy. Get up get going keep creating.
Thank you very much guys for supporting this activity for advent. It really means a lot seeing you interact and much more participate. I love seeing holiday related art as I must admit this brings joy to me and keep away the holiday blues.
My art shows the poor little orange piglet with his sad long face probably because he misses someone. Do not worry though as the little yellow birdie is here to keep him company. The bells he holds with both hands and the red long bow around him makes this scene really funny and entertaining. I hope you like it.
It is the start of December, time for a new drawing challenge to keep us busy and creative until Christmas day. Let us start this advent drawing challenge 2019 by creating some nice drawings using the prompts that I listed here: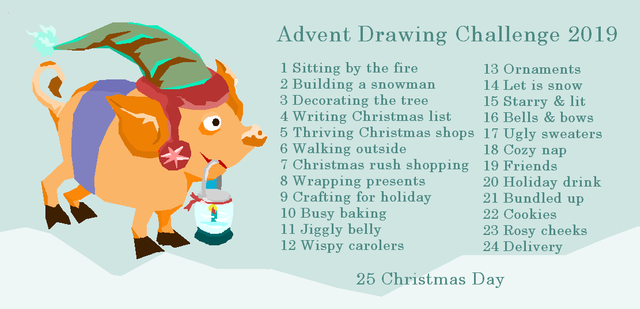 The Rules:
Create an art each day following the prompts provided.
Use any medium you prefer
Use the hashtag adventchallenge2019
You may create characters to better depict your ideas just like how I created this cute piglet.
That is how simple this challenge is. By the end of the 25 day challenge you have completed a nice portfolio for yourself. So, better create something that you could be proud of.
Happy creating and good luck. Hope to see more engagement from you my friends and the creative Steemit community. More power to you and to your loved ones. Steem on and rock on.
@theithei