Another experiment advertising Steemit on Facebook
In a post last week, Advertising Steemit on Facebook, I noted that I was making use of a Facebook advertising credit to purchase $20 of advertising on a post in the Popular STEM community from the Science and Technology on the Social Blockchains Facebook page. That advertisement has now finished. It reported the following results:
Reach: 2096
Engagement: 233
Reactions: 212
Shares: 14
Clicks: 5
One mistake that I think I made was to let Facebook choose the advertising goal. They chose "engagement" which, I guess, wasn't really what I was looking for. So, this week - mostly out of curiosity - I'm buying an ad out of my own pocket for $7. In this ad, I set it to target "link clicks" instead. We'll see how it goes. Here is an ad preview:
And here are the parameters: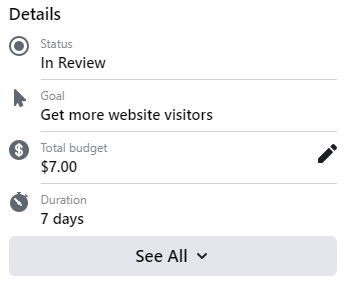 The estimate when I was filling out the form was that this could deliver 7-21 link clicks per day. As with last week, we now have to wait for it to get out of review. We'll see what happens...