[Airdrop] Claim $0.36-36$ Each Day With Just One Click! Up to $2469 for Referrals! Collect -> SELL for STEEM -> GG
We all like to receive some free money from time to time, and if you are like me, you would never pass on an opportunity to claim your fair share of the pie. The frustrating thing about most cryptocurrency airdrops is that the tokens that they give out often aren't yet listed on exchanges, or don't have high enough liquidity necessary to dump the airdropped coins for bitcoin or another coin of your liking * ahem * STEEM.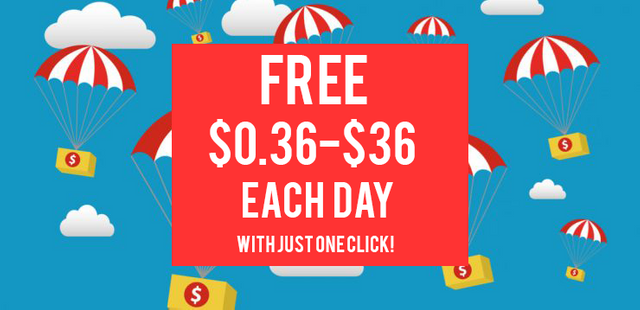 That's why I'm always excited to bump across an airdrop like this one which hands out coins that can be instantly sold for another coin. I know that I'm not the only one here who will gladly take any chance to get my hands on some free crypto so for that reason I'm sharing the Vite Airdrop with you today.
This airdrop is as simple as it gets and it yields $0.36-36$ per click, each 24 hours.
All you need to do is:
➡️ Download and Install Vite App on your mobile device
Android users
IOS users
➡️ Create an account
➡️ Go to -> Invite friends and win VITE -> input my ref code: 1Ps9G3SJ to receive your first 10 VITE
➡️ Wait one hour to claim your first FREE 10 - 1000 VITE and from then on keep claiming FREE tokens each 24 hours
It's as simple as that!
It only took me about a few minutes to finish the entire process, with the most time-consuming part being inputting the annoying seed phrase.
Additionally
To receive even more FREE tokens, you can share your ref code with your friends, family members and followers for up to 68 000 VITE, currently worth $2469!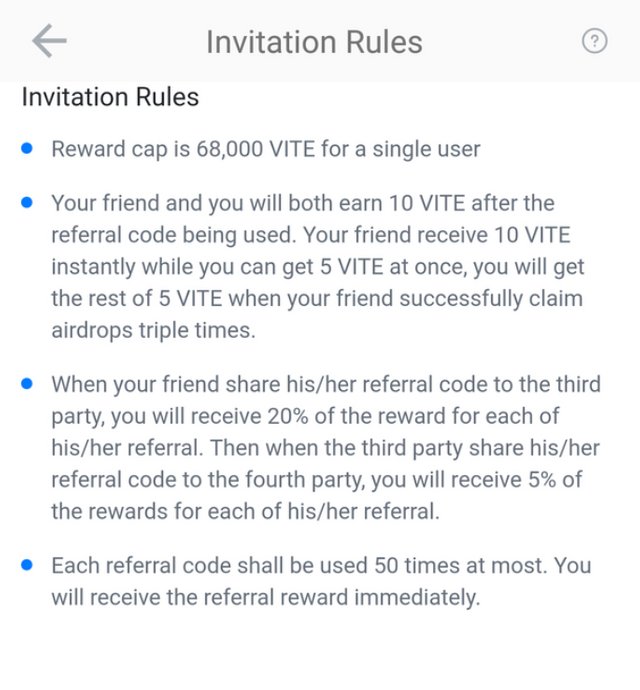 Now that's a pretty amount to pocket from a super simple airdrop, isn't it?
That's a whopping 6k STEEM if you sell it right away and buy STEEM. Enough for someone with no SP whatsoever to become a dolphin in a day!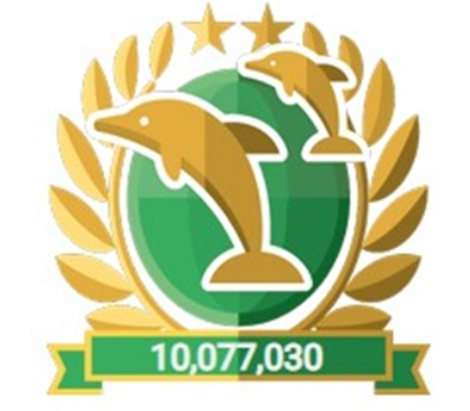 Bonus for my readers
First five users and an additional randomly chosen five users which use my ref code and resteem this post will receive 1 STEEM each! All you need to do is post an image in the comments down below proving that you did, in fact, use my ref code. As for the resteeem, @ginabot will notify me if you did it or not :D
Are you going to claim this airdrop, or is it not worth a few minutes of your time? It's solely up to you.
Either way, I would like to know more about your decision making considering airdrops so be sure to share your thoughts with me.
If you appreciate this information and would like to find out about more such opportunities to claim free cryptocurrency in the near future, consider giving me a follow because I'll be putting up a weekly post with hand-picked, best, and most profitable airdrops of the week.

Contact me on
Discord: Runicar#1726
Telegram: @Runi
EDIT: As noted by @mus here VITE displayed on CMC is actually the ERC-20 version of the coin and we will have to wait until June to be able to exchange coins received from the airdrop. I'll be sure to notify you as soon as it's available for trade!