A day at the beach in Homer, Alaska
This has been a busy summer. We kicked it off June 1st (yes, that was the beginning of summer in Alaska) with a family trip to a small town called Homer. It's about a three and a half hour drive. We were going to sleep in a tent. With our two kids, ages seven and five. Thankfully, my in-laws joined us and brought their cozy motor-home.
Typical views along the Seward Highway when leaving Anchorage. This portion of the highway travels along the Turnagain Arm of Cook Inlet.
The drive went well. Thankfully my wife and I made the smart move to go to the library the day before, so the kiddos enjoyed a stack of books during the long drive.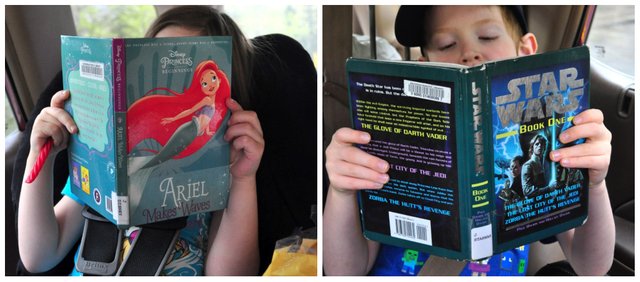 My super cute bookworms.
We also made a stop at the halfway point in Soldotna at the best bakery there. It's called 'The Moose Is Loose' and as to be expected with an Alaskan tourist trap bearing such a name they sell a crap-ton of moose related paraphernalia. But we go for the donuts. They're incredible.
After the tasty treats we went to the Soldotna playground. So, a weird thing about playgrounds in Alaska. Anchorage is the main city of Alaska (largest population, easiest access, yet not the capitol) but all the playgrounds are mediocre. Sure, there are more playgrounds, but it seems all the small towns on the highway system have incredible playgrounds. Soldotna, Girdwood, Talkeetna, and Homer all have really cool playgrounds. They're built with quality materials, they're huge, and visually creative.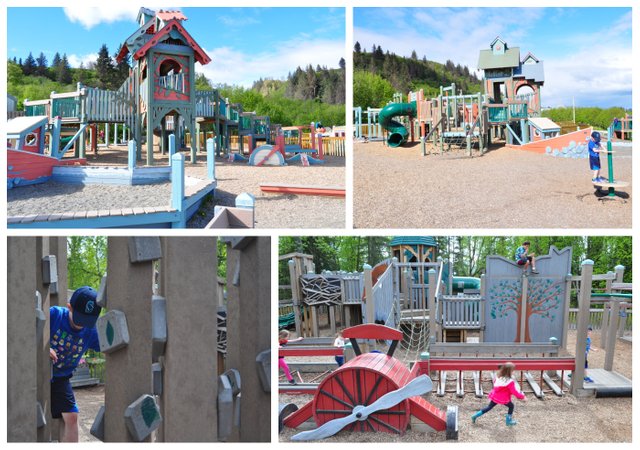 The top two are different angles of the playground in Homer and the bottom two are in Soldotna. There's probably about 2/3rds of both playgrounds not shown in these pictures.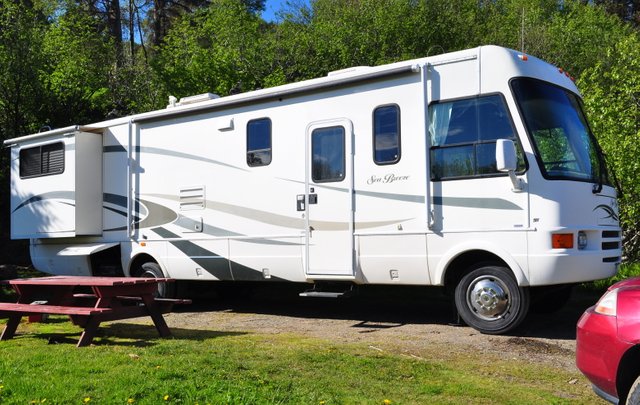 When we arrived in Homer we setup camp. Wow, were we glad my wife's parents came with their motor-home. It was huge and was more comfortable than a tent. We were glamping, for sure. And a happy surprise: turned out the campground was right next to the massive Homer playground. Next to the playground was this interesting piece of mobile, art... thing.
Made of driftwood, a toy car, a piece of red glass, and various other bits n' bobbles it was amusing to watch. It had to be difficult to balance all these pieces and have it hold-up long term in a public place.
Homer is a beautiful place. The main tourist attraction is known as The Homer Spit. It's a piece of land that juts out into Kachemak Bay covered in touristy shops, fishing guides, and a semi-famous bar (which I've never gone into... because it just seems like a typical Alaskan dive).

The Homer Spit. CC license photo by Derek Ramsey on Wikicommons.
A few photos I took of shops on the spit. Handmade pottery is fairly popular in South Central Alaska. There are several good artists all along the Seward Highway. Oh, and beneath that lighthouse lies the Salty Dawg Saloon.
It's fun to poke around a little bit on the spit, but what we enjoy most of all is walking the beach. I've shared some macro looks at the beach in some recent posts, so if you've been following those you have gotten a little bit of a glimpse at how unique Alaskan beaches are. I do love the ocean, so it's easy to say that spending time walking the rocky beach with my wife and kids was the best part of the trip.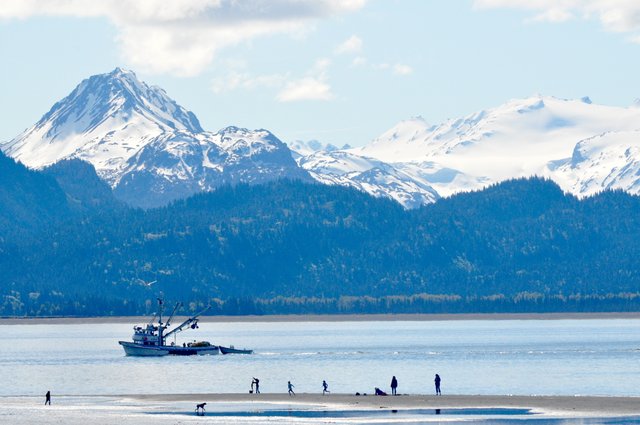 Not my family, not my dog, I just captured the quintessential view one can expect whilst on an Alaskan beach. Well, that's if you're there on one of the few days we have warm, sunny weather.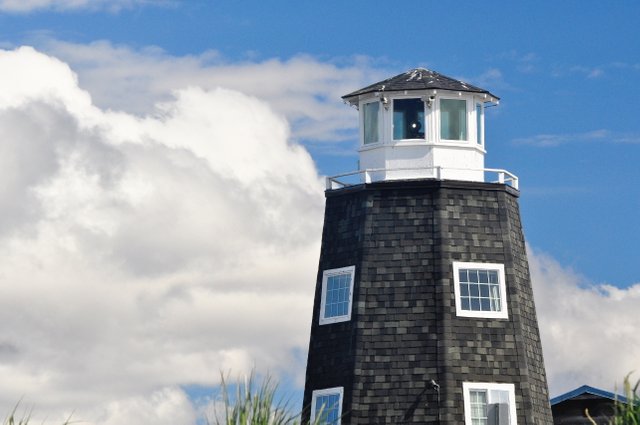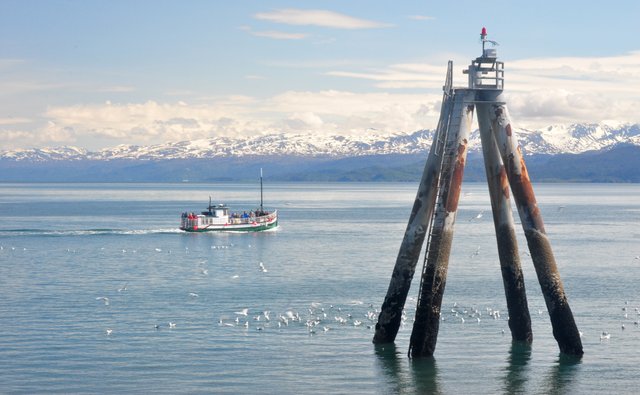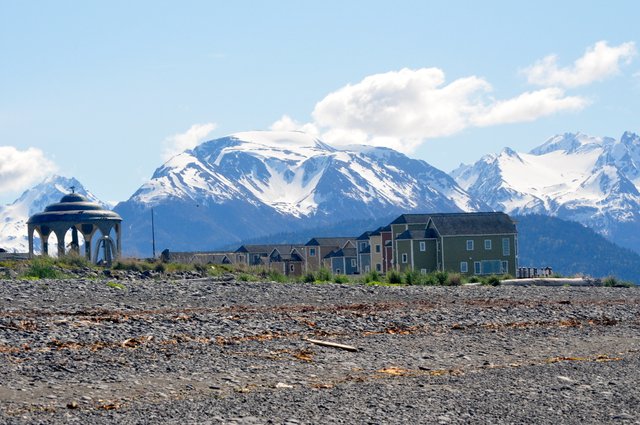 While walking the beach I noticed something on the horizon that didn't look familiar. If this existed last time I was in Homer, then I failed to remember it. I went closer to find out what the strange structure was--some monument I figured, and I was right. Except I wasn't really expecting it to be as serious as it turned out to be: a memorial to those lost at sea.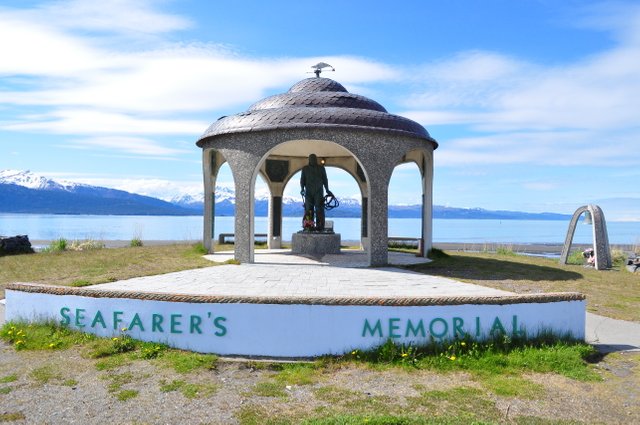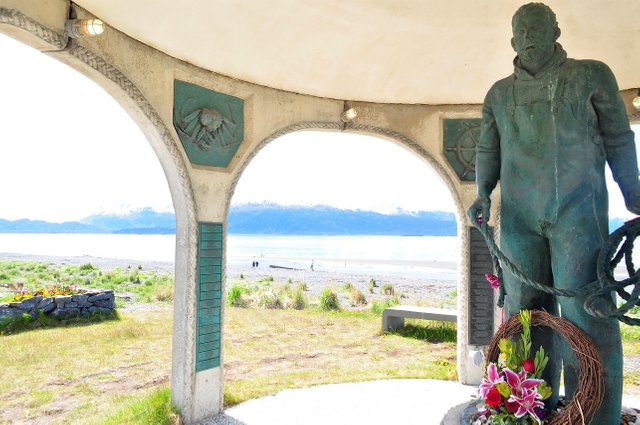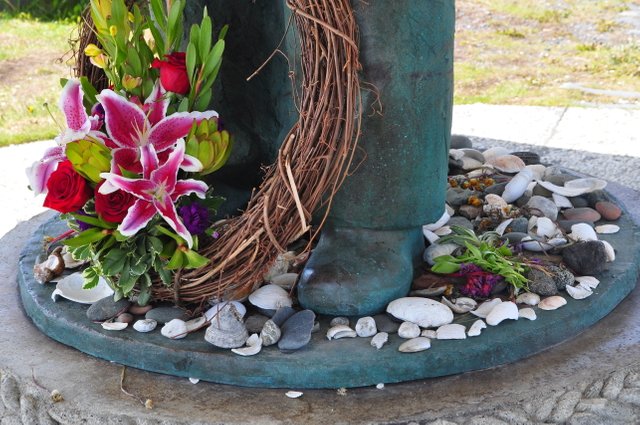 Each of the six pillars around the circumference bear the names of those who have died in Alaskan seas over the years. At the feet of the seafarer people have placed beach rocks, shells, and fresh flowers. Adjacent to the main memorial is a bell, which I'm guessing is rung during a ceremony when a new nameplate is added. Commercial fishing is a large part of this area's livelihood and Alaska--being of harsh weather--claims a fair number of fisherman each year.
After this somber spot of reflection I returned to the beach stroll with my family. A couple of missed opportunities I was hoping to catch on this trip included a visit to my favorite bookshop in Homer.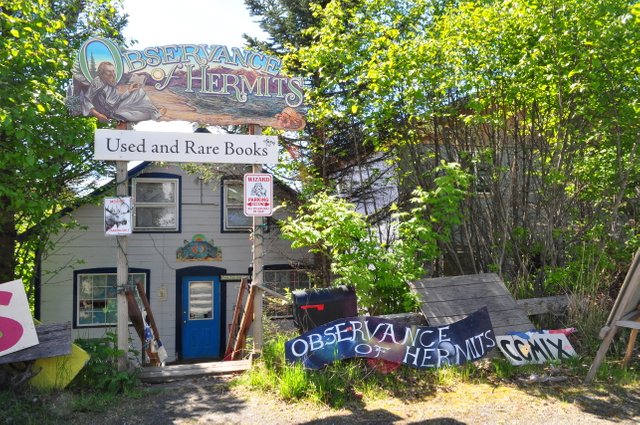 We stopped by during the sparse business hours (Friday and Saturday, 1pm-7ish) but the door was locked. I called the phone number but the proprietor said "ehhh I'll be open tomorrow." I suppose that's a perk of turning the bottom of your house into a bookstore. I wanted to snap some photos to share how crazy this place this, but we never had the chance to go back on this trip.
Bookshelves are everywhere. Piles of books lie on the floor when there isn't room on the shelves. I can explore this place for hours! And really impressive thing is that the owner knows where everything is. Everything. Last time we were there I left with a nearly one-hundred year old hard cover of Robert Louis Stevenson's Strange Case of Dr Jekyll and Mr Hyde. Kinda felt like I stole it too, because he only asked for something around six dollars. He's a friendly, eclectic pothead (the odor was still ripe from a bowl recently smoked before our entrance) and you can't depend on when the bookshop might be open, but man I love that place.
The other missed opportunity is a photographer's playground on the spit known as the boat graveyard, or the gypsy houseboat. An old abandoned freighter ship has been turned into a house and is surrounded by other abandoned ships and various seafaring detritus. It's actually very interesting and with my attraction to all things nautical I could likely spend hours there with my camera.
I wasn't able to capture any photos on this trip, but you can find images elsewhere that offer a glimpse. Anyone visiting the Homer spit can't miss this place--it's right next to the road. The one example I've referenced here doesn't even show a fraction of the abandoned boats and junk on the property, it just features the main attraction: the gypsy houseboat.
And any camping trip wouldn't be complete without a campfire, s'mores, and local beer. Homer Brewing has been the only show in town for a long period of time, and I already knew they make excellent beer. Then I heard there was another show in town: Grace Ridge Brewing. On our two nights there my father-in-law and I made sure to get something from each of the two breweries for each evening. If you'll excuse me, I'm going to drop into beer review mode for a moment...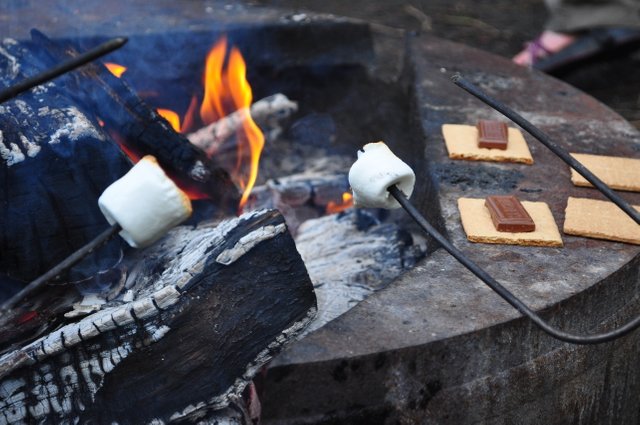 | Homer Brewing Company | Grace Ridge Brewing |
| --- | --- |
| | |
| One of the best brewers in the state, but you can only get it in Homer. The choice was difficult as they had some good selections on tap--including a black Belgian ale--but we went with an old favorite: their Scottish red. The red has a respectable alcohol level that doesn't bite due to the complex malts with just enough hops to round out the flavor profile. It comes through in every way that these guys know what they're doing. If I can use it as a descriptor, I'd say their beers show maturity. | The owner's wife got him a beer kit one Christmas and his retirement hobby grew into a brewery. This 32oz can cost more than the 64oz growler from Homer Brewing. We sampled a couple of styles on tap and weren't impressed. We took home the only one we hadn't tried: Amber ale--a popular go-to in Alaska. This was the best of their beers but it was a very basic representation of the style. The thin palate was what you'd expect from an amateur home brewer. We'd rather have returned to Homer Brewing for a growler of that black Belgian. |
---
I hope you enjoyed this recap of a family trip to one of our favorite little Alaskan towns. I took all of these photos except the one of the spit where CC license is noted and obviously the one image references by in-text link. Alaska is a unique place full of beauty and eccentricity.
Thanks for reading! I'd love to see your comments. What Alaskan experiences have you had or hope to have someday?