Our Fourth Writing Wednesday with the winner of last week and the new photo to start from ...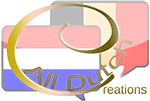 Good afternoon on another new Wednesday!
A week has passed since we placed a photo where it was up to you to write a nice story. And perhaps this picture was a bit difficult to help you with inspiration, maybe he did not speak to the imagination, or maybe you just were too busy with other things. But the fact is that we have received one entry this week.
And that one entry was sent to us by @nobyeni. Every week she faithfully sends her story, and every week we are surprised by the original perspectives and her writing talent.
Because we only had this one entry this week, it will come as no surprise to anyone that @nobyeni will receive the SBI share, sponsored by @ anouk.nox. And that share has already been arranged!

---
We hope to see everyone again this week with a new story. New round, new opportunities!
Then it's time to present THE PHOTO of this week to you!
We are of course very curious! What kind of stories does this photo evoke?
And the rules are like every week.
The story has a maximum of 500 words
The story is FICTION, after all we are Alldutchcreations
Give this post an upvote
The tags #alldutchcreations and #writing-wednesday must be used
And here something new, the use of the Dutch language is NO OBLIGATION anymore. You can choose yourself. And your story may as well be written in DUTCH or ENGLISH. It's up to you!
You take part ...
If you have placed your story in your own post with this photo there ... (do not forget to indicate the source)
The link to your post is placed in the comments under this post,
And you have until Tuesday 22 May 2018, 23.59 hours to place your entry.
The stories that come after do not participate in the prices anymore.
What are the prices?
Of course a contest also has prizes! Only we have made a small change in the prices. Starting this week, depending on the number of participants, we will issue SBI shares. The next week sponsored by @anouk.nox
1 to 5 participants = 1 price of 2 SBI shares
6 to 10 participants = 2 prizes with 1st prize 2 SBI shares and the 2nd prize 1 SBI share
more than 10 participants = 3 prices where the third prize will also be 1 SBI share.
Of course we are very curious about the stories that you hopefully will send MASSAAL in. Climb in your pen, join in and surprise us with your creative talents!
Alldutch-Creations