A New Dimension of e-commerce Based on Blockchain: AligatoCoin
There are many e-commerce websites already exist in the world including the websites which are leaders in the e-commerce industry. All the e-commerce websites are trying to implement the best technology from their end that can be beneficial for their users, but their implementations are very slow. AligatoCoin is going to make something amazing in the e-commerce industry. AligatoCoin is going to make an e-commerce based platform that will run over the blockchain technology that means more stability and transparency for both to the buyers and the sellers.

AligatoCoin will accept the money with an amazing payment system, called eye payment system. You can easily make your payment via eye payment system using your smartphones or computers cameras. This system will definitely strengthen the security of the buyers.
AligatoCoin doesn't stop here while it has also implemented the artificial intelligence system to its e-commerce platform that will facilitate the shopping, searches and any interaction held on the platform.
According to the AligatoCoin "The vision set here is not a distant future. The Aligato team is in the process of developing appropriate technological, logistical and legislative solutions. Some parts are already patented."
Why to Choose AligatoCoin (ALC) as e-commerce Platform?
Introducing Artificial Intelligence: AligatoCoin is the World's first e-commerce platform that is going to start artificial intelligence into their platform by which users can save their maximum time by automate the process. You will not have to wait for the confirmation of your orders from the sellers as the artificial intelligence system will facilitate both the sale process and the purchase process. The automated system will remember the user's preferences and suggest the offers to their individual needs. The artificial intelligence system will be beneficial for both the buyers and the sellers.

Pay using fiat or CrytoCurrency: This will be very interesting to pay with the crytocurrency using ALC tokens. You can also pay via your credit cards in fiat. The most amazing thing is that I have first time heard that we can pay via eye. Yes, aligatocoin enabling this feature for the first time, pay via eye and save most of the time to fill up the information again and again.

Talented Support Team: AligatoCoin has inbuilt the artificial intelligence system which will be stronger than the before as the time go, aligatocoin is working very hard to make their system perfect. Except artificial intelligence, aligatocoin's support will always be with you while you are in trouble.

AligatoCoin Globalization: AligatoCoin's main aim is to make life easier for everyone. They will get what they want in easy, secure and fast way. AligatoCoin improving the quality of everyone lives that will result in the growth of the organic users to its platform. AligatoCoin will always be hard working to make the maximum numbers of their clients from all around the World.
AligatoCoin (ALC) Funds Distribution and Allocation: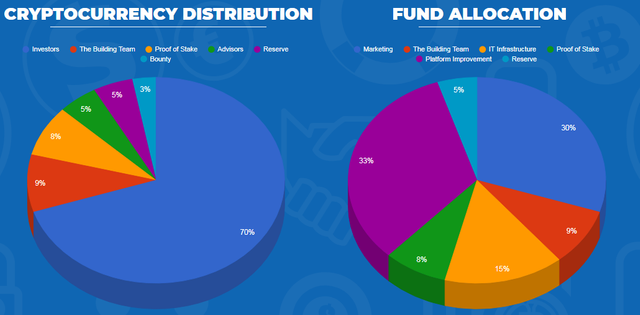 General Specification of ALC Token:
Token Name: AligatoCoin
Token Symbol: ALC
Platform: Ethereum (ERC20)
Distribution Process: The ALC tokens will be delivered once the ICO has closed
Cryptocurrency Unit (Token) Price: 1 ALC = 0,50 USD
Minimum Amount of the Cryptocurrency Tokens to Buy: 1 ALC
Pre-ICO Opens on: 20.04.2018 (12:00 CET)
Pre-ICO Closes on: 29.07.2018 (12:00 CET)
ICO Opens on: 30.07.2018 (12:00 CET)
ICO Closes on: 30.11.2018 (23:59 CET)
Soft Cap: 1,000,000 ALC
Goal: 35,000,000 ALC
Maximum Cryptocurrency Release Volume (Hard Cap): 70,000,000 ALC
Maximum Cryptocurrency Supply: 100,000,000 ALC
Token Distribution: Aligato 30%; crowdfunding investors 70%
Payments Methods: BTC, ETH, LTC, DOGECOIN, ATB, Aligato.pl ( PLN & USD )
Join AligatoCoin (ALC) from Here:
Website: https://aligatocoin.io/
ANN Thread: https://bitcointalk.org/index.php?topic=3288216.0
WhitePaper: https://aligatocoin.io/whitepaper/aligatocoin-whitepaper-en.pdf
Twitter: https://twitter.com/aligatocoin_io
Facebook: https://www.facebook.com/aligatocoin.io/
Telegram: https://t.me/aligatocoin
I am on Bitcointalk, if you are also on bitcointalk, you may follow us. Here is my bitcointalk profile URL: https://bitcointalk.org/index.php?action=profile;u=1853584