LocalCoinSwap ICO Review
What is LocalCoinSwap:
@localcoinswap is a peer to peer decentralize community owned cryptocurrency exchange by which you can buy any cryptocurrency with any other currencies including fiat currency without any hassle. You can create an account in seconds without any verification and without any restriction, you can get the full services provided by LocalCoinSwap. LocalCoinSwap will list the more cryptocurrencies than any other peer to peer exchange that means you will get more digital assets to trade.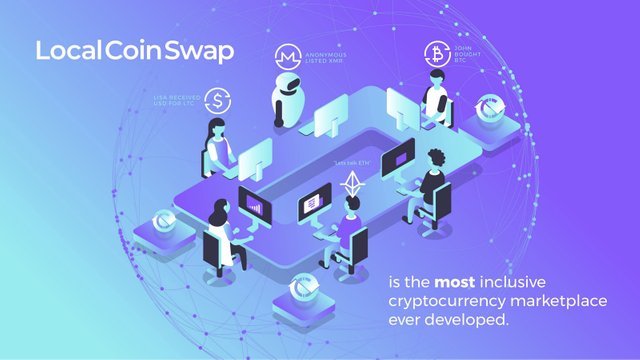 Why Should You Invest in LocalCoinSwap (LCS):
100% of profits distributed back to the LCS token holders based on the blockchain Dapp.
The more LCS tokens you have, the more distribution you will get i.e., let you have 1% of LCS tokens then you will get 1% profits from overall profit.
LocalCoinSwap has a dedicated support team with an inbuilt social media feature in the exchange.
Unlike the other exchange, in localcoinswap you don't need to get KYC approved as it is fully decentralized peer to peer exchange.
All the digital assets will be kept into the escrow while the direct payment will be made between traders.
LocalCoinSwap has cutting-edge security. It has multi-signature transactions. 95% of funds in cold storage.
Airdrops of other ICOs: When an ICO get listed on LocalCoinSwap, and if you are a LCS token holders you will get free airdrop based on the number of LCS tokens you have.
You just need to keep a digital asset LCS token to get free multi-digital assets.
There are no centralized bank accounts, no verification and no restrictions on your trade.
LocalCoinSwap will list the wider cryptocurrencies than any other existing peer to peer exchange.
You will get the conceivable payment methods for purchasing and selling digital assets, including custom options added by the LocalCoinSwap community.
LocalCoinSwap has already been featured on top sites like Forbes, Cointelegraph, NewsBTC, and ICObench.
The main advantage of LocalCoinSwap that I like the most is Cryptoshare. Let's see the following benefits and how the cryptoshare works on the exchange:
All the profits from the trades on the localcoinswap exchange will be equally divided with the token holders. It will be based on the number of LCS tokens you have.
The distribution from the 100% profits will be divided by the decentralized dividend app so no cheating possible.
The token holder will not only get the dividend profits gain by the exchange, however, the cryptoshare holders revieve profits in all of the cryptocurrency traded on the LocalCoinSwap exchange.
Whenever any ICO listed on LocalCoinSwap, you will get an airdrop of that tokens for free if and only if you are a LCS token holders.
On new listings of any ICO, cryptoshare holders will get special offers.
Where to Buy LocalCoinSwap (LCS):
LCS token sale is currently running on, and they have already reached their softcap till now they have raised more than $11.5 million. The crowdsale will end on 15 June 2018. Get the tokens as earlier as possible to make big profits from your investment. This is a very unique project that shares their 100% profits back to their token holders. You can buy LCS tokens from here: https://www.localcoinswap.com
Connect with LocalCoinSwap:
Website: http://www.localcoinswap.com/
Whitepaper: https://www.localcoinswap.com/LocalCoinSwap_whitepaper_v1.0.pdf/
Facebook: https://www.facebook.com/localcoinswap/
Twitter: https://twitter.com/localcoinswap_
Telegram: http://t.me/localcoinswap/
For more updates pleasse follow us on steemit: https://steemit.com/@shadabiitr