IAGON: Securing Cloud Storage Facilities around AI, Big data via Blockchain Technology
Storage is a very important concept in computer operations. Computer storage facilities provide permanent and temporary storage of important and sensitive data. The cloud storage and computational capacities is one of the fastest growing trend in today's IT world. Cloud storage is the storing of data and files from a local computer to a remote server elsewhere. In simple terms, cloud storage is all about accessing your computer files from outside your computer's storage device.
However, the demand for cloud storage and computing power is expected to witness a massive increase due to the influence of the Artificial intelligence and Big data technologies.It is obvious that cloud storage has made significant gains and contributions to IT, there are some concerns over its data security, reliability of centralized cloud service providers and the guarantee of users' data privacy etc.
Introduction to IAGON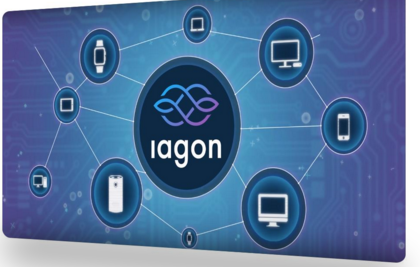 IAGON is an open source platform which leverages on the provisions of the blockchain technology and artificial intelligence to provide a decentralized grid of cloud storage and processing. It is poised to utilize the unused storage capacities of cloud servers and local storage computer devices alongside their processing potentials to build a supercomputer that can stand side by side with any of the present cloud computing giants. It affords firms and individuals the opportunity to enjoy storage and processing services in a secured form and minimal cost.
Benefits of IAGON
• Data center and server owners who embrace the platform would be issued IAGON tokens which can be traded back to fiat or paper currency.
• Stakeholders on the IAGON storage grid can publish their skills and services based on their experience, available resources and bidding price.
• Its artificial intelligence and machine learning algorithms will help to determine appropriate service prices to users of the platform.
Key Features
Artificial Intelligence Driven Computational Process
Artificial intelligence and machine learning algorithms are useful tools in analyzing and computing large sets of data, hence IAGON applies AI(Artificial intelligence) and machine learning algorithms to allocate load (data) across Blockchain decentralized networks for processing as well as securing the data through encryption and decryption processes.
Secured Data Lake Technology
Being a player in the Big data market, IAGON implements the data lake technology in storing and retrieving files of all sorts. However, being aware that data lake technology is vulnerable to hackers and the consequences associated with such attacks, IAGON data lake is built on secured blockchain impenetrable encryption technology, file slicing, storage of small and encrypted slices of the parent file to provide a comprehensive data file security.
Tangle Technology
This technology is based on a stochastic mathematical analysis; it is utilized by IAGON to check some of the challenges associated with blockchain operations such as scaling up the blockchain operations and nodes reaching consensus on the validity of blocks when new blocks consistently emerge.
IAGON Tokens (IAG)
The IAG token is a utility token which will be used on the IAGON platform and exchanges. It operates on the Ethereum blockchain network and it will be the means for payment of services offered on the platform
Team
To make this platform a dream come true, th team pushing this project forward is armed with specialists and technocrats from different backgrounds such as marketing, IT and Blockchain specialists, business developers, IT security experts and legal professionals
In conclusion, IAGON aims to harness and integrate the potentials of Artificial intelligence, Big data and Blockchain technology to provide a state of the art and highly secured cloud storage facility for the public!!
For more information:
Website: https://www.iagon.com/
Whitepaper: https://www.iagon.com/pdf/Iagon%20Whitepaper%20v3.2.pdf
Telegram: https://t.me/Iagon_official
Facebook: https://www.facebook.com/Iagon-228521574349591
My bitcointalk profile link:
https://bitcointalk.org/index.php?action=profile;u=1708600;sa=summary
my bitcointalk username: sparklins4u