ApeSwap - Next Generation AMM Decentralized Exchange ?
Are you a fan of #DeFi and #NFTs because you can easily get a passive income by just doing staking and add pools liquidity to receive some nice reward? If yes, this article is was really suitable for you and I have something spicy for you.
As you know Automated Market Maker (AMM) has become the famous target for any kind of investment activity right now the reason was simple, because of a successful AMM project like Uniswap, PancakeSwap & BakerySwap is one of the reasons to motivate other developers to create another AMM Decentralized Exchange and I want to give you another project with the same like them.
A new journey of AMM Decentralized Exchange!


I introduce you ApeSwap - The next generation of Automated Market Maker (AMM) running through Binance Smart Chain (BSC). ApeSwap is forked from PancakeSwap for the forked code you can check: here and why they choose BSC? Because BSC has quite successfully made some solution from the main problem on Ethereum Network which is a higher fee.
To gain more trust for the community, ApeSwap has been audited by BSC Gemz & Certik Audit. Also, they are offering several services on their AMM Decentralized Exchange :
Trading activity
Farming
Pools
IAO (Initial Ape Offering)
NFA (Non-Fungible Apes)
Lottery
One of the interesting things about them is "Lottery" because this is my first time to see some AMM Decentralized Exchanges have this kind of feature to try your own luck.
Apes loves $BANANA
Apes is the name of the ApeSwap community and yeah the developer has created their own token to support their economic system, ApeSwap has been created $BANANA as their token utility to support any kind of activity on their exchange.
Why we should trust and use them?
I know with the reason case of scam activity because the popular moment from BSC, AMM and Rugpull problem makes some doubt to entering on some new project. But, just like I said before ApeSwap has some audit report of their code and liquidity has been locked makes them have more trust value than other projects without an audit itself.
How ApeSwap trying to protecting the price?
Everyone already know how to protect the price from AMM Decentralized Exchange will be always :
Add pools of their own token
Yield farming reward
Governance
But as you know, ApeSwap have one more plant which is Burn Map Program you can see on the image below.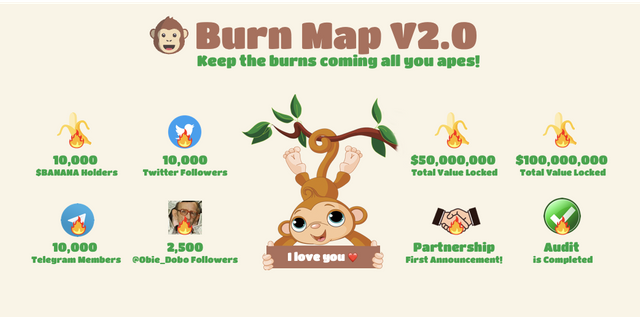 The burn program will be active every time each line has been reached, and the team will make activated a burn program.
Conclusion
In my opinion, with some various information, we already talking about ApeSwap could be become the next generation AMM Decentralized Exchange in the crypto space. They have some action to gain more trust in the community and that why everyone loves and becomes the Apes Community of ApeSwap.
I guess that's it from this review article. If you want to get more information about ApeSwap you can find it on the link below.
Website
Medium
Twitter
Telegram
Announcements
Telegram Price
GitHub
Instagram
Apeswap Analytics
Information Author :
Bitcointalk Username: ryzaadit
Bitcointalk Link: https://bitcointalk.org/index.php?action=profile;u=961598
BSC Address : 0x67102C00275B36b89d3B8Fb0bb1EC13fA079b3A6
Disclaimer: I am not a financial advisor and this is not to be considered financial advice, it is merely my opinion and any investment should not be taken without speaking to a qualified professional first.