Fuck your "social contract"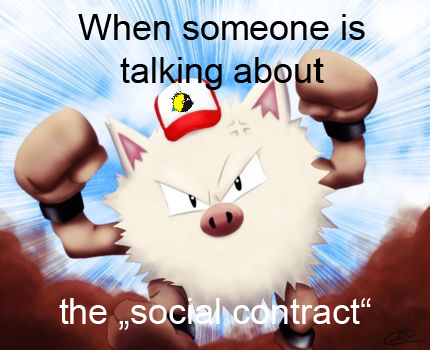 Deutsch/English
Es ist absolut lächerlich, wie hart Menschen verarscht werden. Beispiel Rente: Ich soll in eine Rentenkasse einzahlen aus der ich, wie jeder andere in meinem Alter, keinen Cent erhalten werde. Das weiß jetzt schon jeder, trotzdem habe ich keine Wahl. In einer gerechten Welt wäre das spätestestens Vertragsbruch, wenn ich am Ende kein Geld kriege, aber in einer gerechten Welt würde mich sowieso erstmal niemand in ein System zwingen. Erst Recht keines, dass nicht funktioniert. Das ist als würde man jetzt jeden zwingen aus "Solidarität" Air Berlin Aktien zu kaufen.
Wenn ich einen "Vertrag mir jemandem habe möchte ich ihn verklagen wenn er am Ende seinen Teil nicht erfüllt, erst Recht wenn er von vorne herein wusste, dass er sich nicht dran halten wird.
Ein Vertrag aus dem ihr nicht austreten könnt, der jeder Zeit von der Gegenseite verändert werden kann und bei dem ihr auf den guten Willen eures Gegenüber angewiesen seid weil ihr ihn vor keinem Gericht dieser Welt für seinen Vertragsbruch belangen könnt IST KEIN VERTRAG.
Lasst euch nicht verarschen.
It's kinda laughtable, how people have been played on to believe in this system.
Take pension for an example. In Germany, everyone is forced to pay into a pool, which my generation will nothing receive from. Ever. This is common knowledge, but theres still no choice. In a World with justice, it would be at least breach of contract when theres no repayment at the end, but in a world with justice i wouldn't be forced into a system, and especially no system that doesn't work at all.
That's like forcing everyone to buy Air Berlin stocks for solidary reasons, although they're bankrupt.
If i have a contract with someone i wanna sue the living fuck out of him if he doesn't keep his part of the aggreement, especially if he knew he would not keep his promise all the way through.
A contract which you cant drop out of, that can be changed by the other side at any given time without your consent and which doesn't allow you to get your right in court is NO VALID CONTRACT.
Don't be a fool.