Only Cute Plush Animals Allowed in this Zoo near Milan 🐘
I've never been to a zoo as a child, I'm happy to say, and would never go until now - until the plush zoo, with plush tigers, giraffes and zebras...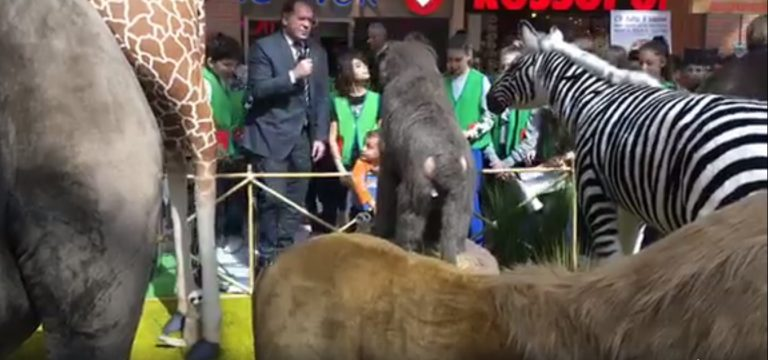 (picture taken from a video on fb, Alessandro Cecchi Paone presents the plush animals to children)
The itinerant 'Animals' Zoo was conceived by WWF-Italia, and has obtained the approval of animal rights activists!
This cuddly zoo will be travelling around Italy, starting from Milan in the second half  of March. Then it will continue to Rome, Florence and Teramo in Abruzzo.
The different areas are like those of a normal zoo: the farm, the birds, the reptiles, the forest, the savannah, but the animals on display are all plush toys.
The 144 Hansa plush animals reproduce perfectly in every detail and, in natural size, the species belonging to various continents. 
Each animal is made respecting the environment, with 100% recycled pet padding. 
The exhibition is made up of eight thematic areas accompanied by educational signs about life, habits, the history of the animals present. 
In the multimedia play area the children will be welcomed by the "rangers" in safari outfits, while at the end of the parade the little explorers will be able to immerse themselves in the virtual ocean of the Multimedia 3D aquarium. 
This initiative "represents an important educational project - says Roberto Speri, President of the Consorzio de La Corte Lombarda - aimed at involving schools that are responding to our invitation in a positive way; in fact, over 700 students are expected to participate ". - source
Do you think real animals should be exhibited in zoos?