Manga Recommendation - Sewayaki Kitsune no Senko-san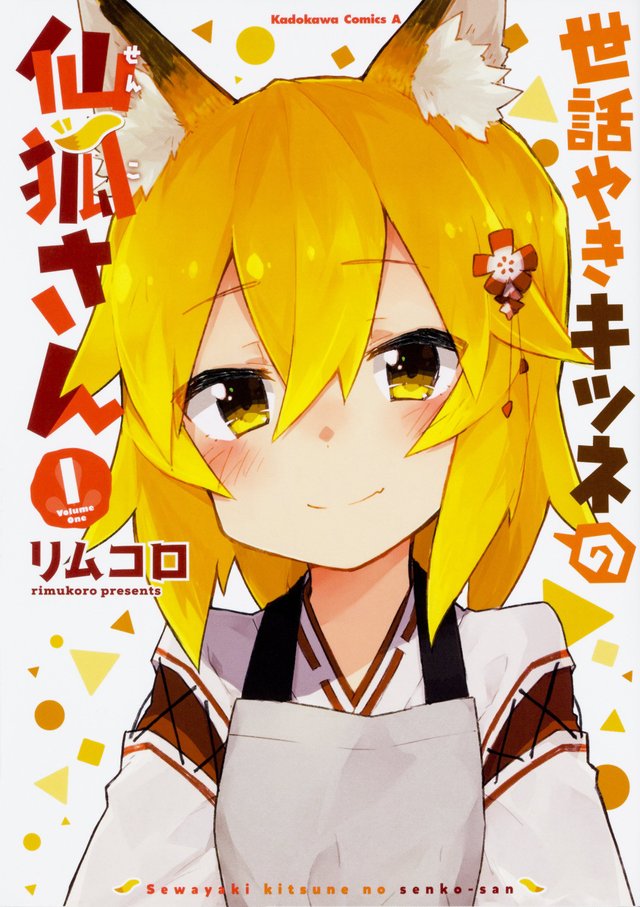 Mofu Mofu. What does it mean? It is a Japanese mimetic term for 'soft to touch' or simply 'fluffy'. Fluffiness is a global culture. If it is cute, we humans tend to be infatuated with it. So 'mofu mofu' is now a Japanese meme desire to feel up a soft thing. A soft pillow. A close friend, even significant other. But this mostly centers around animals. Particularly furry or feathery ones. Like a shiba inu's butt.


Yup. There is enough demand to mofu mofu shiba inu's butt to warrant selling shiba inu's butt merchandise.
Naturally mofu mofu also extends into manga and anime. So when mofu mofu gets into the fantasy genre, what will have everyone obsessed with the mofu mofu? Aside from pets and animals, the pinnacle of mofu mofu is the beast human or beastkin. Not exactly half human half animal. More like mostly human and a bit of animal. From snarling beastkin, wild and instinctual, to noble beastkin, regal and proud, there is plenty of imagination for the mofu mofu crowd to indulge. And that is what this manga recommendation is. A 'slice of life' manga that centers around a fox girl and mofu mofu, Sewayaki Kitsune no Senko-san.
Created by mangaka Rimukoro, Sewayaki Kitsune no Senko-san starts with Nakano, an office worker in a company. Being overworked and stressed, his constitution is terrible. In fact a dark aura can be seen surrounding his body. One can expect that his life will be in danger if the dark aura over powers him.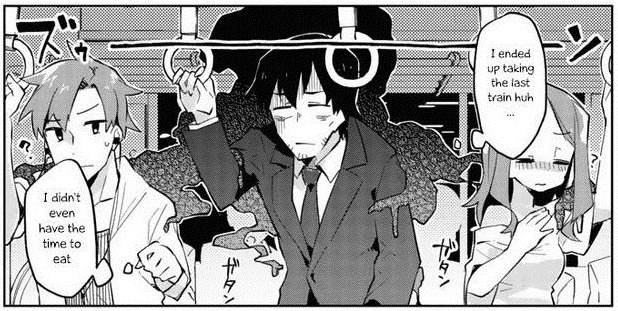 That looks heavy. Is this what it means to have stiff shoulders?
He comes home to his apartment room and opens the door. What does he find? A fox girl cooking and welcoming home. Faced with this strange scene, he tried to make sense of the situation and realized his precarious position. So he threw her out. A futile effort as the fox girl justpasses through the door like a ghost. At least he now knows she is not human.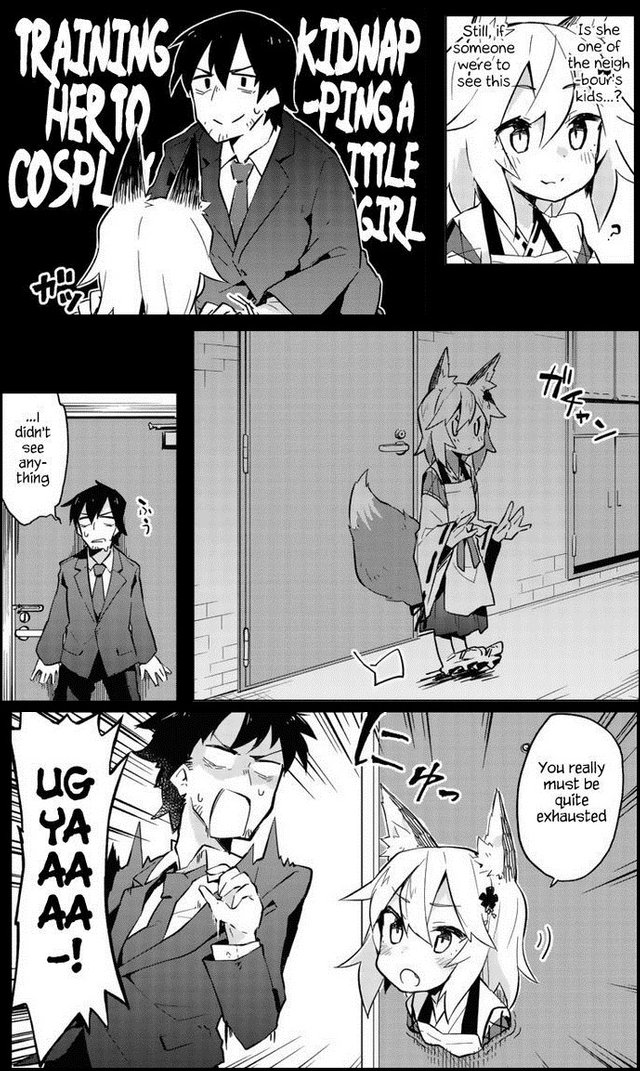 Resistance against the mofu mofu is futile!
Going along with her whims, he sits down to eat the homemade dinner she prepared for him. As he ate the warm delicious food with the fox girl, he wonders how long he last had a warm meal together with someone.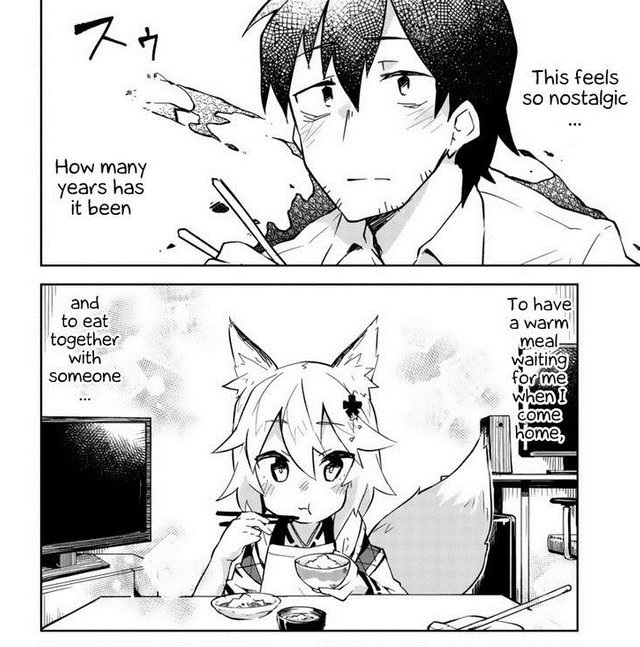 Look at his dark aura. It's fading away.
When asked about her identity, the fox girl introduces herself as Senko, an eight hundred year old divine messenger fox. Taking pity for his worn and stressed state, she took the initiative to take care of him.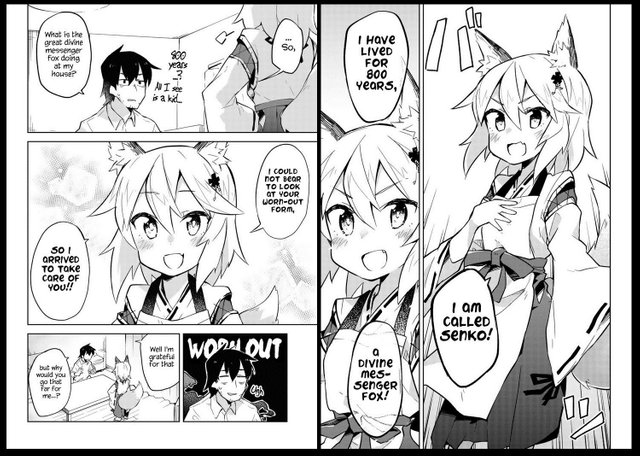 A divine messenger fox. Literally a deity.
Nakano then asks why a divine messenger fox like Senko is willing to do that for him. Senko replies that she took a fancy to him. Leaving that aside, Senko asks Nakano if there is anything he wishes for. Nakano requests to touch her tail, much to Senko's surprise.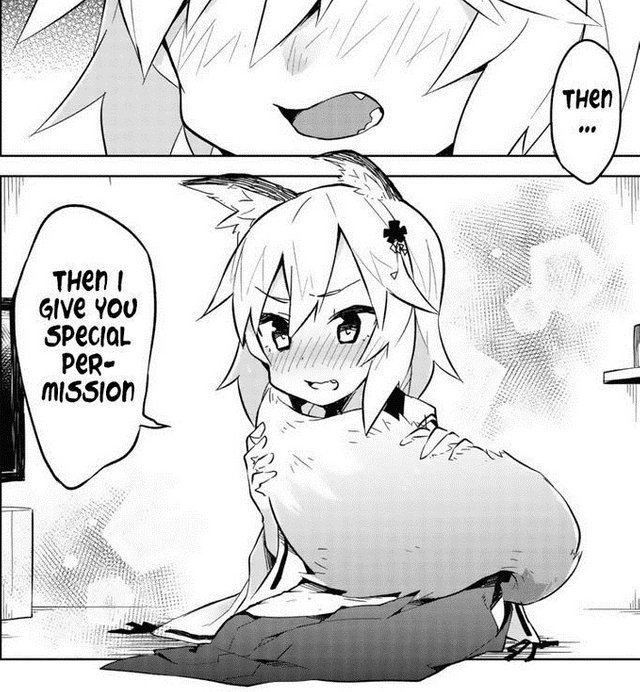 Huhuhuhuhu… Mofu mofu.
After a pleasant mofu mofu session, Nakano is worried that being taken care by a deity will turn him into a worthless person. Senko immediately brushes off that notion; saying that it is a trivial matter and even an eight hundred year old deity has some worthless traits too.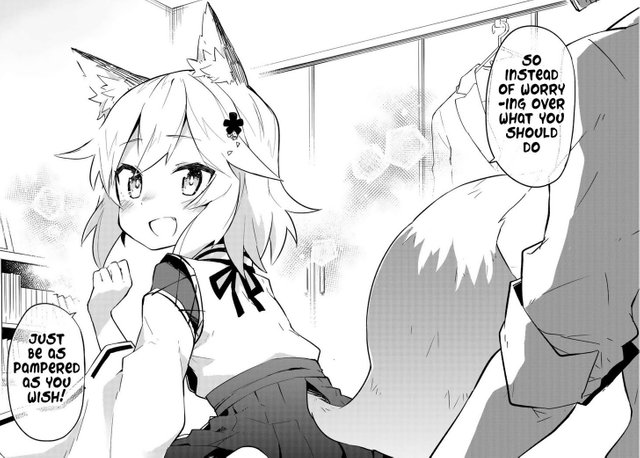 She then tells him to cast his worries aside and accept his pampering instead.
With her words, he accepts her care whole heartedly. And the dark aura that plagued him all this time finally faded away completely. For then on, she is a permanent resident in his apartment, tending to the housework and accompanying him after his work. Many chapters (or tails) of fluffy distressing and relaxation to come.


Senko removing the last of Nakano's dark aura.
That's actually the entire manga in a nutshell. A bit bare bones isn't it? Well, it is slice of life and this genre can make do with very little. There is little story in the manga, so little that whole chapters can make little to no plot progression at all. There is some points of intrigue where some backstory in regards to Senko is slowly revealed, hinting at her reasons for taking care of Nakano. However, that is not the main draw. The main charm of the manga is…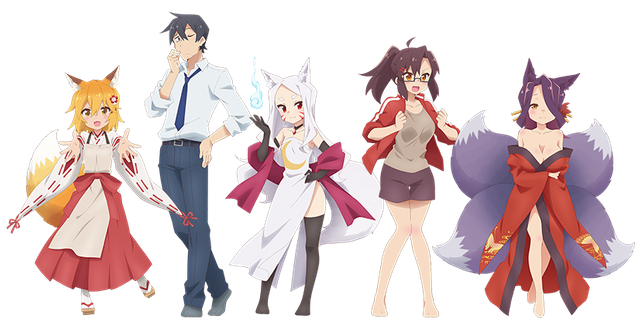 Its cast of characters.
Different characters are introduced throughout the manga. There is Kouenji, the next door neighbor, and even more divine fox girls! Mundane daily life is always made more interesting if divine fox girls are doing them! Especially Senko and her interactions with Nakano.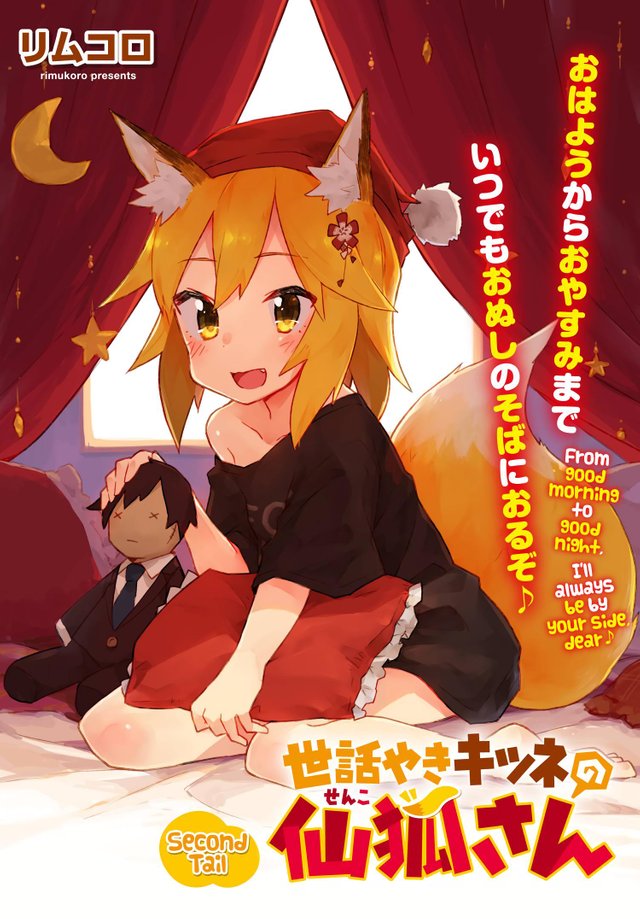 Senko the divine fox girl. Is Nakano actually her toy, I wonder?
As the manga progress through the chapters (tails), more information on Senko's character is revealed. Her likes and dislikes. Her perspective on many things in modern Japan as well as ancient Japan. Simply put, Senko is a mystical eight hundred year old divine messenger fox. It is fun to know Senko-san through the chapters (tails). Nakano on the other hand is a very static character. His character sets to be set from the get go. A reserved, kind and grateful man who pays attention to Senko and her needs. Also, he is a fine enthusiast of mofu mofu. Let's not forget that important part.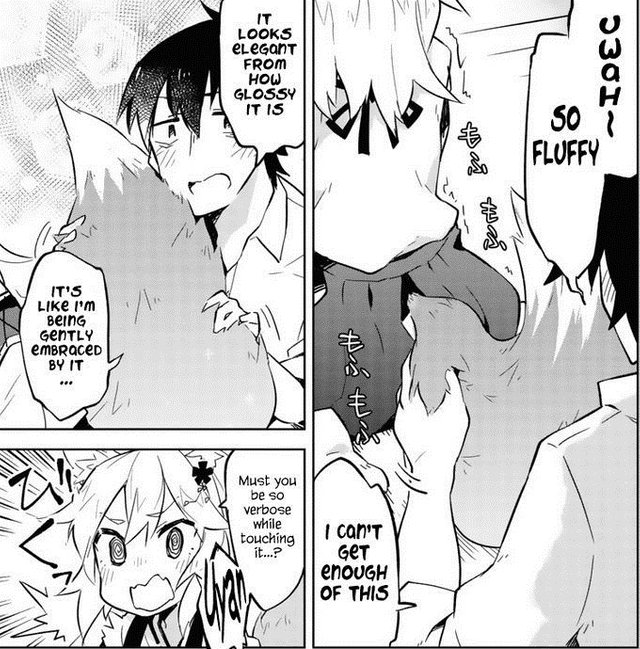 YeeEEees.. Embrace the mofu mofu.
Jokes aside, Nakano is not a bad character, despite me describing as such. Nakano is more of a reactionary character. His kind and attentive character is a good compliment to Senko who is the main character in the manga. In fact there is another reason for Nakano's static character. Since there isn't any character development for Nakano, more focus is given to Senko. This allows reader to fully experience Nakano's perspective and highlights Senko's character vibrantly.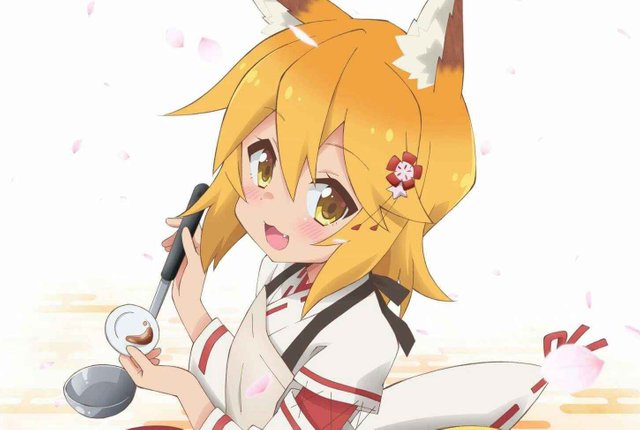 Look at Senko. We need more Senko.
And more of Senko does this manga provide. Senko shares some unique experiences of a divine fox like her daily life in shrines. Given that she is a supernatural being, she has her own perspective to share. Like her skill to control fox fire, a mystical fire that floats in the air. Or her receiving offerings from worshippers of the shrine. Or her habits and preferences that calls back to the feudal era of Japan. Furthermore, another interesting take is the lack of experience or perspective, specifically normal things in modern Japan. Senko is eight hundred years old and spent most of her time in the heavens or in the shrine, so modern things like machines and city infrastructure is completely alien to her. It is a fun read on Senko's interest in modern Japan and her struggles to cope with it.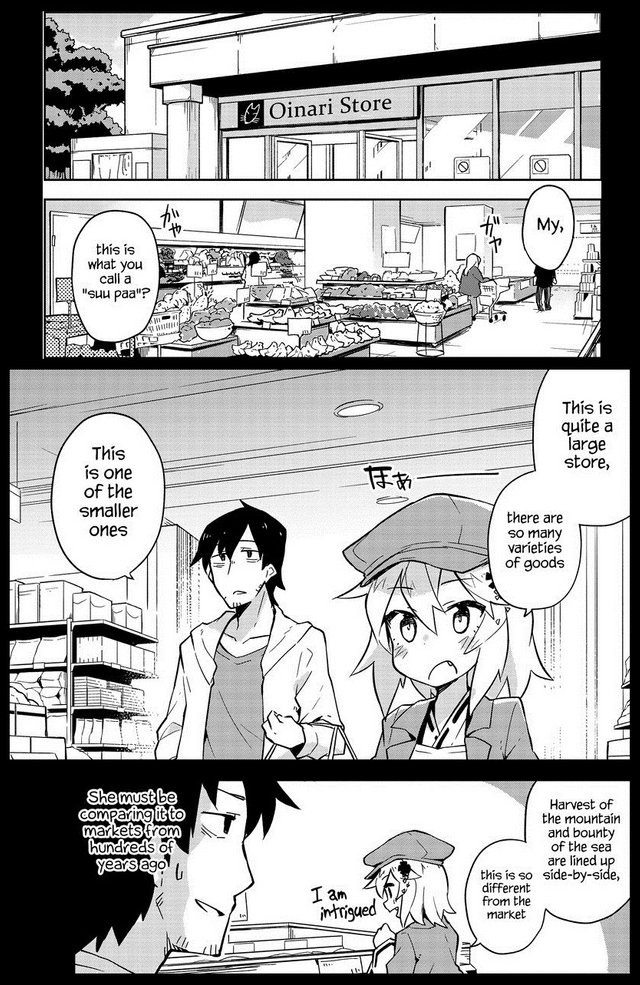 Senko's first exploration of the modern day supermarket.
So that is Sewayaki Kitsune no Senko-san. There isn't much to the story but it is very fulfilling in terms of entertainment. It is a great read without the baggage of anticipating the story. The charm is in the characters and the experience and perspective they bring to the readers. I recommend this series for those who like the 'slice of life' genre and have an interest in Japanese culture; modern or ancient. Also divine fox girls. Those who love divine fox girls or anyone who likes the mofu mofu will get a kick out of this. This is a great time to read the manga, as the anime will be released in the spring season.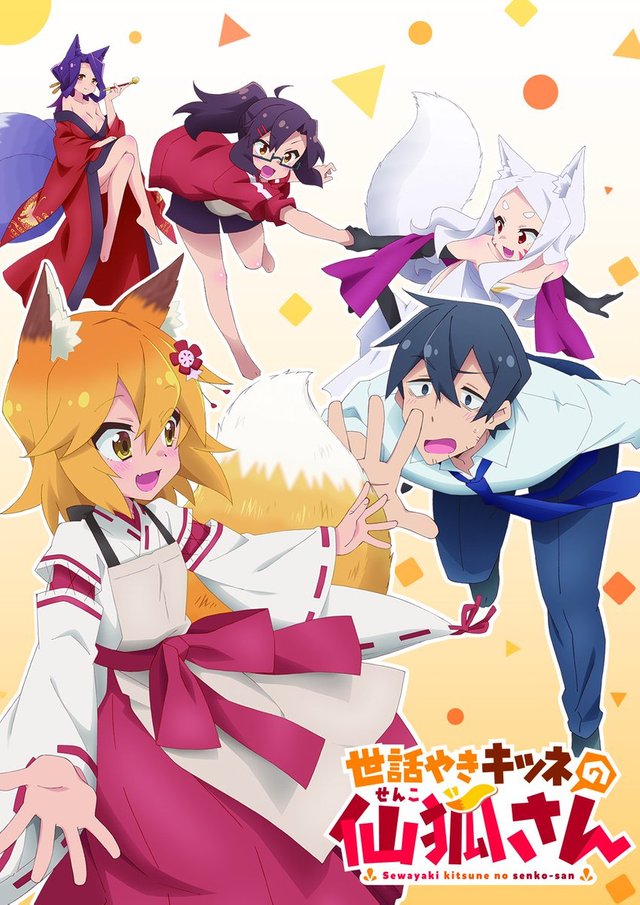 Ye-heh-heh-es! Sewayaki kitsune no Senko-san anime slated for spring release in April!
The announcement came as a recent surprise to me. The fox girls will be animated by Doga Kobo Studio, a studio that has many animes in its resume. Senko is in good hands. The VA cast of the characters includes Azumi Waki (Senko), Junichi Suwabe (Nakano), Maaya Uchida (Shiro), Ayane Sakura (Kouenji), and Eri Kitamura (Sora). Huhu, I am looking forward to how the fox girls will talk in the anime. See, the fox girls are all centuries old and come from an ancient era of Japan. Thus, they talk in a more traditional manner, like ending sentences with 'nojya' or 'nanojya'. I am not very learned in this Japanese dialect so I am anxious to learn more about it.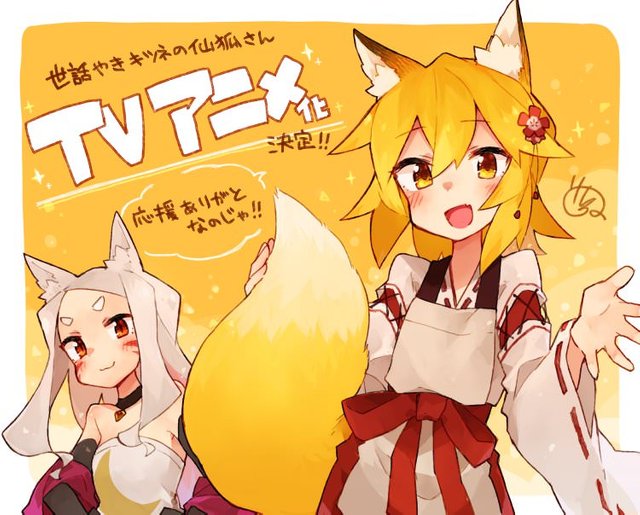 I am interested in how the old speaking dialect is portrayed in the anime.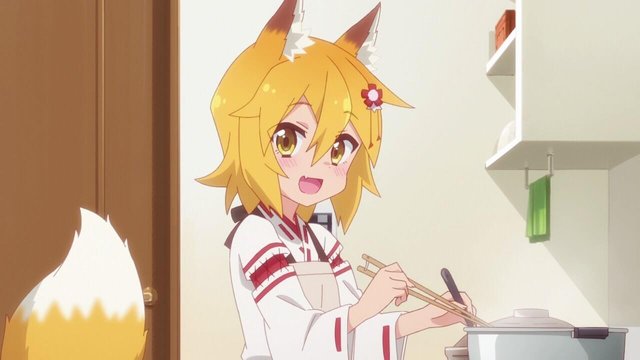 Clickly Clicky on the image to go to anime trailer.
An anime trailer is also released! And it looks amazing! This looks to be a pretty faithful adaptation, so no worries from me! Also, the traditional Japanese music remixed with a modern touch as the BGM. Ooooh! I love it. The opening and ending themes has been announced too. "Koyoi mofumofu!! (今宵mofumofu!!)" by Senko (Azumi Waki) and Shiro (Maaya Uchida) and "Moffumoffu DE Yoi no Ja yo (もっふもっふ DE よいのじゃよ)" by Senko (Azumi Waki). Huhuhuhuhu.. One will know the mofu mofu theme is preserved when both the opening and ending themes have mofu mofu in their titles.
So now is a perfect time to get into the manga! Find a nice ample time slot in your weekend afternoon and read up on the manga. When spring comes, the fluffy anime will be released and the world will go wild with the mofu mofu!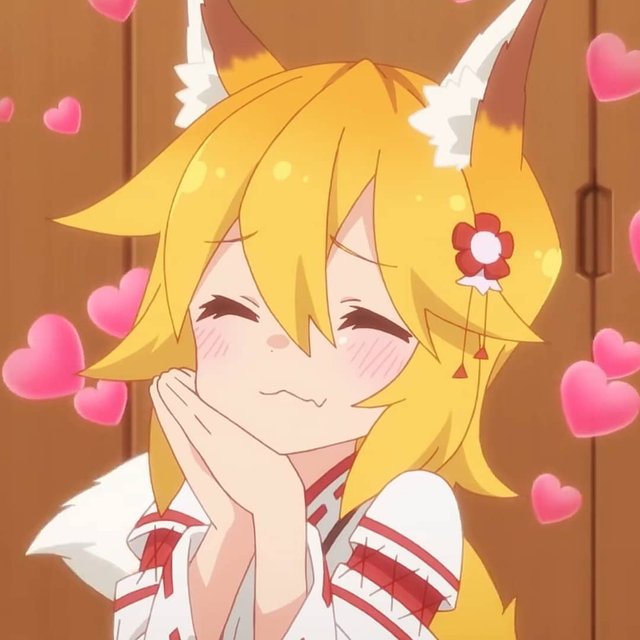 The world will know the heaven that is mofu mofu.
---
Original post on Rosetta Archive. Please support this post by commenting and voting!
If you like this work, please share and help get this blog more readers!
If you like to support this mandrake, join the Mystical Forest on Patreon!