ApeSwap Milestone Has Been Reached !

Around one weeks ago, I already make some review article for ApeSwap for everyone who still doesn't read my first article about them you can find here.
In this article, we will still be talking about ApeSwap to make you have updated news about them and what milestone ApeSwap has been reached so far during this time. The reason why I created this article, just to make you guys have more information to bring another trust to them.
1. Non-Fungible Token (NFT) Apes Live Now!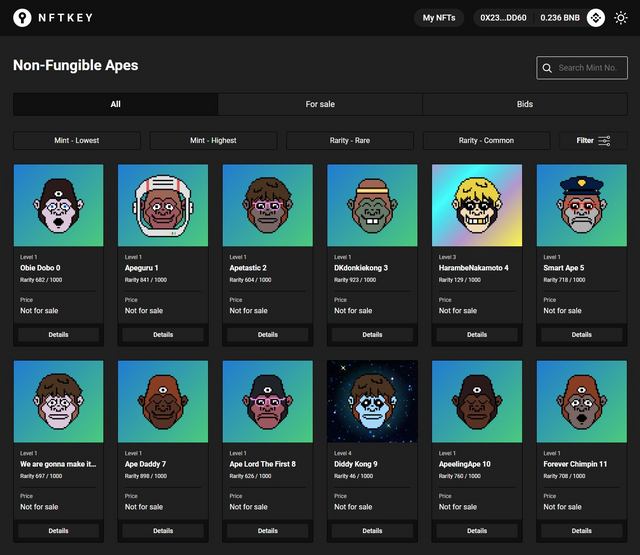 Good news for #NFT fans, now NFTs Apes from ApeSwap has been live on NFTKey. Everyone already can Buy, sell and bid #NFTs Apes on Binance Smart Chain. For some information, each edition #NFT Apes have 1,000 Limited edition collectible so make sure you got one piece of them.
2. Successfully IAO with Bitfresh (BWN)
Such great news for some projects who using IAO from ApeSwap, one of them is Bitfresh during their IAO on ApeSwap they almost oversubscribed with around 300-500%. The sale ended with successfully IAO raising $6,150,000 with only one hour.
3. Burn 2 Lambo $BANANA
Like I mention from previous article, ApeSwap will be active burn their token to raising the price of $BANANA token. Now, I want to give you some information ApeSwap has burn $BANANA with total 521,614 $BANANA estimation more than $490,000 is almost the same like 2 Lamborghini.
4. Listing On Coingecko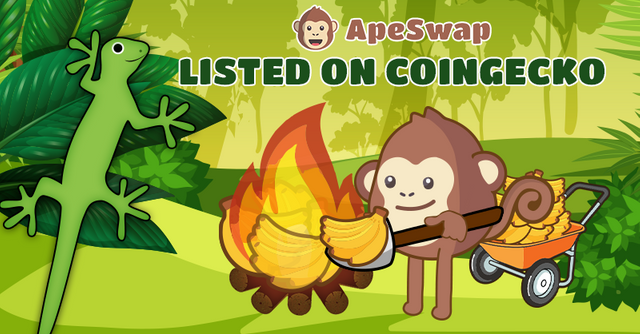 The good news keep coming for Apes Community and now they send us some information ApeSwap has been listed on CoinGecko. If you don't know about CoinGecko is one of the popular coins information on cryptocurrency space.
5. Partnership
Recently, ApeSwap has been doing a lot partnership with some project! and here the list project has been partners with ApeSwap :
KeyFi
Ontology
Squirrel.Finance
Befi
Bake
They also give us some information, another famous project will be partnership with them. So be ready for the next news from ApeSwap.
6. Golden BANANA ($GNANA)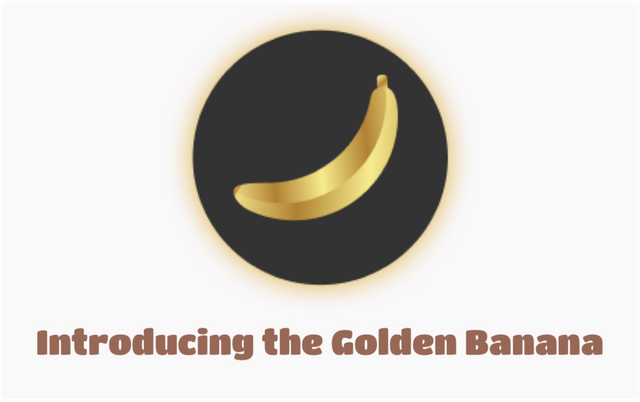 According to ApeSwap blog, soon they will have another fantastic news for ApeSwap community by realse their Golden Banana ($GNANA). The benefit you can get from Golden Banana is :
Passive Farming
Exclusive IAO Access
Exclusive Pool Access
Governance
Backed 1:1 by BANANA
But, this is just a piece of early information from them. The release of Golden Banana ($GANANA) still unknown until they are ready to share some full detail about the release into the apes community.
Conclusion
In my opinion, with a short, this achievement but getting a good impact for them is to indicate that they are really working so hard for the project. The good news keeps coming for Apes Community and will bring some massive awareness, positivity, strong fundamentals to their project.
I believe, If they always working same like this ApeSwap will become a major AMM Decentralized Exchange same as Bakery or Pancake Swap.
Anyway, that the end of this article! such a pleasure to make another ApeSwap article for them. If you want to know more about ApeSwap, you can find more information on the link bellow.
Website
Medium
Twitter
Telegram
Announcements
Telegram Price
GitHub
Instagram
Apeswap Analytics
Information Author :
Bitcointalk Username: ryzaadit
Bitcointalk Link: https://bitcointalk.org/index.php?action=profile;u=961598
BSC Address : 0x67102C00275B36b89d3B8Fb0bb1EC13fA079b3A6
Disclaimer: I am not a financial advisor and this is not to be considered financial advice, it is merely my opinion and any investment should not be taken without speaking to a qualified professional first.