APE TOOLS UNIQUE PRICE TRACKER AND WHAT IT MEANS FOR THE ECOSYSTEM
Do you want to make profitable cryptocurrency investments? Your first step would be to check the charts to find the best entry points. You also want to spend some time to understand how Support, Resistance, and Price Action can influence the price of crypto-assets.
Becoming a successful cryptocurrency trader also has to do with the accuracy of the information you have at hand. That is why you need to understand how disruptive Ape Tools can be.
WHAT ARE APE TOOLS?

Ape Tools is a price tracker that allows cryptocurrency traders to get accurate data for their trades. This tool is very essential because we need to make informed trading decisions, especially in bear markets.
THE TARGET ECOSYSTEM
The cryptocurrency price analysis solutions created by Ape Tools would mostly be used on the Binance Smart Chain (BSC).
Binance Smart Chain is one of the most popular blockchain networks, partly because of the unique features and mainly because of the bigger picture it creates in terms of offering better solutions than the Ethereum blockchain does.
Thus, Ape Tools' cryptocurrency price tracker will be used here. Also, this ecosystem thrives on the unique price tracking mechanism that would be used to monitor cryptocurrency assets on different Decentralized Exchanges.
WIDE COVERAGE
The Ape Tools cryptocurrency price tracker will be used to cover most of the liquidity pools, liquidity farms and Automated Market Makers (AMMs) built on the Binance Smart Chain (BSC).
The trio of BakerySwap, ApeSwap, and PancakeSwap would be covered. Ape Tools also includes a pool explorer feature to dig deeper into the data on these liquidity pools.
NFT IN THE MIX
Crypto tokens and coins are not the only cryptocurrency asset classes tracked by Ape Tools. Non-Fungible Tokens (NFTs) are also in the mix.
NFTs are the favorites of the cryptocurrency ecosystem because they are now used in different cases.
Ape Tools is currently observing the trend in the NFT ecosystem. As time goes on, plans would be in place to launch an NFT price tracker. This price tracker would be used to track the prices of different NFT tokens.
INVESTMENT OPTIONS
Ape Tools does not only offer aggregated price tools. It also offers cryptocurrency investment opportunities to users.
You can stake your crypto assets in the liquidity pool/farm. That way, you will earn passive income.
THE NATIVE TOKEN
Ape Tools has a native crypto token called $TAPE. This native token doubles as the governance token.
However, the Ape Tools is not satisfied with the $TAPE being just a tier or governance token. So, they are exploring other options, such as allowing the $TAPE token holders to benefit from premium features.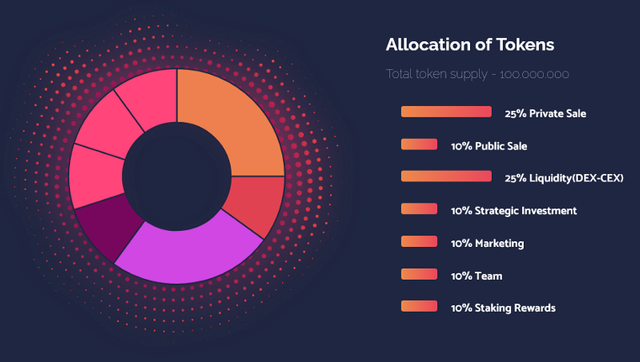 FINAL WORDS
You can make money both in bear and bull markets. You just need to have accurate data that reflects the price action in the crypto market.
Ape Tools is the disruptive cryptocurrency price tracker that would be delegated to aggregate data from Decentralized Exchanges (DEXs) on the Binance Smart Chain (BSC).
You can be confident of trading better with the data obtained from this crypto price analysis tool.
USEFUL LINKS:
Website: https://www.apetools.co
Twitter: https://twitter.com/ape_tools
Medium: https://ape-tools.medium.com/
Telegram: https://t.me/apetools_chat
AUTHORS DETAILS
Bitcointalk Username- Heroalt
Bitcointalk Profile Link: https://bitcointalk.org/index.php?action=profile;u=2768763;sa=summary