GastroAdvisor app
Hello? are you looking for an Italian, Chinese or French restaurant? Call GastroAdvisor !!
But what is it?
GastroAdvisor is a mobile application that allows everyone to find the best restaurants in your area. I think a lot of people sometimes find themselves in a restaurant and are disappointed by the menus or the quality offered or are looking for a special restaurant without ever finding it.
It will be a thing of the past with GastroAdvisor!
GastoAdvisor will list thousands of restaurants around the world and members of the community are invited to give their opinion on them, open the application, search and you will only have to choose the best!
Then, you can note so if your pizza was tasty, if the waiter was nice and if the pasta was overcooked and thus earn valuable "Fork" that you can spend on your next outing to the restaurant.
Here is an example of reward.
Classic reviews = 0.5 Fork
Certified reviews = 5 Fork
ADD picture, videos = 2 Fork
Why a blockchain project?
The blockchain can not be falsified and the comments must all be authentic because on some applications there are false comments or the restorers themselves write comments to better note their establishment, with GastroAdvosor, you are sure that all comments are authentic. The GA platform allows to examine a place on three different levels of
certification:
Points range from 1 to 10 for cooking, environment and service
The restaurant will get various certificates like bronze, silver or gold
Only restaurants that will accept payment in Fork will receive GOLD certification
The token (Fork) is used to reward users of the platform for giving their opinion or advice and can be spent in partner restaurants, contacts are currently underway at various prestigious institutions.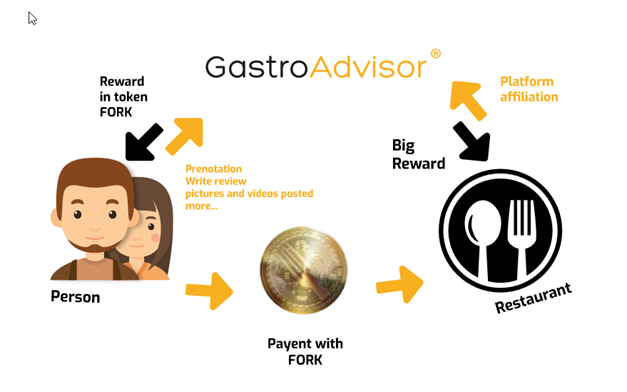 The FORK token will be built according to the Ethereum standard (ERC20)
In order for your GastroAdvisor wallet to be safe, it will be possible
to set a 2FA authentication via "Google Authenticator".
At the financial level, the platform will realize profits with its premium offers and advertising generated on the application.
Here are some estimates provided by the GastroAdvisor team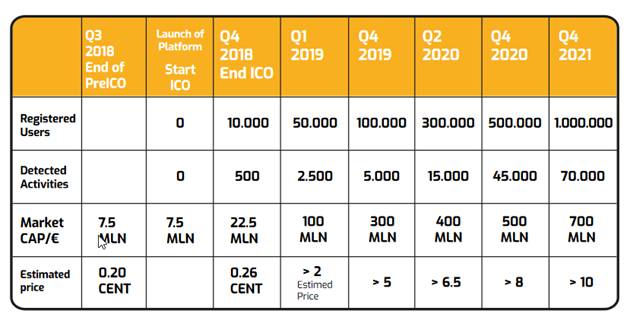 The alpha version of GastroAdvisor is planned after the end of the pre-ico,
Pre ICO phase 1: 03.09.2018 to 15.10.2018
ICO: 01.11.2018 to 16.12.2018
Total number of tokens: 200'000'000 (it will not be possible to generate
more tokens)
My personal opinion on the project:
I think the market is open for this application and with good marketing, the adoption of this tool could be done very quickly. The key will be finding restaurant partners willing to accept the tokens in their establishments.
Some restaurant search applications already exist but none offers to spend the money earned for writing a comment to help the community, in this sense GastroAdvisor innovates and can outperform the competition.
The development team is professional and the Alpha version under development looks very promising. I look forward to trying it because I like to go to the restaurant every week and I will be sure to have the best pizza in my area!
I advise you to go to their website
https://www.gastroadvisor.com/
as well as the white paper
https://www.gastroadvisor.com/whitepaper.pdf
BountyOx mckormick212