the symbol behind monk's robe color : الرمز وراء لون رداء الراهب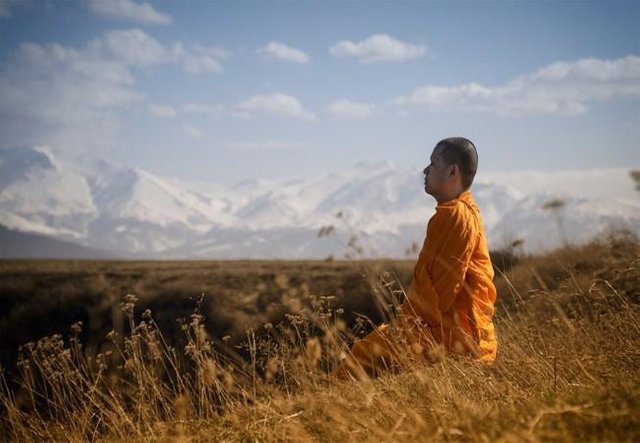 source
I was surfing the net as usual and this picture above catch my eyes for a second and I kept looking not in the clothes of the monk but on the color which is odd in a good way don't get me wrong .I got curious to know the reason behind the orange color of the Buddhist monks clothes or robe in particular.
The search led me into so many articles and to sum it up for you guys, the saffron to be more accurate which is the only color was available back then going back to 25 centuries to the time of Buddha
Buddha, they used tubers, bark, flowers, leaves and spices such as turmeric or saffron to dye with the cloth after They should be boiled in water for a long time to get the dun dye., and I found that the color changes from a country to another and also a stage in the process of becoming a monk around Asia.
The color itself is closest to daylight which symbolize the flame that radiates light and has the highest value in Buddhism and was chosen by Gautam Buddha
Buddha as a symbol of his humility and separation from the materialist society, it thus signifies simplicity, renunciation, desirelessness, and humility. It is the color of earth, thus a symbol of rootedness and the equanimity of the earth. Furthermore, it's a symbol of peace, untouched by evil, as well as the symbol of divinity.
I may said a little less of what I should say about the significance behind the robe's color but I want it to be short and clear for you guys and may be in the future I go in depth looking for more, last but not least I would like to share with you a video I enjoyed watching on YouTube, see you soon.

كنت أتصفح الانترنيت كالمعتاد، فلفت انتباهي الصورة أعلاه فبقيت محدقا لوهلة ليس في اللباس و إنما في اللون الغريب لا تفهموني بالغلط.أصابني الفضول لمعرفة السبب وراء اللون البرتقالي لملابس الرهبان البوذيين .
قادتني عملية البحث إلى العديد من المقالات ولكي ألخصها لكم يا أصدقائي ، الزعفران لكي أكون أكثر دقة وهو اللون الوحيد الذي كان متاحًا حينها، حيث يعود إلى وقت بوذا قبل 25 قرنًا ، فقد استخدموا الدرنات واللحاء والزهور وأوراق الشجر والتوابل مثل الكركم أو الزعفران لصبغ القماش بعد أن تغلي في الماء لفترة طويلة للحصول على صبغة الملائمة. فوجدت أن اللون يتغير من بلد إلى آخر وأيضًا مختلف المراحل خلال عملية أن تصبح راهبا في جميع أنحاء آسيا.
اللون نفسه هو الأقرب إلى ضوء النهار الذي يرمز إلى اللهب الذي يشع منه الضوء وله أعلى قيمة في البوذية واختاره غوتام بوذا كرمز لتواضعه وانفصاله عن المجتمع المادي ، مما يدل على البساطة والتخلي عن الذات ، واليأس و التواضع. و هو لون الأرض ، وبالتالي رمزا للجذور ورباطة بالأرض. علاوة على ذلك ، إنه رمز للسلام ، لم يمسه الشر ، وكذلك رمز الإلوهية.
ربما تحدثت قليلاً عما كان يجب أن أقوله حول الأهمية الكامنة وراء لون الرداء لكنني أريد أن يكون مقالي قصيرا وواضحا لكم يا رفاقي وقد أتعمق في البحث مستقبلا عن المزيد حول الموضوع ،أخيراً وليس آخراً أود أن أشارككم مقطع فيديو استمتعت بمشاهدته على YouTube ، أراكم قريبًا.