New Decentralized Court System Being Established
Governance is a big issue within the world of cryptocurrency. It is a topic being discussed throughout the community. Different models are being tried in an effort to improve upon the existing system that is in place.
Across the decentralized space, we see a challenge arising. How do you settle disputes that span national boundaries and operate solely in the physical world? This is proving to be a challenge.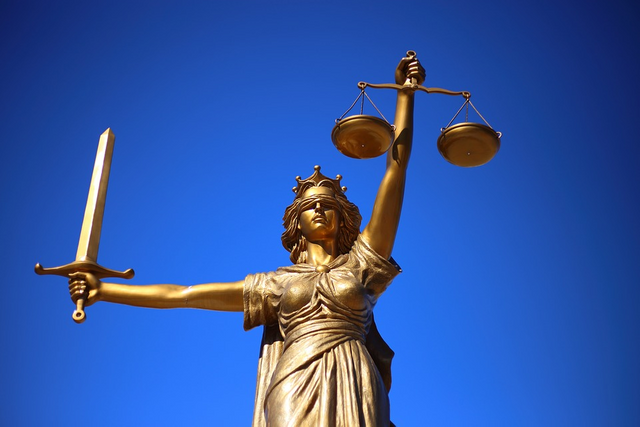 Pixabay image
The decentralized Aragon Court is looking to go live in February to tackle this challenge.
Aragon Court is onboarding jurors who are going to participate in the decisions.
Per Aragon's official website, the company developed a community governed decentralized organization, with the objective of operating as a digital jurisdiction and an online decentralized court. By rolling out Aragon Court, the team behind the project aims to eliminate "traditional artificial barriers such as national jurisdictions or the borders of a single country" when it comes to adjudicating disputes. - Cointelegraph
Conversion of the chains native token, ANT, can now be made to ANJ. Anyone who stakes at least 10,000 tokens will be able to become a juror.
Legal experts have been weighing in on the validity of smart contracts and how they apply to the legal system in most jurisdictions.
Some are claiming that smart contracts are not in conflict with international law, nor those of specific jurisdictions.
Blockchain for settling disputes is becoming ever more popular, even China used it, coupled with Artificial Intelligence, to settle 3.1 million cases in its smart internet courts.
The Aragon system removes the need for trust. In a truly trustless decentralised system, one trusts in the code and not in individuals.
Once the jurors reach a decision in a particular case, it is implemented in the smart contract. The winner is immediately rewarded as per the terms of the smart contract while the losers are penalized.
According to Luis Cuende of the Aragon Association:
"They are automatically executed by smart contracts — juries provide their decisions, and then the smart contract rewards or penalizes the winning and losing parties respectively. There is no trust involved or centralized parties who can tamper with the system." - Cointelegraph
Many asserted the ability for blockchain to alter endeavors such as voting and Aragon is the first court system that employs blockchain, at least to this degree.
One final piece of the puzzle is that individuals need to post a bond when opening a case as a guarantee during the arbitration process, which is returned if the ruling is in favor of the applicant.
Blockchain often sees a lot of innovation, which is spreading the potential reach within the present societal systems. Radical changes might be underway if people start wholely accepting and embracing these applications. The dispute process being handled at a blockchain level makes a great deal of sense and the Aragon Court project is leading the way!
---
| Visit our website for more! | Subsribe to our YouTube Channel |
| --- | --- |
| | |
Set it up today and contribute to building a better tomorrow!


( Want an easier way? Use our SteemConnect proxy link! )
Get support and connect with us and other BuildTeam fans!



---
Disclaimer: This is a @steemvoter subscription payment post. Thank you to Steemvoter customers for allowing us to use your Steem accounts to upvote this post by virtue of your free subscription to the Steemvoter.com curation automation service. @steemvoter is proudly a @buildteam subsidiary and sister project to @dlease, @tokenbb, @ginabot, @steemsports, @btuniverse, @steemsports-es and @minnowbooster.
Beneficiary Declaration: 10% @sbdpotato and 10% @taskmaster4450 (author) beneficary