Arizn - New way of crowdfunding
  Crowdfunding appeared relatively recently and caused quite a big resonance in society. Some were inspired by the idea of investing in new economic and social projects, while others opposed the idea, declaring crowdfunding the most modern form of begging. It is possible to argue on this subject long enough, but crowdfunding was, is and most definitely will be used in our modern world to attract funds for people who have great ideas or projects, but doesn't have enough funds on their own.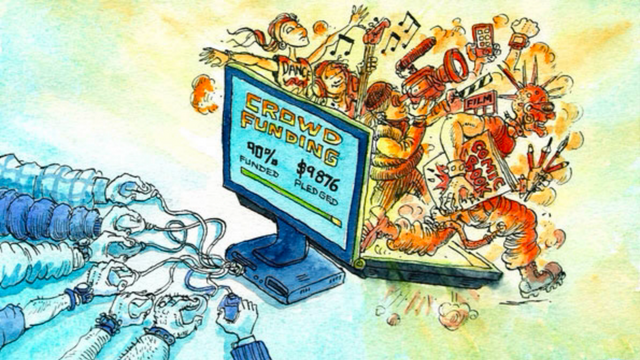 Recently crowdfunding platforms had many different problems, among which we can note the following:   
Lack of investor confidence in new and little-known projects; 
Bureaucracy and many conditions for participation in a particular project. What scares the creators of new projects and their potential investors; 
The presence on the market of a large number of scams and obviously unpromising projects, and often-projects that no one thought to implement; 
Different interfaces on different platforms, which creates certain difficulties for users, etc.  
This is not a complete list of problems faced by anyone who decides to engage in crowdfunding. There are many problems and until recently it was not possible to solve them. Among many crowdfunding platforms, the Arizn platform, created in South Africa, has been operating since 2011. Among the competitors, the platform has always stood out for the most simple and user-friendly interface, ease of use, loyal conditions for all participants.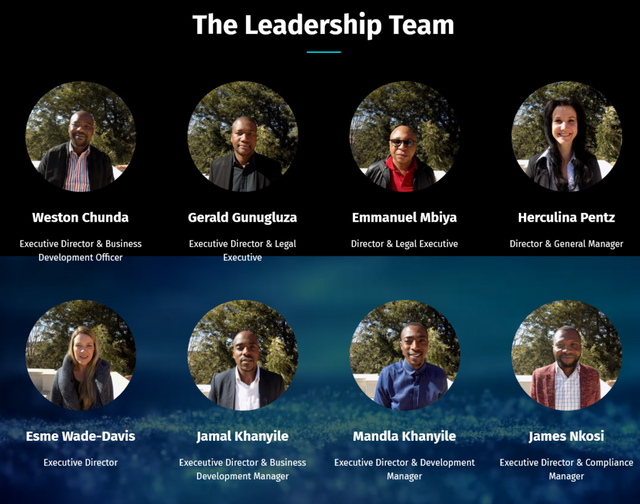 Today, the Arizn team said that having studied all the features of the market and the existing problems, they decided to create a fundamentally new platform based on blockchain technology, which will unite both investors and creators of new promising projects, as well as financial analysts and many other stakeholders.  

  The new platform will work on the basis of blockchain technology, which today can be called the most relevant tool in the crypto currency market. Such technologies allow to obtain a number of advantages and solve many existing problems, such as:   
Make any transactions as transparent as possible; 
To safeguard all transactions from fraud, through the use of smart contracts; 
To simplify reporting; 
Allow users to predict in advance the amount of profit that can be obtained from a particular project.   
Arizn promises to become one of the most competitive projects in the field of crowdfunding and return this direction to its former glory and trust of users. Due to the fact that earlier many investors were seriously burned on fraudulent schemes, today the trust in crowdfunding is quite small and it has become almost impossible to attract large investors even in the most noteworthy projects. If any amounts are collected, they are minimal and they are often not enough for the implementation of projects.  

  Among the undeniable advantages of Arizn are the fact that the use of the latest technologies allows to conclude transactions transparently and distribute profits as honestly as possible among all participants of the project. The approximate distribution of tokens will be as follows: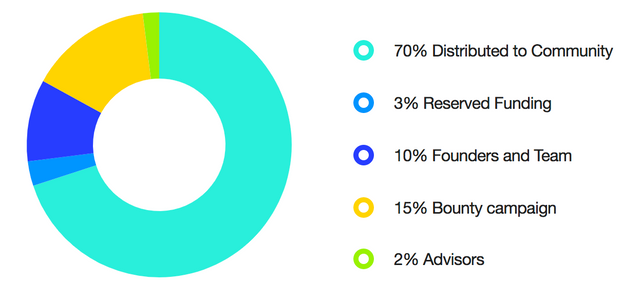 In addition, the project also involves bounty programs and various bonuses for partners who will voluntarily distribute content that will attract new participants, investors, project creators, analysts and many others interested in the success of the project users.    
Today, Arizn already managed to meet their soft cap, which has successfully collected more than 2.000.000 us dollars. Project hardcap is - 25.000.000 dollars and there is every reason to assume that this goal will certainly be achieved.   
A trial beta version has already been launched and everyone could appreciate all the advantages of the new decentralized platform. It is planned to fully implement all stages of the project and start full – fledged work very soon - in 2019, which suggests that the creators are fully confident in the success of their project and are ready to realize all the possibilities in the near future.  

  The tokens of the AALT project and its cost in relation to Ethereum will be 0.0001. In total, about 1.2 billion tokens of the project were issued, and many of them have already been successfully sold to interested parties. All tokens that can not be sold during the implementation of all stages of the ICO will be destroyed by the creators of the project.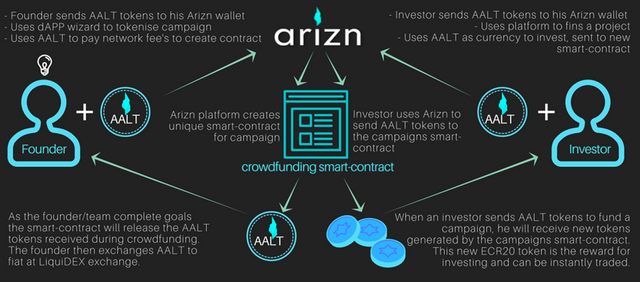 Project tokens - AALT will be as an internal currency platform. So they will tradable on external resources, on a variety of exchanges of crypto-currencies. This will not only generate money inside the platform, but also make a profit from trading. The preliminary stage of sales is coming to an end very soon and it is possible to get 14 000 project tokens for one Ethereum.   
There are a lot of well-known and familiar names and brands among investors, and therefore there is reason to believe that the project is promising and promises to become one of the most striking and interesting in this area. Crowdfunding will regain its good name, many projects can be implemented through joint investment.    
Arizn offers very good prospect for those who would like to invest in socially significant or economically profitable projects. I highly recommend you to take a closer look!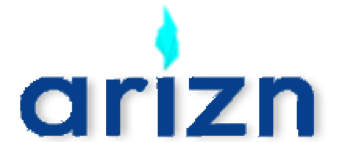 References  
Web Page: https://arizn.network/
WhitePaper: https://arizn.network/whitepaper.pdf
Twitter: https://twitter.com/Arizn3  
Telegram: https://t.me/ariznnetwork  
BTT Bounty: https://bitcointalk.org/index.php?topic=4666472.0  
BTT ANN: https://bitcointalk.org/index.php?topic=4637613.0  
Author: https://bitcointalk.org/index.php?action=profile;u=1143460