Draw with me: lighthouse non cylindrical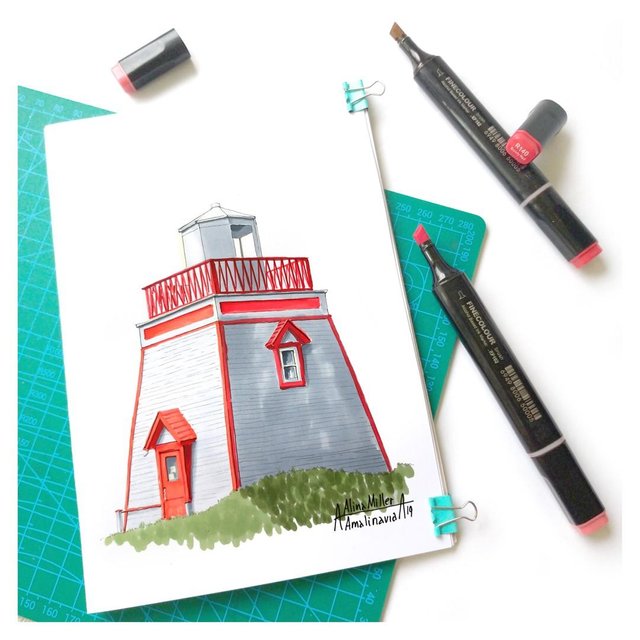 My friends and I launched a marathon on Instagram, so in the near future I will publish 5 step-by-step lessons on drawing lighthouses with markers. And this is one of them. Today we will draw a non cylindrical lighthouse.
I draw with Finecolour markers, because I'm a brand ambassador in Russia =). You can draw with me and use those markers that you have. I use liner 0.003 mm and white gel pen. The Colors and their correlation of markers can be seen in the picture.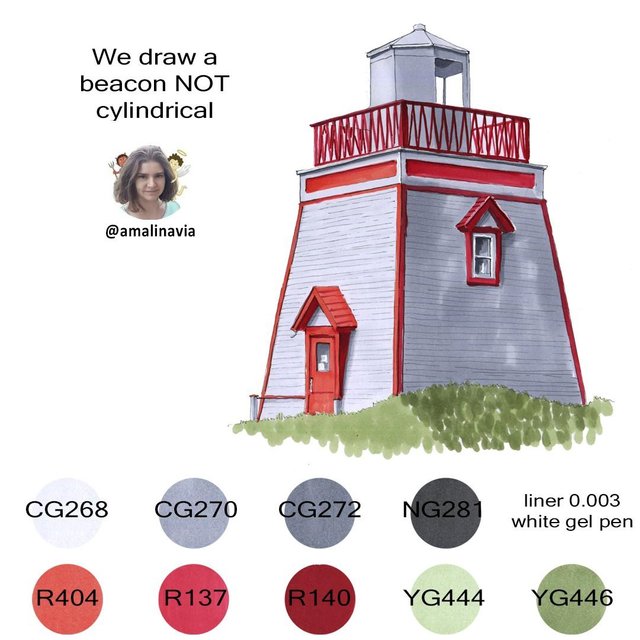 Steps:
First, a linear drawing, but without a detailed study of all the elements of the lighthouse.
Light falls from left to right, which means the left side will be in the light, and the right side in the shadow.

I make the volume of the building using different tones of gray markers: on the left is the lightest gray, on the right is medium gray. In a tone slightly darker, I distinguish the line between the light and dark parts of the lighthouse.
In the windows I use the same dark gray.
P.S. We do not pay attention to smudges of markers - they are removed with a white pen at the end =)


I use two red ones: light for the left, slightly darker for the right. Near the brink of light and shadow, I pass the marker twice!
For dark shady places I use the darkest red.
The darkest gray - in the upper parts of the windows and shady places under the roof.

For grass, I take two greens: with light, I paint all the grass with spots and dots, add a shadow on top of dark green.
With a white gel pen, I remove the marker that went beyond the contour lines and add highlights to the ends of the roofs. I select the handle on the door.

Enjoy the process and draw with pleasure.
If you want - you can find me here:
https://www.instagram.com/amalinavia/
---
All my paintings can be bought for sbd/steem
---
Thank you for watching!

P.S. It is hard to write in English, because my native language is Russian. But I'm learning. If you notice serious errors in the text that interfere with the correct perception, please let me know about them.