The Doorless Cage - A Poem & a Drawing
Sometimes words come out and sort of rhyme, and then we refer to that as poetry, or we call it poetic. This was never meant to be a grand poem, it wasn't really meant to be anything. It simply came out like this, quite spontaneously, completely effortlessly, both, the drawing and the poem, and that was that.
The Doorless Cage
 The doorless cage
was greatly cared for
Cleaned and maintained
Polished and stained
Then adorned with blossom
It was pretty awesome!
 
Now the inhabiting species
was completely unknown
None were allowed to touch its feathers
Nobody even permitted to see
The garnished cage
Its imagined destiny
 
One fine autumn day
an unusual haze
covered the area
preventing all gaze
with unshackling thoughts
now wildly ablaze…
 
Sparks, rays and unicorns
now all worked in unison
On the following morning
it was clear to see
the creature had changed
its proposed destiny
 
Some say it wanted to grow
Some say it needed to fly
But the truth of the matter
Just between you and me
Is that nobody knows
its true destiny.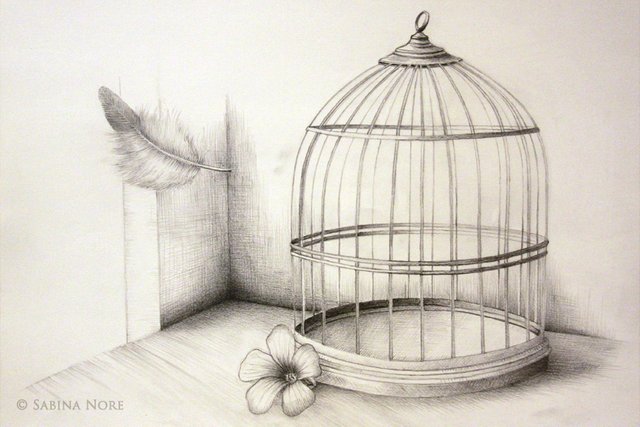 The Doorless Cage (2012)
---


Text & drawing by
Sabina Nore
www.SabinaNore.com
@anibas