Random Psychedelic Art on Canvas
I recently went to this little local art jamming class with my work colleagues where you are free to express anything in the form of painting within 3 hours. 
Not knowing what I should be drawing, I randomly drew this piece of work. I know it sucked pretty bad with all the funny comments but hey, true work of art does not need to make any sense. Just read what they had to say about my "masterpiece".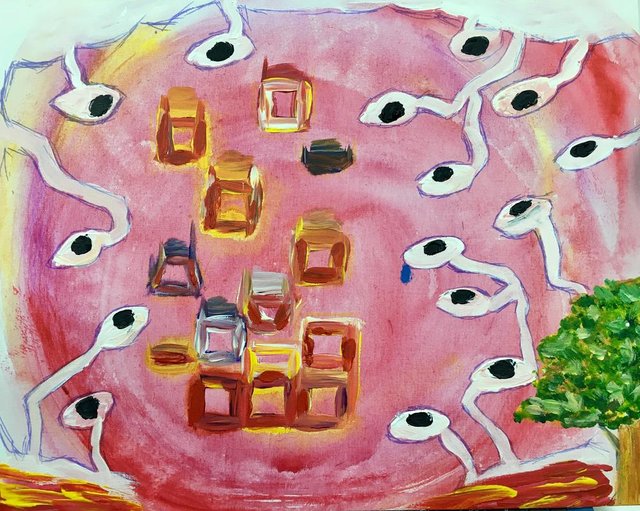 "What are those sperm-like things?" - Anonymous otter
"Are those sperms or some sort of eyes?" - Anonymous beaver
"This is bizarre yet soulful.. Are those sperms" - Sarcastic Owner
"Hahahahaha..." - The kettle
"What in the hell is this? Care to elaborate?" - Curious unicorn
"It'd look normal if it weren't for those tentacles" - Anonymous chinchilla

I named this piece- "The Watchers and Builders of Reality". Tried to explain it but none really understood what I was trying to say which, I think is normal. Unless you have been to the "other side", none of it will make any sense.
Anyhow, there was this great feeling of expressing sublime thoughts using brushes after so many years -Something that computer graphics can never replace. Feel free to interpret the art in your own way.