«ПТИЧЬИ ТРЕЛИ». Открытка в подарок / "BIRDS OF SONG". Postcard as a gift
Привет, стимитяне и стимитяночки! Рада приветствовать вас в моём творческом блоге.
Hello, steemiteans!!! I am glad to welcome you to my creative blog (translation into English is slightly lower (created by google translate))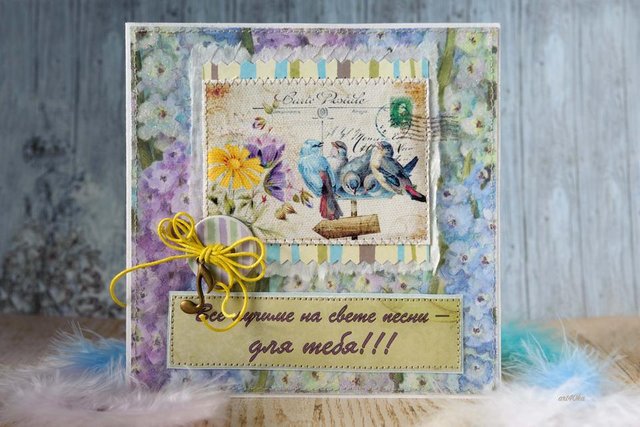 Помните песню Винни-Пуха из русской версии мультфильма? «Кто ходит в гости по утрам, тот поступает мудро!» Вообще-то мудро ходить в гости в любое время. Ещё более мудро - не с пустыми руками! Прекрасно, когда известны потребности гостеприимных хозяев, а если нет? Тогда можно прихватить с собой подарочный сертификат, ещё проще денежную купюру, и положить их в открытку, внутри которой ещё написать пару ласковых (слов)… Хотя, если размер позволяет, то ласковых слов можно уместить побольше.
Remember the song of Winnie the Pooh from the Russian version of the cartoon? "Who goes to visit in the morning, he acts wisely!" Generally it is wise to visit at any time. Even more wisely - not with empty hands! Well, when you know the needs of hospitable hosts, then you know what to bring with you. Then you can take a gift certificate with you, even a money note, and put them in a postcard, inside which you can write a couple of affectionate (words)... Although, if the size allows, then affectionate words can be accommodated more.
Эту открытку я сделала для очаровательной, очень общительной и отзывчивой дамы в возрасте за сколько-то-там…
This postcard I made for a charming, very sociable and sympathetic lady.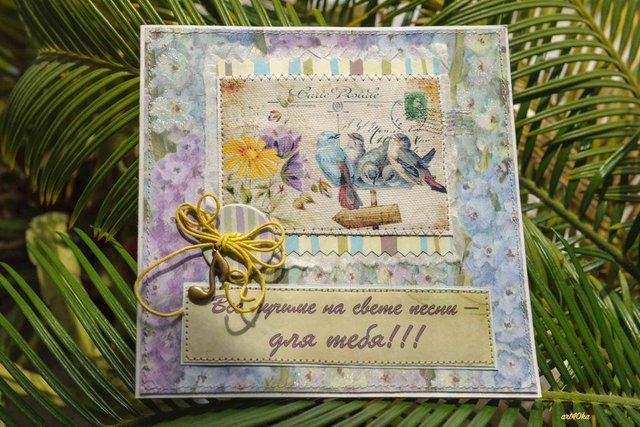 К сожалению, до недавних пор мне не приходило в голову снимать мастер-классы, ну кому бы я их показывала? А теперь есть кому показать, да нечего. Ну да ладно, итак всё понятно. А что не понятно - спрашивайте!
Unfortunately, until recently, it never occurred to me to shoot master classes. Well, all right, so everything is clear. And what's not clear - ask!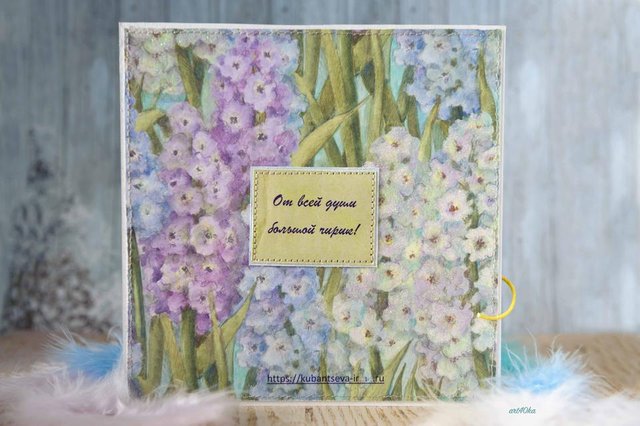 Большинство открыток, которые я делаю, имеют оформленную «спинку» и внутреннюю часть. А ещё я люблю прошивать на машинке. Вот эту бумагу прошивать было не просто, на неё нанесен лак с глиттером.
Most of the postcards I make have a decorated "back" and an inside. And I like to sew. This paper was not easy to stitch, it was varnished with glitter.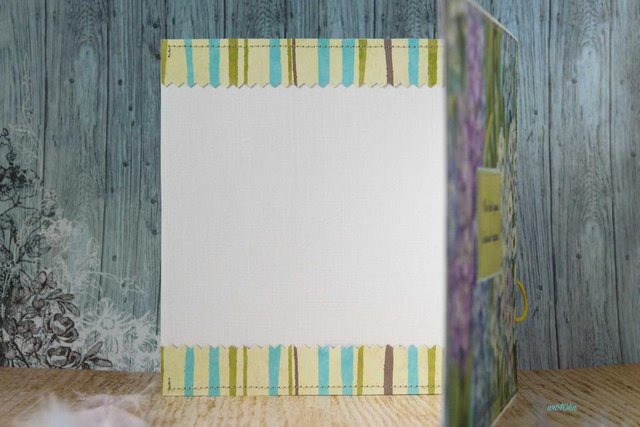 Мне хотелось обойтись без стандартных надписей, типа «Поздравляю» или «С днём рождения». Главные действующие лица на этой открытке - птицы, отсюда и «Все лучшие на свете песни - для тебя!!!» И на спинке : «От всей души большой чирик».
I wanted to do without standard inscriptions, such as "Congratulations" or "Happy Birthday". The main actors on this postcard are birds, hence "All the best songs in the world are for you !!!" And on the back: "From the bottom of my heart a big song».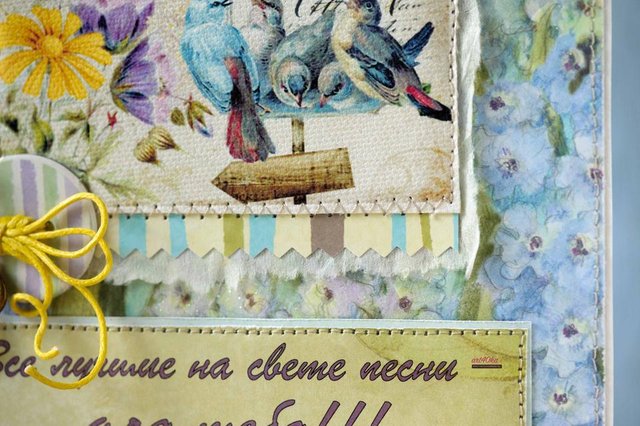 На лицевой стороне использована распечатанная на холсте картинка с птичками, цветами и маркой, под ней скрапбумага и кусочек белой бумаги из-под китайского чая. Также использована пуговица из чипборда, вощёный шнур и металлическая подвеска-нота.
On the front side, we used an image printed on canvas with birds, flowers and a brand, underneath it was striped paper and a slice of white paper from under Chinese tea. A button made of cardboard, a waxed cord and a metal pendant are also used.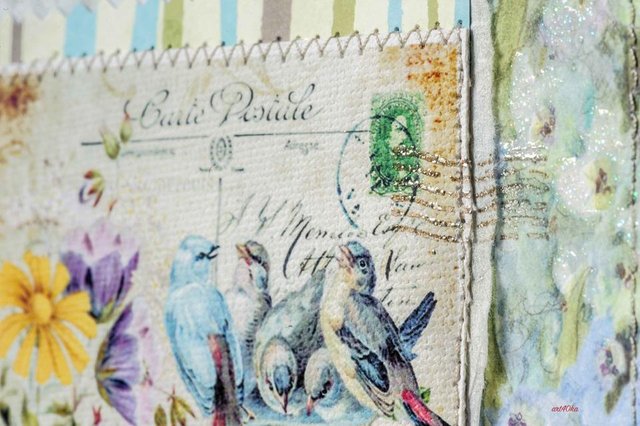 А ещё я сделала возле марки полосы, имитирующие почтовый штемпель, при помощи эмбоссинга.
And I also made stamps simulating a postmark near the stamp, with the help of embossing.
@cleverbot, ты ходишь в гости по утрам?