Vote CREA to get listed on Atomars Exchange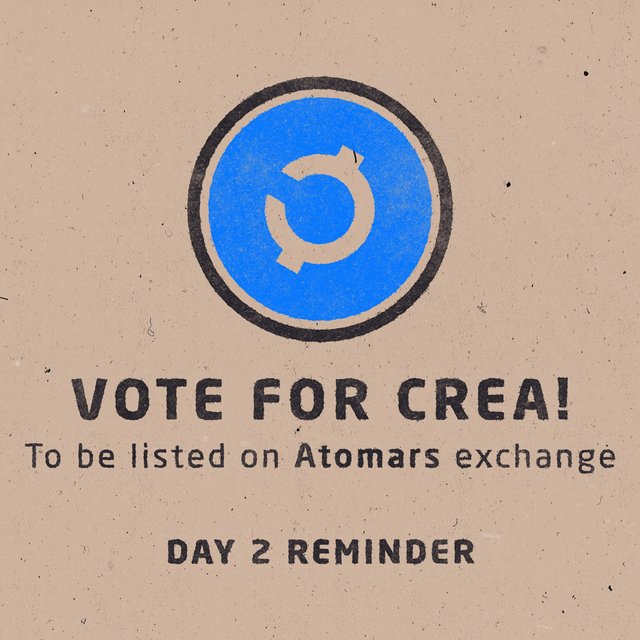 Vote CREA to get listed on Atomars Exchange
Hi Crearians on Steemit! We need your help.
If we win this voting round, CREA will be listed on the exchange Atomars.com
We ask the entire community to support this competition and so we can add a new exchange for our cryptocurrency.
How to participate?
1- Create an account on atomars.com. It is very simple, you only need an email address.
2- After confirming your email, you must login and enter the voting page atomars.com/currency-voting . Select CREA in the list and vote by clicking on the button at the bottom of the list.
IMPORTANT!
Rules are the following:
Voting will begin everyday at 11 a.m. UTC and will last 24 hours.

Every registered user can vote 1 time per hour. Users can vote up to 24 times per day!

The first project that receives a minimum number of votes everyday gets a ⭐️

Each day, the project that receives the fewest votes during the day will be eliminated from the competition. The competition will last 14 days (ends on June 25). So we need you to vote every day as many times as possible.
There will be two winners at the end of the competition:
Project that receives the most votes in total.

Project that collects more ⭐️
We have to be the strongest community on the list. Come on Crearians on Steemit!