LIVE Mural Art in Venezuela [Raising BTC, Tearing Down 1,000 Bolivar]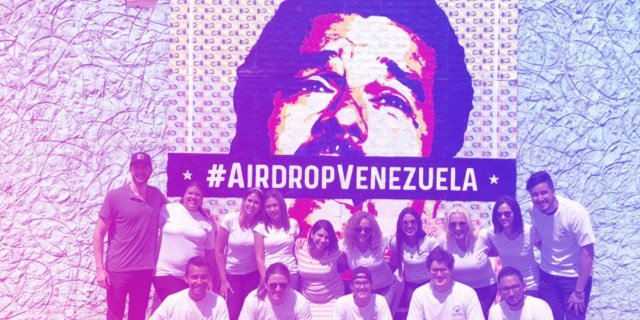 Dubbed Blockchain's Banksy, Cryptograffiti is live-streaming the takedown of an art mural in Cúcuta, Venezuela. The mural itself is made up of 1,000 Bolivar (the local paper currency) and with each BTC donation, a Bolivar is removed from the wall.
---
---
Help the Venezuelan people literally and figuratively take down Maduro.

Watch live, here.
The performance is part of a broader conversation and creative act against Nicolas Maduro, president of Venezuela. For years, the country has suffered from extreme inflation and deep rooted corruption. Bitcoin, both in nature and in action is the antithesis of corrupt politics - where code is law and the rules of money cannot be bent in favor of one party over another. The fundraiser itself goes towards rebuilding a daycare center in Cúcuta.
I'm in Cúcuta where Venezuelan refugees are arriving by the thousands for food, medical aid & to live free from oppressive rule. @theAirtm & I have teamed up as part of their #AirdropVenezuela campaign to raise funds for those in need via an interactive mural live-streaming now.

@cryptograffiti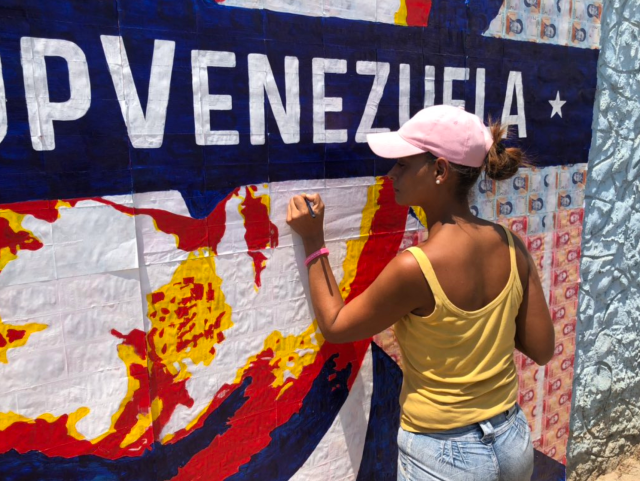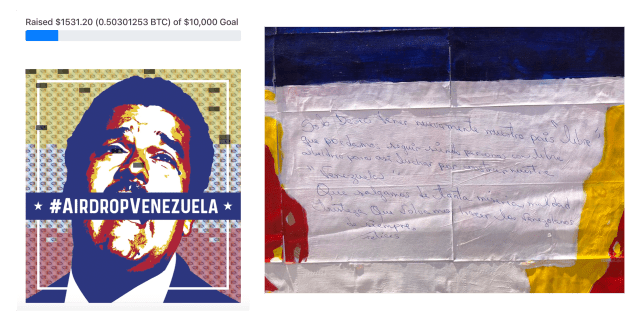 ---
Watch LIVE: http://airdropvenezuela.live/
Donate BTC: 3FuXuvxCPRbXh2XW3rLHSNGRZuYHtevvUg
Artist: cryptograffiti
Website: https://cryptograffiti.com/


📄 Creative Crypto Homepage
🐤 Twitter
🎨About the Magazine

A magazine dedicated to all things creative on the blockchain. This Steem account hosts a chronological record of all visual and written publication content.

Visit our @steempress - powered magazine: https://thecreativecrypto.com/live-mural-art-in-venezuela-raising-btc-tearing-down-1000-bolivar/