STREET ART #60 - The development of an urban art scene in Malaga (Spain)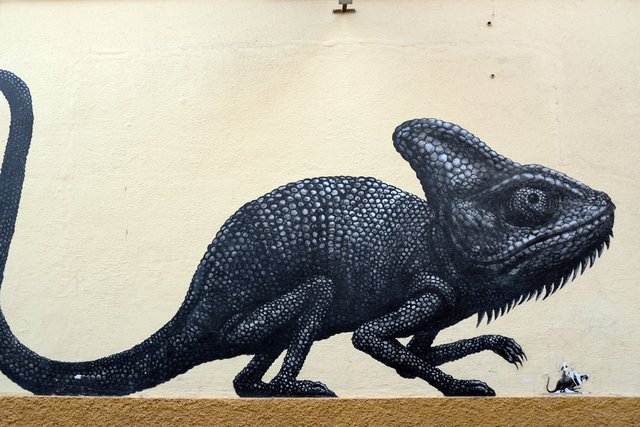 Read "STREET ART #60 - The development of an urban art scene in Malaga (Spain)" on TravelFeed.io for the best experience
---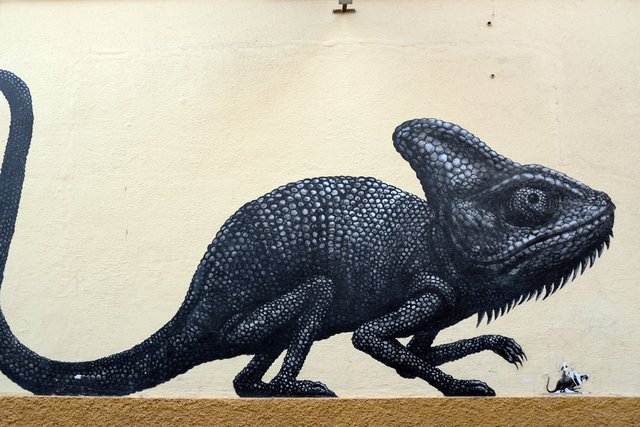 The street art in Malaga was a big surprise to me. When I was on a short vacation in Spain a few month ago, Malaga was the last stop before I returned home. I had heard about a project called MAUS ( Malaga Arte Urbano Soho) which was initiated in order to transform the run-down district of Soho. The goal was to create a vibrant art scene in this neighborhood. The effect of this initiative is that more and more people attend concerts, excibitions etc. And people like me, come to admire the amazing street art.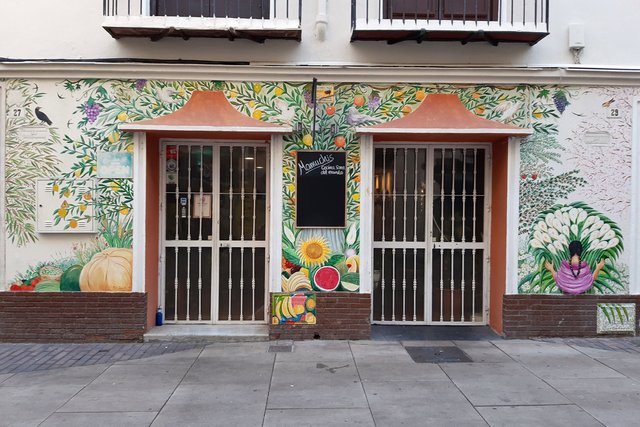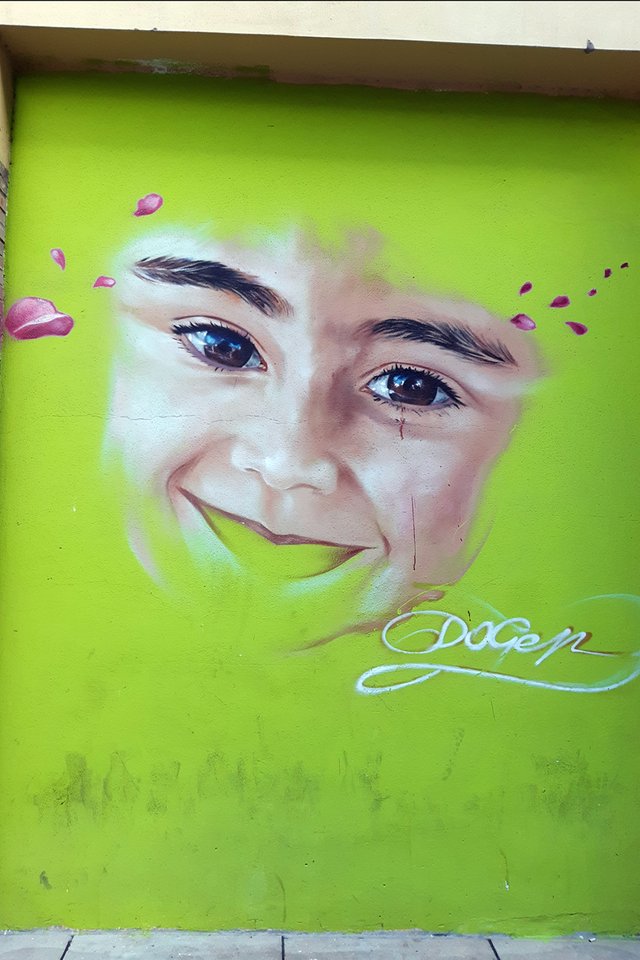 Soho is located just south of the historical center and close to the marina. When crossing the street that divides the two areas, it's like coming to another world. Many houses look abandoned and many seems to lack maintenance. During the past fifty years Soho has fallen into decay, but in between we did see some beautiful architecture A few of those houses made me realize that the area might have had another and more grand past. Soho is easy to explore on foot. We did an early morning walk.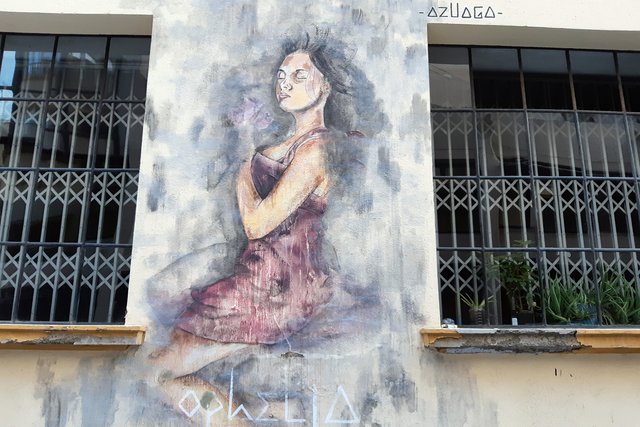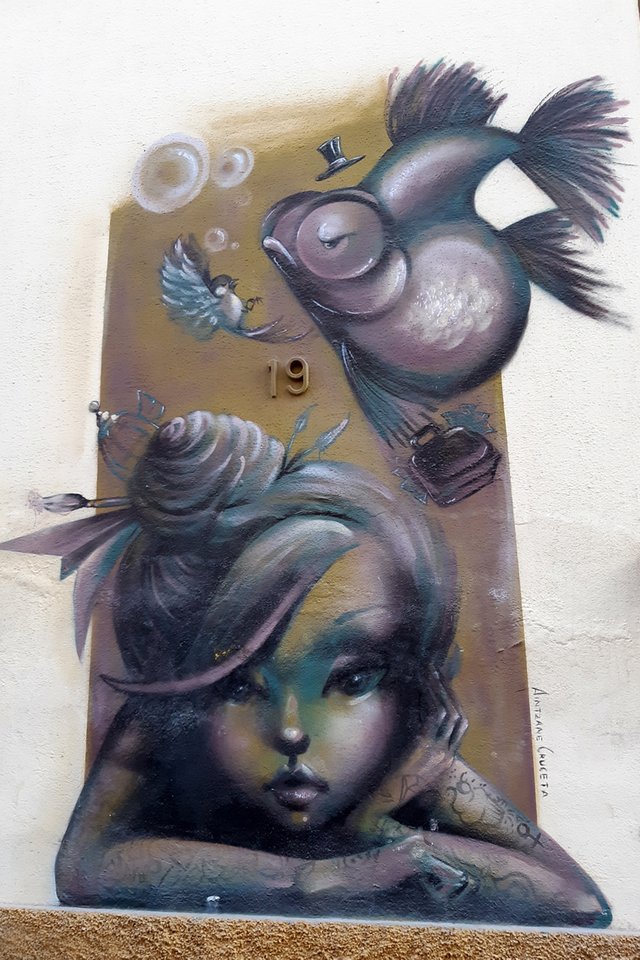 The MAUS project initiates cultural events, like painting, sculpture, photgraphy, theater and music. On the initiative of this project many international street artists had been invited, like ROA, D*Face, DALeast, Obay, Okuda and Pejac among a lot more. The styles and sizes varies a lot.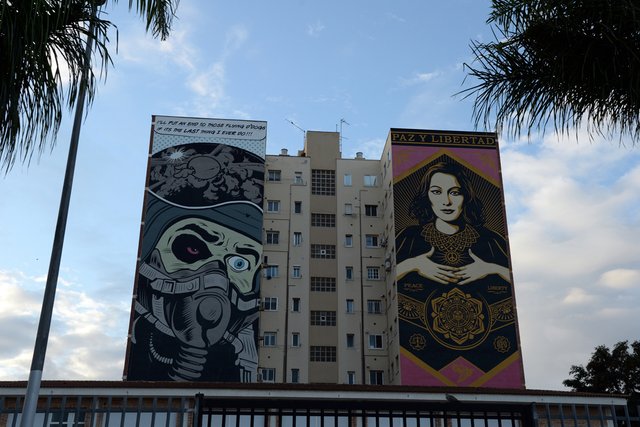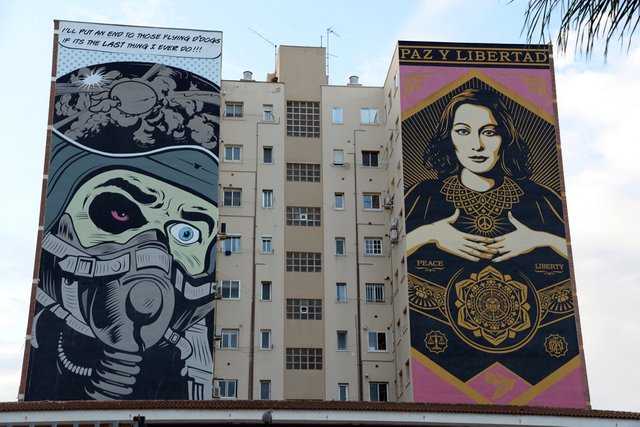 Two artists have shared the facade of a secondary school by the river. I think these are two magnificent pieces of art, easy to spot on a long distance because of the size.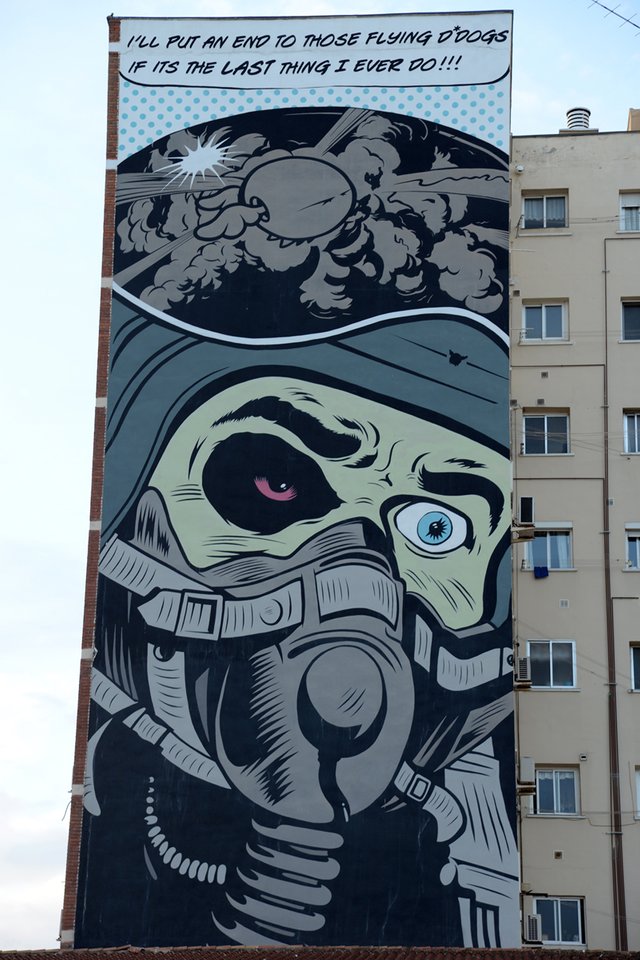 D*face / Dean Stockton
As far as I know this is one of his largest murals. Written above his fighter pilot: « I'll put an end to those flying D*Dog if it's the last thing I'll ever do». He is an illustrator, painter and street artist.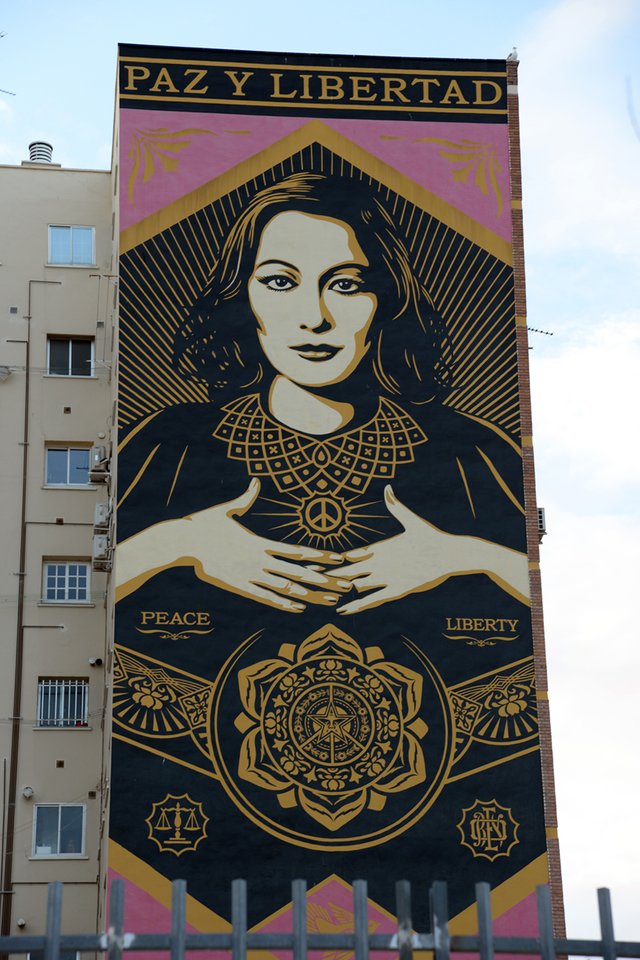 OBEY – Shepard Feirey
Feirey is both a street artist, graphic designer and illustrator. You might have seen the Barack Obama poster that represented Obama's presidential campaign in 2008? The artist behind it was Shepard Feirey. He is one of the big names when it comes to street art and has exhibited his work all around the world.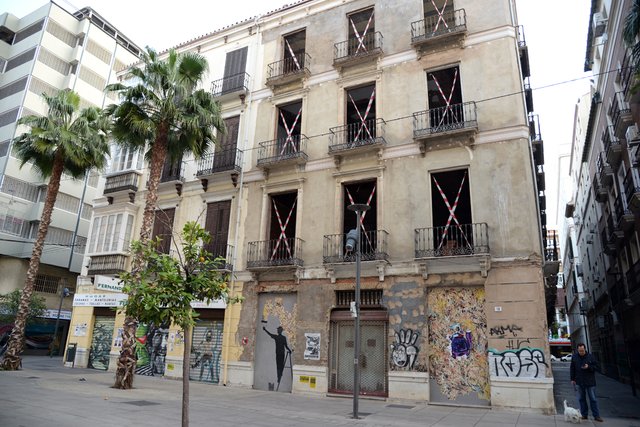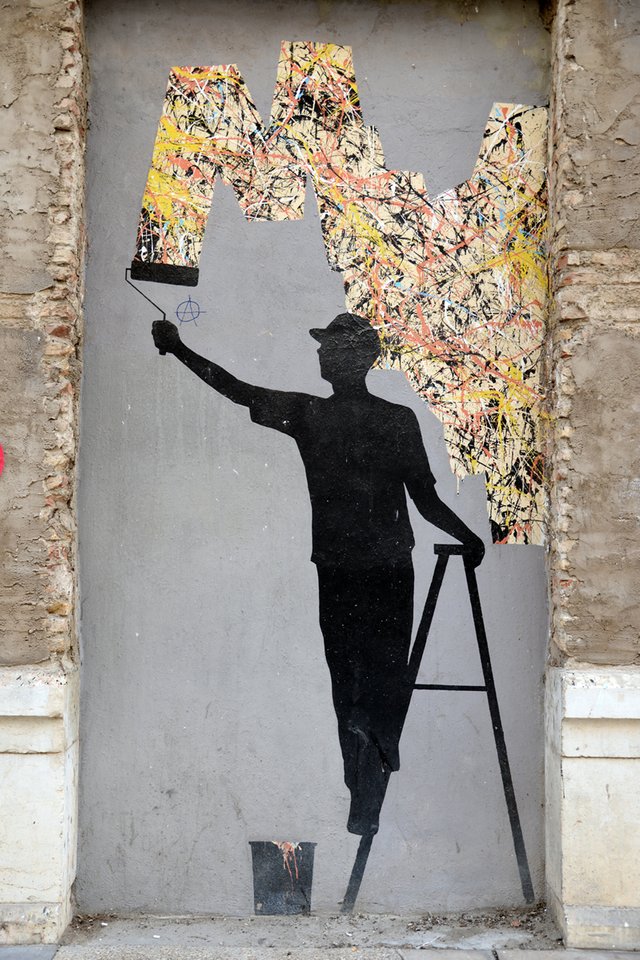 Pejac – Silvestre Santiago
He is an artist who usually paints in black and white, like this black silhouette of a painter, who is doing his work on an abandoned building. As you can see on the photo of the building, the painter started his work on the door to the right. The perfect painting for this building! I don't know too much about Pejac. First time I saw some of his work.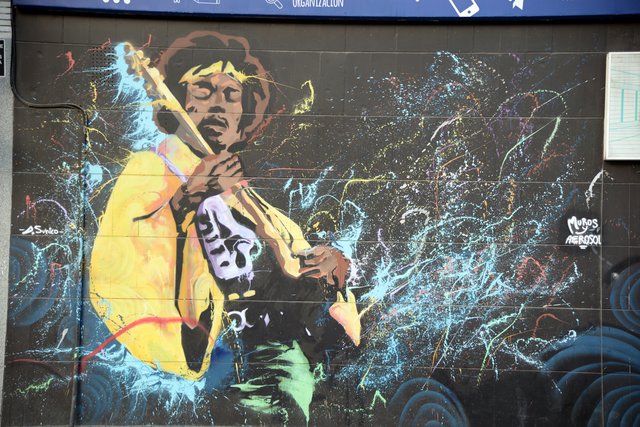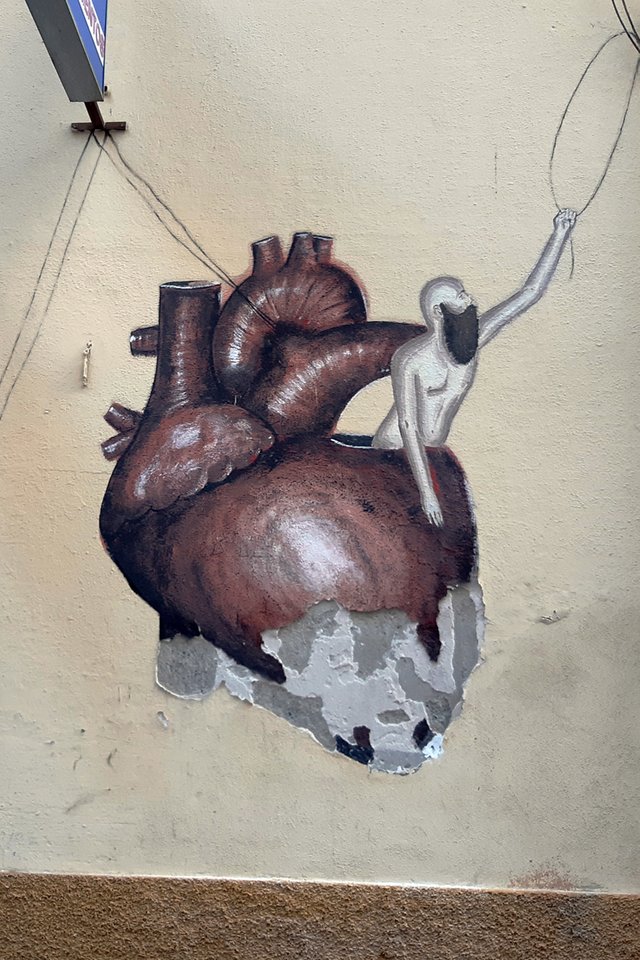 As we walked around the area, we noticed that some of the murals has a little plaque with a QR code. Just in case you want to learn more about the particular piece of work.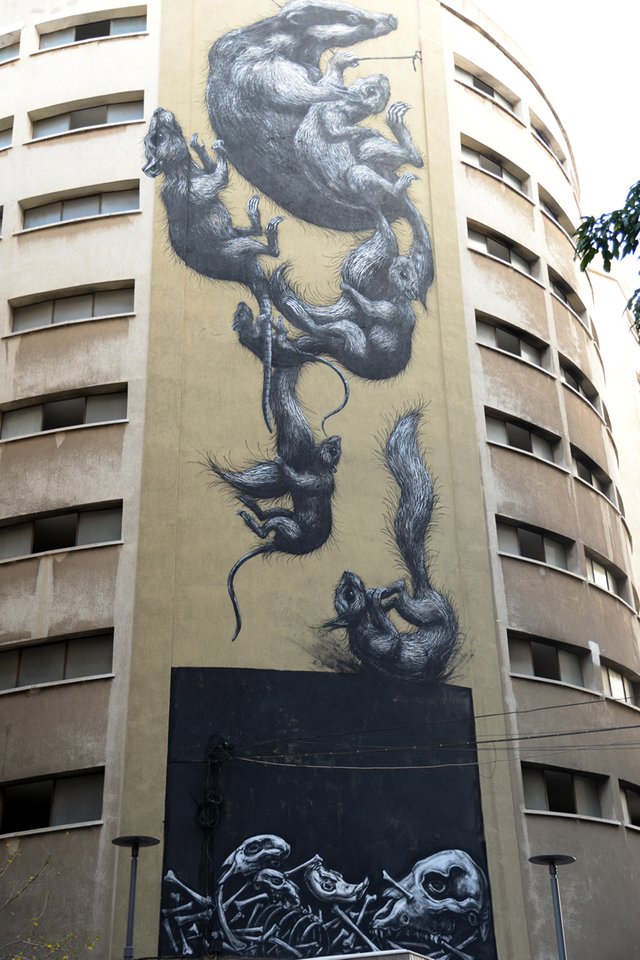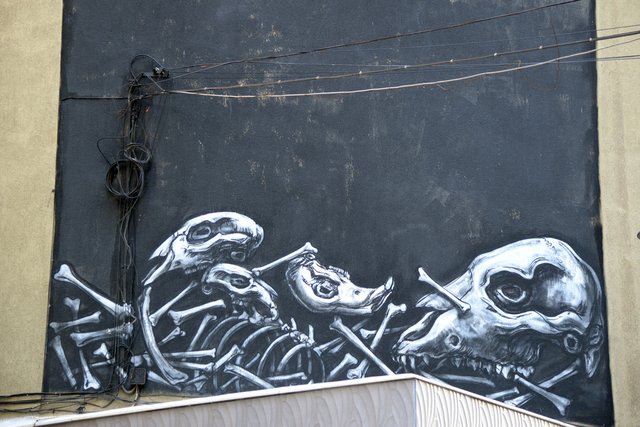 ROA
It was a pleasant suprise to see ROA represented in Malaga. This Belgium born artist is well-known for his large-scale animals placed in an urban context. Usually his paintings of animals are done in black and white like this one. He is also an artist whose work is represented in cities all over the world.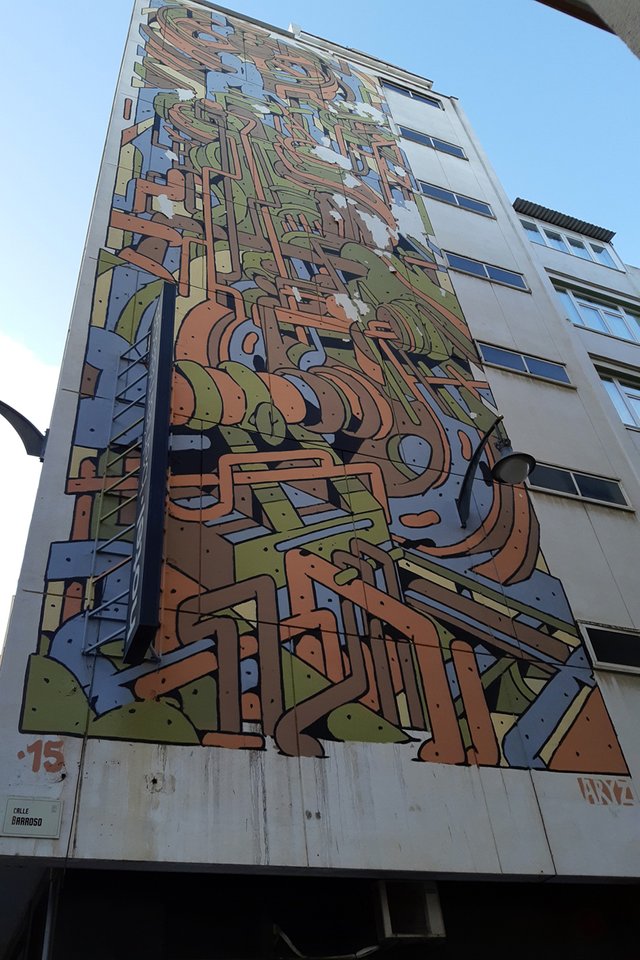 Hotel Bahia has two giant murals covering the whole wall on each side of the building. I am not sure who the artist on this mural is.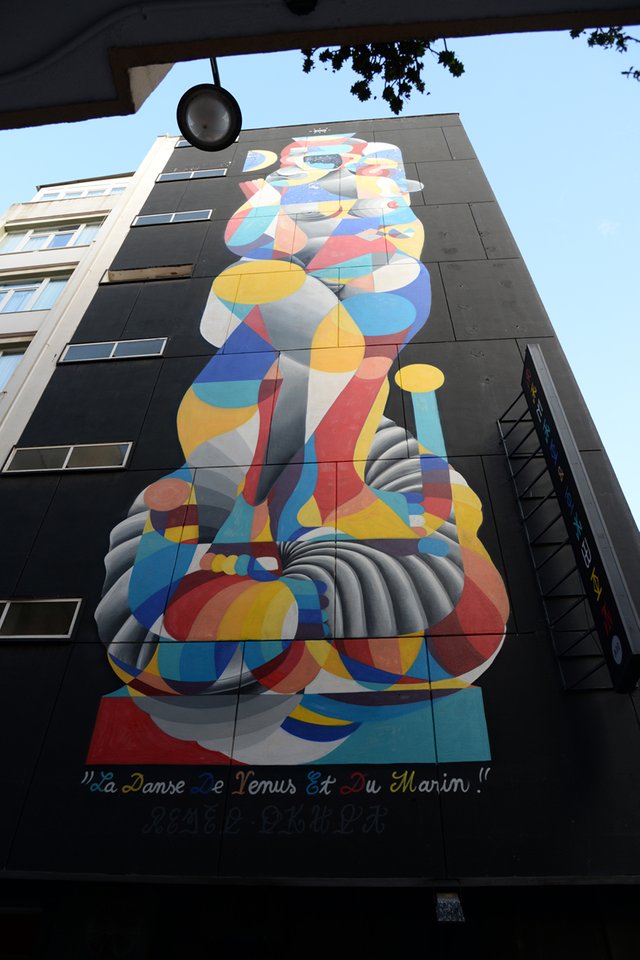 Okuda
But this one on the other wall is done by Spanish artist Okuda. He did this large mural in collaboration with the French artist Remed. The title is « La Danse de Venus et du Marin» - a sailor and a woman intertwine. He is an artist known for his abstract, surrealistic and colorful murals.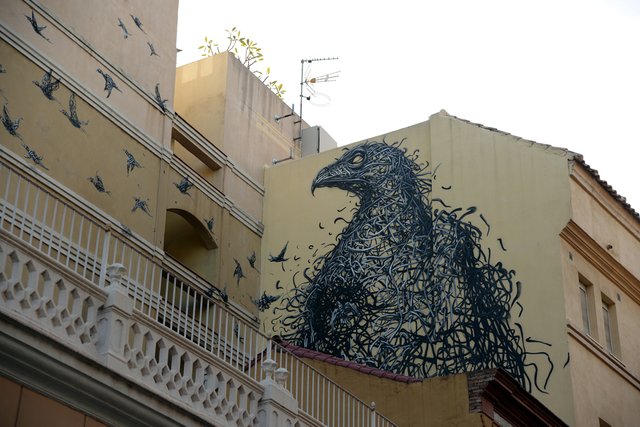 DALeast
Another of my favourite street artist. A real surprise to find one of his murals in Malaga. I have seen his work in other places, and each time is animals which is the main subject for his street art. DALeast is a Chinese born artist from Wuhan. I have already done a post with some of his work.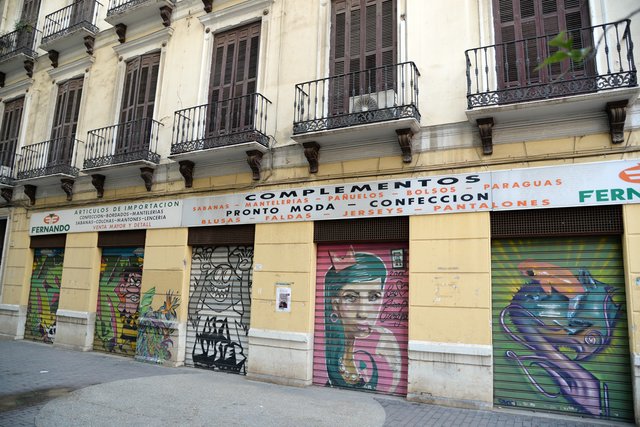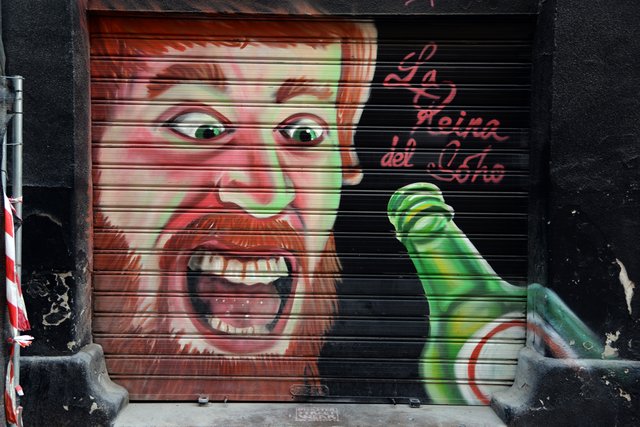 Soho is a pretty remarkable place to walk around an early morning. The streets were almost empty except for one or two people with their dogs. The abandoned houses made the area a little scary though. Still, I think it's a good idea is to go early, before the shops open. You will be surprised to see how many shop shutters with paintings as well. I think if we had been here a little later, the shops would have been open and we would have passed them without knowing anything about the art they are hiding.
Previous post:
STREET ART #59 – Fearful creatures, sharp as needles
STREET ART #55 – Amazing street art by Okuda ++
Please do follow if you want to keep up with my next street art. Any upvotes or resteems are hugely appreciated!
Latest street art post, check out :
Graffiti or just somebody who put a hand with wet paint on the wall? w/Street art video (Denmark)
U.J
Kristiansand, Norway
All the photoes are mine, Ulla Jensen (flickr, Instagram and facebook)
Read about us? // Main page!
Latest content: Travel, Art, Food, Article, Poetry


---
View this post on TravelFeed for the best experience.