My daily Art #56 ; "Keris" as a world cultural heritage.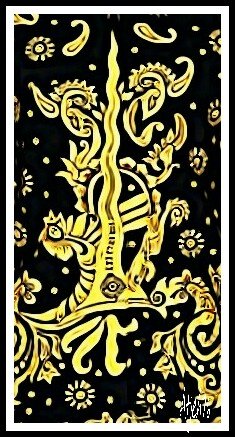 Hello steemian semua...
Seni digital saya malam ini mengangkat tema tentang "Keris", yaitu senjata khas dari Indonesia.
Keris ini sudah resmi terdaftar di UNESCO semenjak tahun 2005 sebagai warisan-warisan budaya dunia non bendawi.
Sifat Keris yang hampir mirip belati yaitu sebagai senjata penikam, sedangkan bentuknya tidak simetris di bagian pangkal melebar, bilahnya yang berkelok dan runcing di ujungnya.
Hello steemian all ...
My digital art tonight brought up the theme of "Keris", which is a typical weapon from Indonesia.
This Keris has been officially registered at UNESCO since 2005 as a non-material world cultural heritage.
the dagger-like nature of the dagger is a stabbing weapon, while its shape is not symmetrical at the base of the base, the blade is curved and pointed at the end.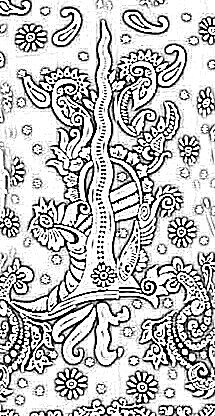 (Sketch)
Pada zaman dahulu senjata ini di pergunakan dalam peperangan untuk membela diri. Zaman sekarang Keris hanya sebagai asesoris dalam pakaian adat dan ada juga yang di jadikan sebagai barang koleksi.
Keris merupakan senjata dengan karya seni yang indah dan penuh makna, karena mengandung unsur-unsur penting tentang nilai budaya dari pembuatnya.
Sekian postingan singkat saya dalam seni tentang senjata khas Indonesia.
In ancient times this weapon was used in warfare to defend themselves. Nowadays Keris only an accessories in traditional clothing and there are also made as collections.
Keris is a weapon with beautiful and meaningful works of art, because it contains important elements about the cultural value of the maker.
So many of my short posts in the art of Indonesian weapons.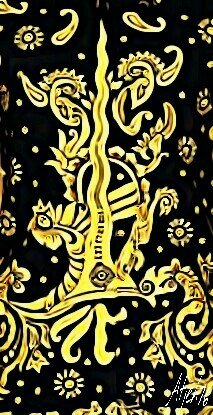 (Finished)
Terimakasih atas support dari steemian semua dalam blog seni ini dan juga para curators seni di platform ini.
Sukses selalu untuk @hr1, @artzone, @r2cornell, @nmalove, @bullionstackers bersama tim @whalepower.
Thank you for the support from steemian all in this art blog and also art curators on this platform.
Always success for @hr1, @artzone, @r2cornell, @nmalove, @bullionstackers with the @whalepower team .