One Man's Vessel: Completion of a Cedar Strip Canoe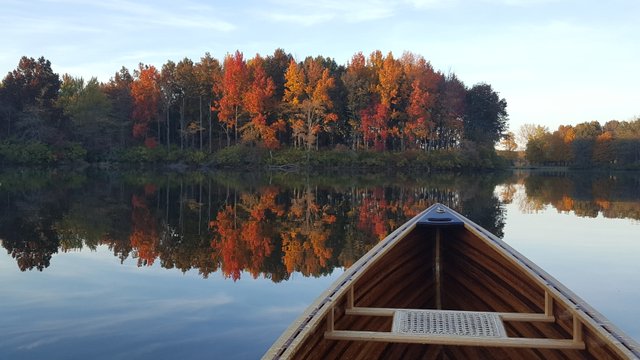 A quote for the read:
"Choose your favorite spade and dig a small, deep hole, located deep in the forest or a desolate area of the desert or tundra. Bury your cell phone and then find a hobby."
— Nick Offerman
         Love many, trust few, and always paddle your own canoe. It's a common saying about self-reliance: be kind, but not naïve, and take responsibility for yourself. One could say I overlooked the meaning and took it literally, and I did. Long story short and simply put, I had always wanted to build some kind of a boat. I don't exactly know why, but there was something about putting pieces together from scratch to create a vessel that could float, and I would know how it floated because I made it. To be able to have a handmade prize like that would be awesome, I thought. I began researching what the process would be like to actually start from scratch, and honestly, it didn't look that hard. I had found a set of YouTube videos by this guy named Adam. He made a step-by-step tutorial from bottom to top on building a cedar strip canoe. In that August of 2017, I bought plans for a 15-foot Prospector canoe.
         For the next ten months, I followed the tutorial and worked on my interminable project whenever I got the chance. I ran out of money in the beginning of the next summer, and it stalled for a couple months until my grandma unintentionally found me a job working at an RV campground. It was just what I needed to start back up. Two months and ten layers of varnish later, I was done. Out of ninety-nine hand-milled strips had come a beautiful oeuvre d'art, and a boat to call my own.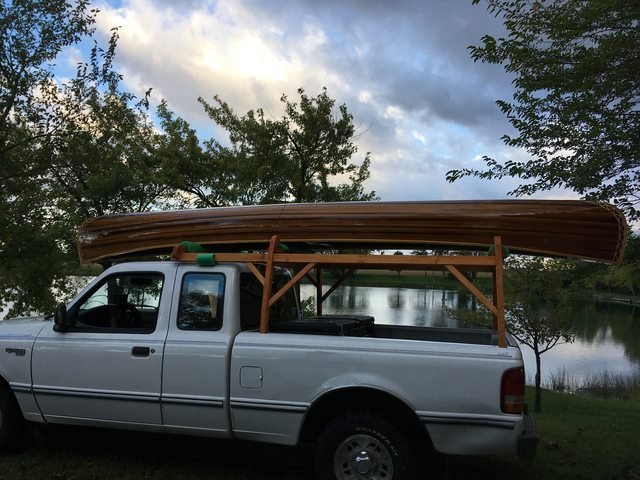 On October 10th, 2018, we loaded the canoe up onto my truck and all headed out to the campground I had worked at that summer. There was a small lake on the property where we intended to put in. The canoe made its first touch to water's surface, and I made my first steps into the hull. I sat down on one of the seats, both hand-woven by my grandma, took a paddle, and went out through the water for the first time in my canoe. It glided through the water like nothing was there; The glassy, smooth finish hardly disturbed the surface at all.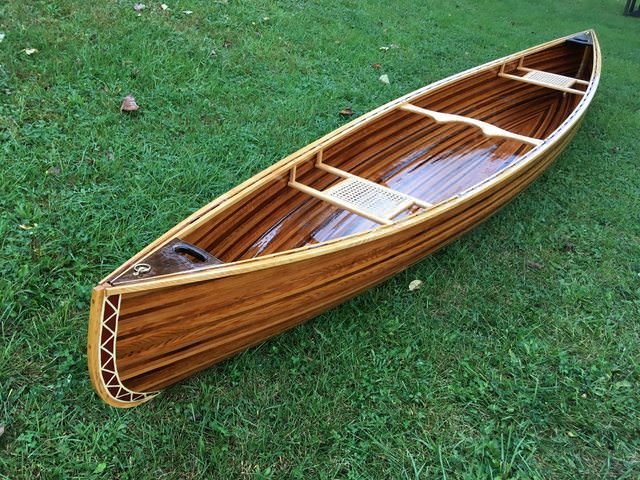 Since that day I've taken the canoe out a few more times, trying to get it in the water as many times as I can before it freezes for the winter. Many people in parking lots have stopped and come over to admire it and ask, "Wow, did you make that?" It has yet to be named, but will always be known as the canoe I made when I was seventeen years old. As now a one-time shipwright, I would highly recommend building your own canoe. Yes, you will need to dedicate a lot of time, money, and space, but as you can see, the outcome is worth it all. Some may think of it as a spiritual journey, mental endeavor, or physical labor, but I simply call it my cedar strip canoe, made with my own two hands from the ground up.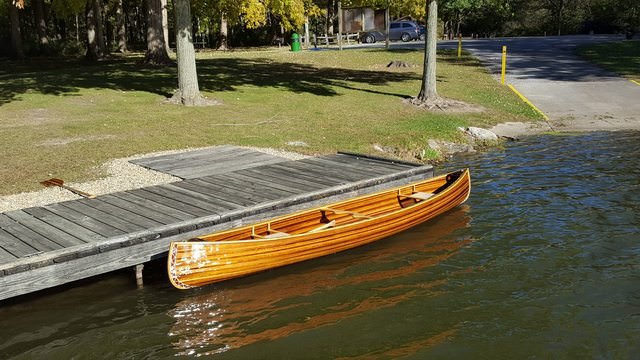 Homer Lake, second voyage.
Check out my website for pictures and more:
http://countrysunrise.onlinewebshop.net/cedar-strip-canoe


Post #37, Published November 13, 2018 by Elijah Wasson
---

I'm a 17-year old senior in high school. I've figured out that Steemit is a great way to express my feelings about certain topics and get paid for it! I like to start all my articles with a quote to get the reader to understand the 'feeling' of the article before they start reading it.
See more of my posts here!


---

---