horror; victime mother and baby attached by umbilical cord
hello friends this is my original oil painting on a large canvas. This painting it define the incident happened in Lampedusa victims include mother and baby attached by umbilical cord.
as art is weapon and tools of expression and that's why called abstract expressionism. The reality our world is facing is not something that artist could abandon and misguided the creative skill. and couldn't ignore the daily worsening world we are living in. African migrants are fleeing their countries in mass and endangering their lives to find economic liberation and freedom of expression from unstable political war.
The economic, war, financial and political crises that have hit countries of origin particularly that country are targeted by super power intervening in internal issue, organizing regime change for their on interest the population are in high alert to leave their home land and forced to become asylum sicker searching for safety.
"Confronted with that woman and her little baby who had just been born we lost our detachment," said Sollustri. "In the many years that I have been doing this job I had never seen anything like that."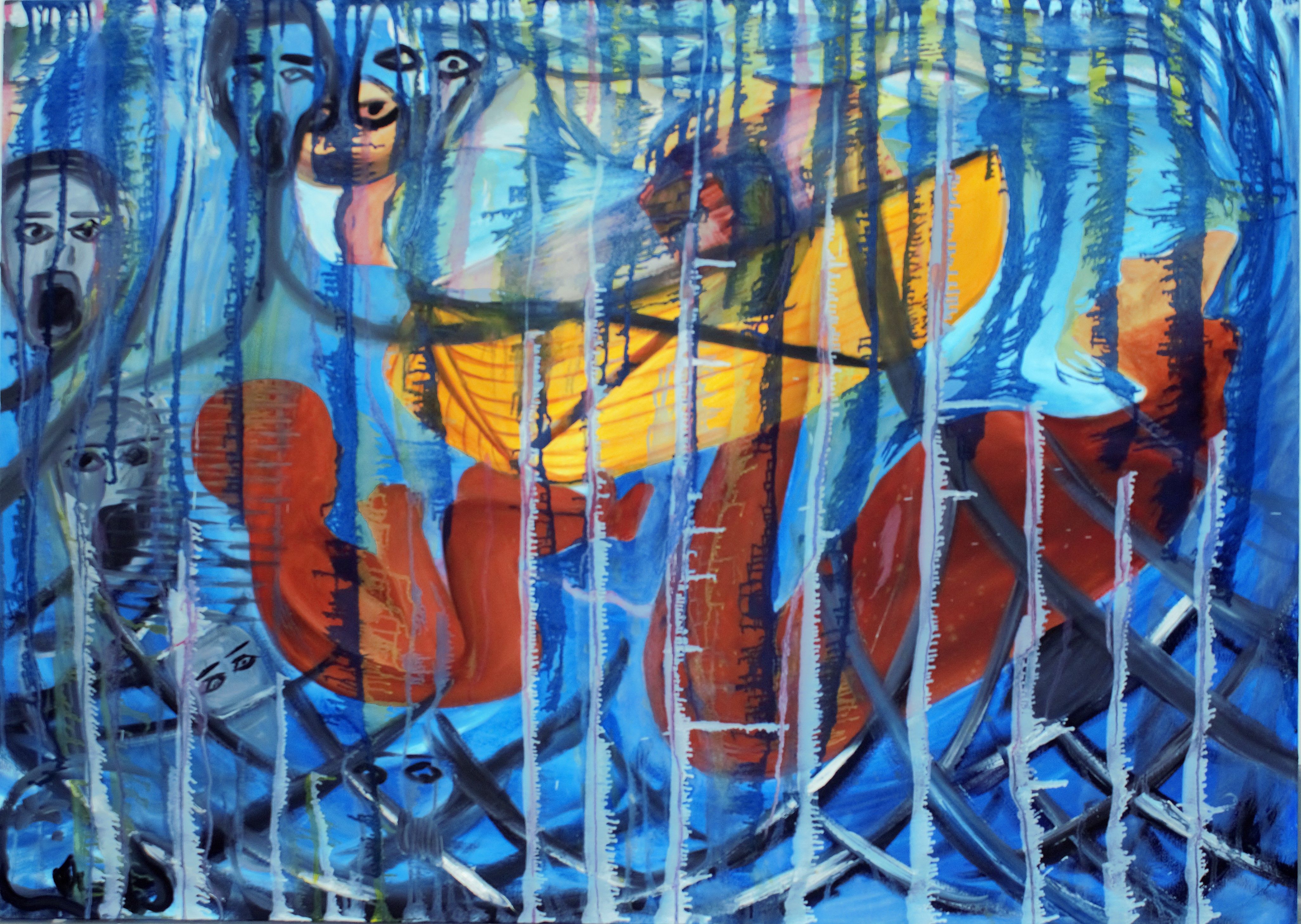 Abstract art provides you with multiple choices to explore the artwork and allocate your own feeling to the artwork. The Understanding of abstract art doesn't come for everyone. You most have an artistic background and open mind to investigate what you are viewing. It is the kind of artwork that makes audience scratch their heads and hard to believe this kind of art done by foams artist, and they says I could do that. Most abstract artists have the ability and skills to paint perfectly landscape or portrait, but they prefer not to. Instead they indicated to express their vision by creating a visual knowledge.
Abstract art can make people uncomfortable because they don't automatically know what the art is about. Or they adopt that because it doesn't look like representable, then it is not about anything. Abstract art doesn't hold identifiable objects this can be very confusing. The reality is abstract art is not about nothing. At its foundation, it is about form, line, color, pattern, texture and process. These are the recognized assets of artwork, because they define what the artwork will looks like and how it is shaped. The Meaning would be apply to the artwork is resulting from how these formal qualities are combined together to create an emotional artwork.
https://www.theguardian.com/world/2013/oct/10/lampedusa-victims-mother-baby-umbilical-cord