the Steemit Streetart Challenge #3
Announcing: the Steemit Streetart Challenge #3!
• Show the world the hidden treasures of your neighborhood!
• No skills required! Only a camera and a good eye!
• The winner gets all SBD generated from this post!
Dear friends, followers, supporters, artlovers and bypassers! It is a pleasure to kick off round 3 in the Steemit Streetart Challenge! First of all, I was really pleased with round two. We got entries from all over the world, including Peru and Ukraine! And the winner was from India! Judged by you, the reader. We also managed to establish a payout of 22 SBD, which beat my expectation. So sometimes it pays to be persistent. The only way to get that far is upvoting and sharing this post. Everybody counts equally, there is no discrimination here.
I summarized the entries at some point during last round and that was before the four last entries got in. Steemit is a truly global phenomena. After I made the map, we got entries from Peru, Mexico, UK and Norway: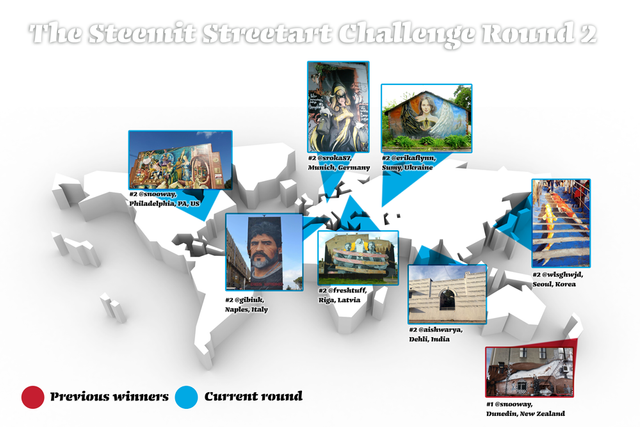 Rules:
One entry per participant! The entry must be a reply to this post. If more images are required, add as many photos you like, but keep it within the same box. Add the location as text. 📬

It must be your image. Cheaters or suspected cheaters will be disqualified. You do not need to be the creator of the work, though it would be cool if you were. 🎨

You can vote for your own entry. You can also advertise for it by posting on your page, chatting about it or by collaborating with your friends.

Resteem /reblog this post. This is required for a valid entry and highly recommended for everyone who thinks it is a good idea. 💡

The people is the judge! The entry with the most upvotes, wins. Vote on as many you like. Vote for all of them if it suits you. I will abstain from voting, but if a situation where two or more entries has the same number of votes, I will throw one vote to possibly judge a worthy winner. And if that fails by a last-minute vote, the prize will be split.

Keep it clean! If you want to comment on something, do it under each entry, not as a new one.

Advertise! More entries means bigger prize!

The challenge is over one week from now. As soon as I possibly can, I will announce the winner and pay the prize money. 💰
This sounds like fun to me and I hope to see lots of cool 😎 images.
One tip to see the images better is to right-click them and open in a new window.
The challenge within the challenge:
Is as always to be heard. And therefore to kick it off in a best possible way, I challenge:
Winners of previous rounds:
https://steemit.com/streetart/@funkit/steemit-streetart-challenge-2-final-results
https://steemit.com/streetart/@funkit/the-steemit-streetart-challenge-1-results