The Dreams of a Painter Voxie | PixEOS Collage Contest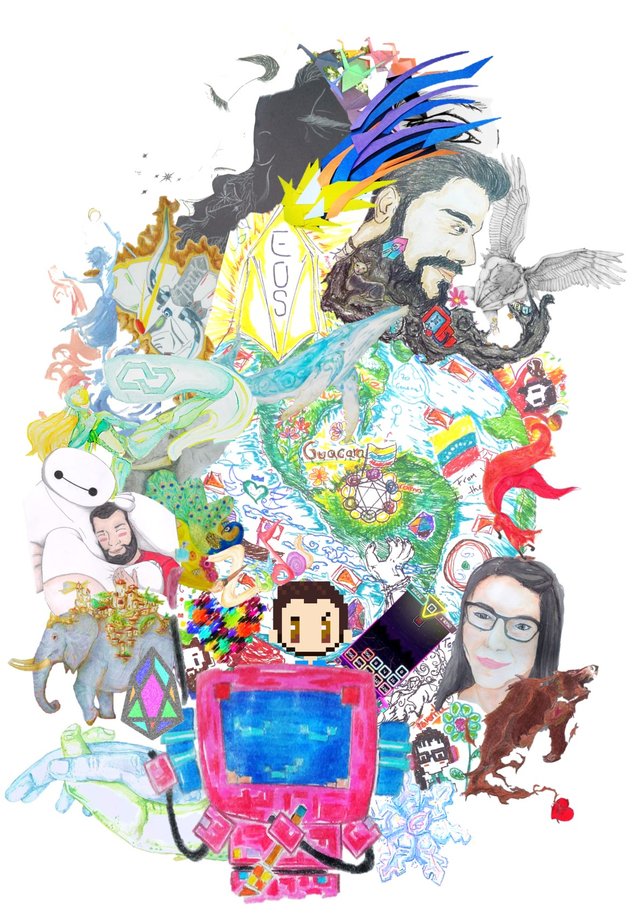 ---
I involved myself in the Pixeos project time ago. I had the opportunity to participate in many of its challenges and activities, earn its token, play its games, stake funds and more. I've seen it grow and flourish, and I know there is so much to come in the 2020!
This collage is tittled "The Dreams of a Painter Voxie" the image at the bottom is Voxie, Pixeos' official mascot. I drew that Voxie for one of the first contests in which I participated on this project's beginnings. It's a bit nostalgic to be honest. Here I assembled many of my drawings and paintings. Some of them participated in other Pixeos Contests like Fred drawing at the top, The Chain clash warrior, and I used as the main background my contribution to a Pixeos' collaborative painting on a Cryptocurrency conference held past year. I was the starting artist for that piece and I helped armonizing all the elements after the community pinted their respective parts.
All these images are my own, including a screenshot of my game in Blockatrix. Most of the work was made with crayons or watercolors. There are some paper art included in the collage as well.
I hope this world of dreams to grow as I'm sure the project will too. For an excellent 2020 Pixeos, keep up the good work, and thank you for everything given so far!
---
@gaeljosser
Images come from different previous artworks of my own. They were made with crayons, watercolors, and crafting paper mostly.