In Memoriam: Stan Lee (1922-2018)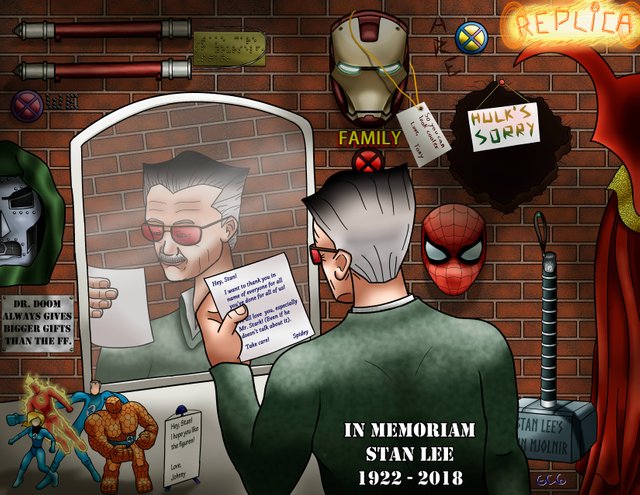 Hello, Steemit!
I know I'm late but... I want to make a tribute to Stan Lee, not only to go with the train or to show some love, but also to show some respect for him and his work. I've read a lot of quotes and stories and I've watched some interviews of him since his decease, and thinking about the person he was, the things he did, everything he created and gave to us, motivated me to make this piece.
So I imagined him in his room, reading a letter from Spidey, who is telling him how important he is for the ones he created, that they all loved him as much as he did and they are thankful with him. The room is full of "gifts" for each hero I considered (I know there're a lot more, but I decided to go with these ones).
Stan Lee is a person who indirectly motivated who I am. From the cartoons I watched when I was a kid, to ones I watch today, summing all the series, movies, theme parks and so on. These heroes and villains that exists nowadays due his work and influence, and all the hearts they are touched that motivated people to do things that end up affecting me somehow. I think Ironman and Anthony Stark motivated me a little when I decided to become a Physicist, as well as other comics motivated my drawing teacher into become an Illustrator and to open his academia (Alesky Arte), where I could study by a couple of years, or to the founder of the Digital Academia Dr. Graphic, where I studied too for some years. Stan Lee and his work has touched too many lives and hearts, and in a positive way I must say. I'm very thankful with him and his work, I think all of it influenced me a lot.
Rest in Peace, Stan. Excelsior!
---
I did it in Clip Studio Paint (CSP). And, as usual, I want to show my process here:
First I made a sketch of the full composition using a pencil I customized.
Then I proceed to draw the lineart for each piece using a customized pen. Sometimes I delete the parts of ink that shouldn't be seen, but since the wall woud require a lot of effort, I decided to cover it with colors instead of erasing the lines.
Then I applied flat color to each piece.
Added lights and shadows for each individual piece, some textures (like Stan's sweater or the bricks on the wall) and some extra lighting (like on Ironman's eyes or the spell's light). Of course I added a message for each piece, showing a bit of love from the character(s) to Stan!
The individual process for each piece was as follow:
Stan Lee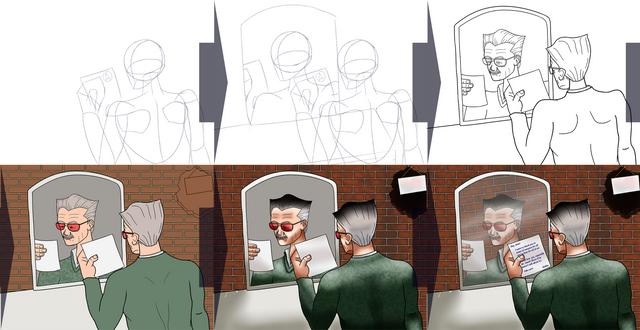 This one was such a challenge. The head, the back, the shoulders, the hands, the fingers... I'm a bit out of practice. I had to do several fixings on the march but I ended up liking the final result.
Hulk and the wall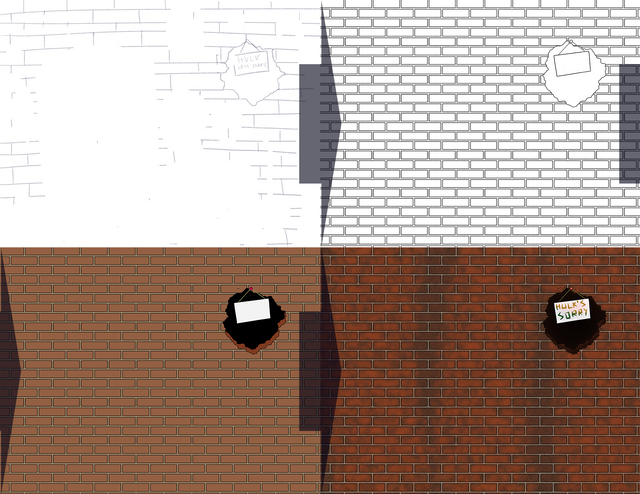 So yeah... Hulk's "gift" was a smash in the wall... It took me more time than it should because I did parallel lines and then erased what wasn't necessary. Not my smartest choice!
FF - Susan


The first one of the Fantastic Four's figures is Sue! She ended up better than I thought!
FF - Ben


The next FF is Ben! He was as complicated as fun to do!
FF - Johnny


Johnny is the next one. He really knows how to sell himself, right? A floating flaming figure...
FF - Reed


So our final FF is Reed. I wonder if he would like his figure...
Fantastic Four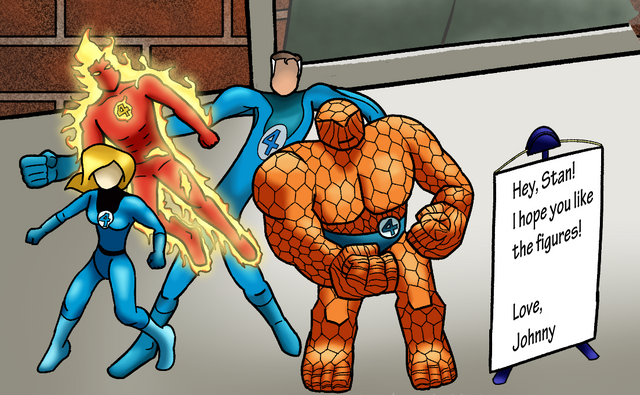 And that's how the four of them looks together. Plus the message that Johnny sent with the figures.
Dr Doom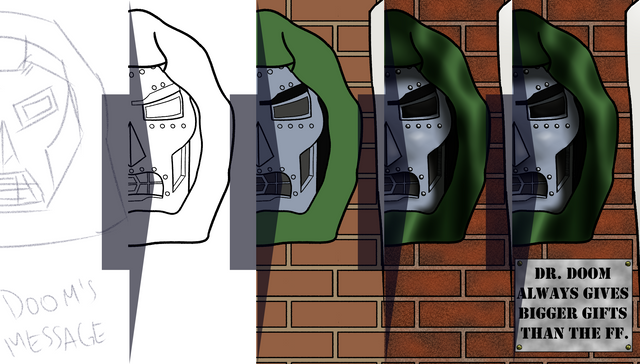 So of course Victor had to send a helmet bigger than the figures to show some supremacy, right? The plate is cool too.
DareDevil


Can you read braille? ⠠⠞⠁⠅⠑⠀⠉⠜⠑⠀⠷⠀⠽⠗⠋⠂⠀⠠⠌⠁⠝⠖
Dr Strange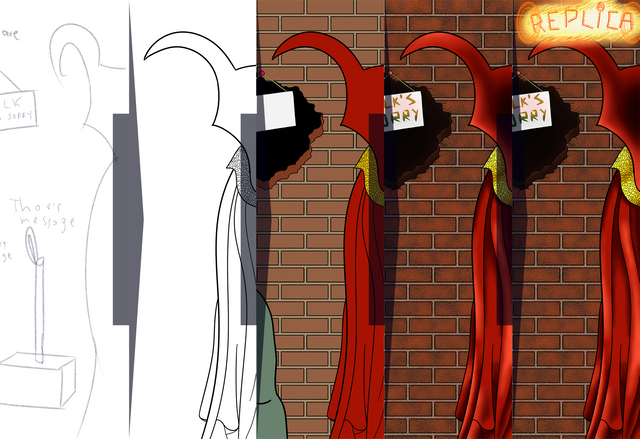 Magic can't stay quiet, so the message had to be made of two portal spells and sparks haha.
Mjolnir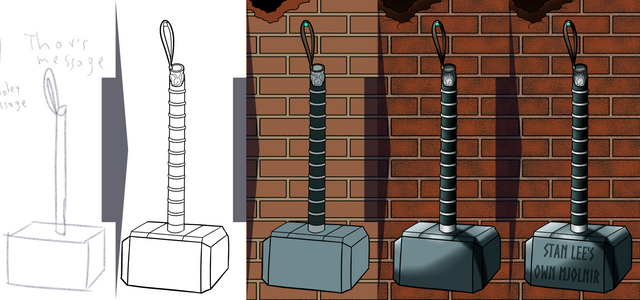 It's not a replica, it's a Stan Lee's own Mjolnir. Just the ones that are mighty can lift it!
Ironman


One of the Stark's helmets, so, in Tony's words, Stan can looks cooler.
Spiderman


One of the Spidey's masks, because even he knows how Stan loves them.
X-men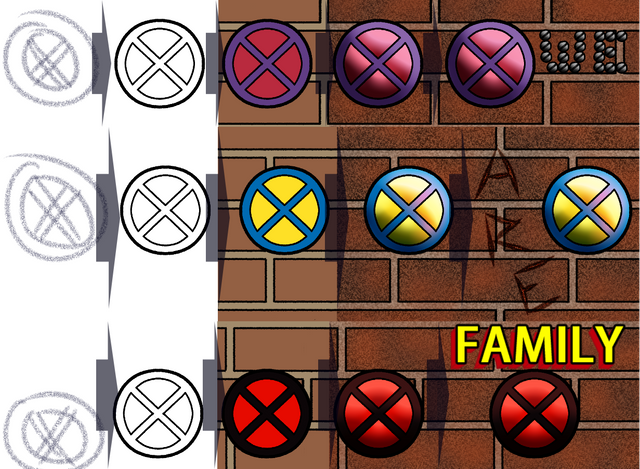 Three X-men emblems, with the colors of Magneto, Wolverine and the one that Xavier uses. Apparently Erik, Logan and Charles left a message...
Overall process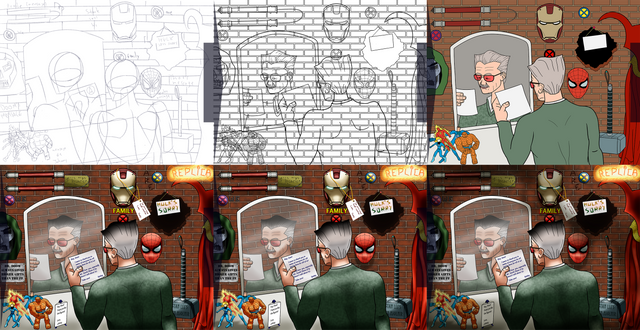 Additionally to the steps above, I also added global lights and shadows in the last two steps of all the composition.
---
I hope you like it! It took me almost a full month to accomplish. (Well, I've been sick and I've also graduated from college, but still a lot of time and work...). As always, comments, suggestions and questions are welcome!
GC6
---
Watch it also on: