Ultra Spooky Acerola!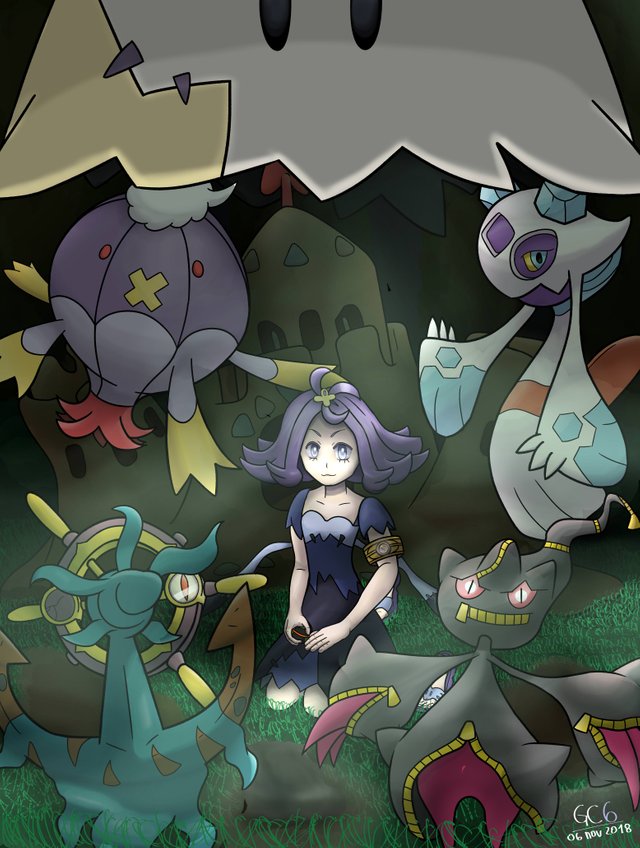 Hello, Steemit!
This time I wanted to do a Halloween drawing (I'm late I know) and I decided to make one about Acerola, the Ghost-type Trainer who is a Trial Captain and Elite-Four Member in the Sun/Moon and USUM series of Pokémon! I wanted to feature her with her 5 pokémons from Ultra Sun and Ultra Moon in the Elite-Four (I also decided to give her a Banetite for her Banette to be a Mega Banette, ha!) with a sixth pokémon... Mimikyu! My first inspiration was due the Ultra Spooky Cup's reward from past month Online Competition in the game, which is a Shiny Mimikyu, but I found out she actually has a Shiny Mimikyu in the anime (I don't follow the anime) nicknamed Mimikins, or Mimitan (ミミたん) in the Japanese version! So I decided to include it instead!
I decided it would be fun (and maybe useful) to show the steps of my process, so this is how I'll show my work:
Spatial distribution of the composition.
Description of the process of making a single character, showing the process of each one.
Process of making the background.
Getting all together and final result.
A video/gif of the process.
---
So, first I started with a blank sheet and a pencil-like brush in the software Clip Studio Paint and I draw the areas where each character would be in: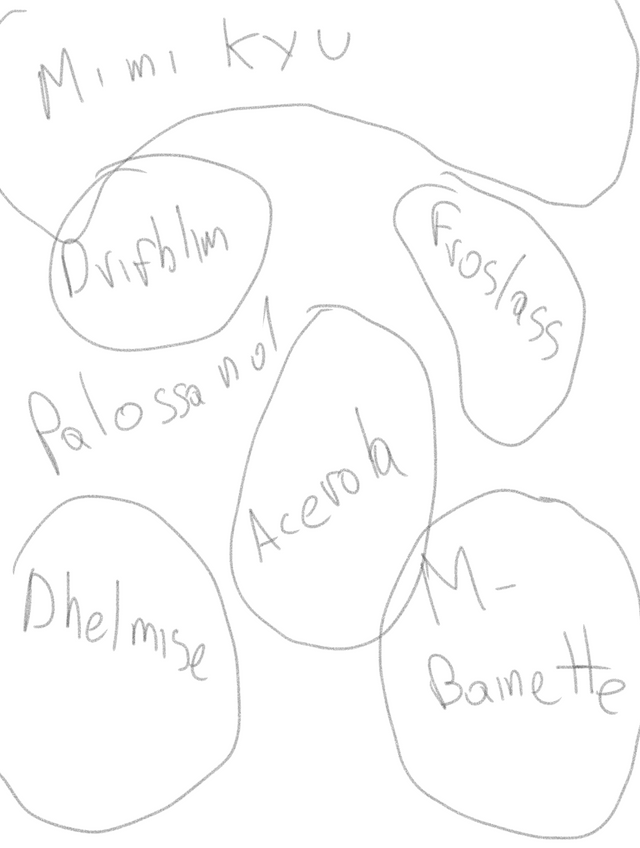 Then I proceed to do the following:
Reduce the spatial distribution's opacity.
Drawing with the same brush a sketch for each character, each in a separate layer.
With a Real G-Pen drawing the lineart for each character.
Adding a gradient to the background, from dark gray to a just a bit lighter tone of dark gray.
Applying flat colors to each lineart.
Adding lights and shadows to each character. I used a custom G-Pen for this instead of using brushes and two custom erasers. The custom G-Pen had 50% opacity, the first custom eraser had 0 hardness and 30% opacity and the second one was similar but had 100% opacity. I used the blending mode Multiply for the shadows and Screen for the lights, I also used Add (Glow) to add some brights (suggested by @gabo7 ).
Here is the process for each pokémon and for Acerola:
Froslass: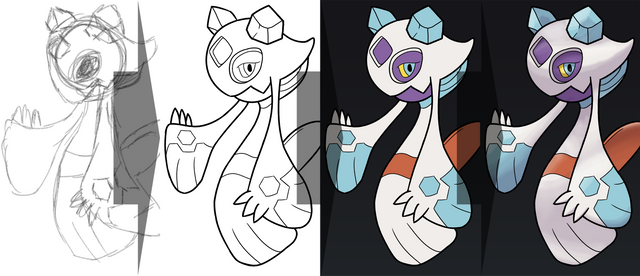 Drifblim:


Dhelmise:


Mega Banette:


Palossand:


Mimikins / Mimitan: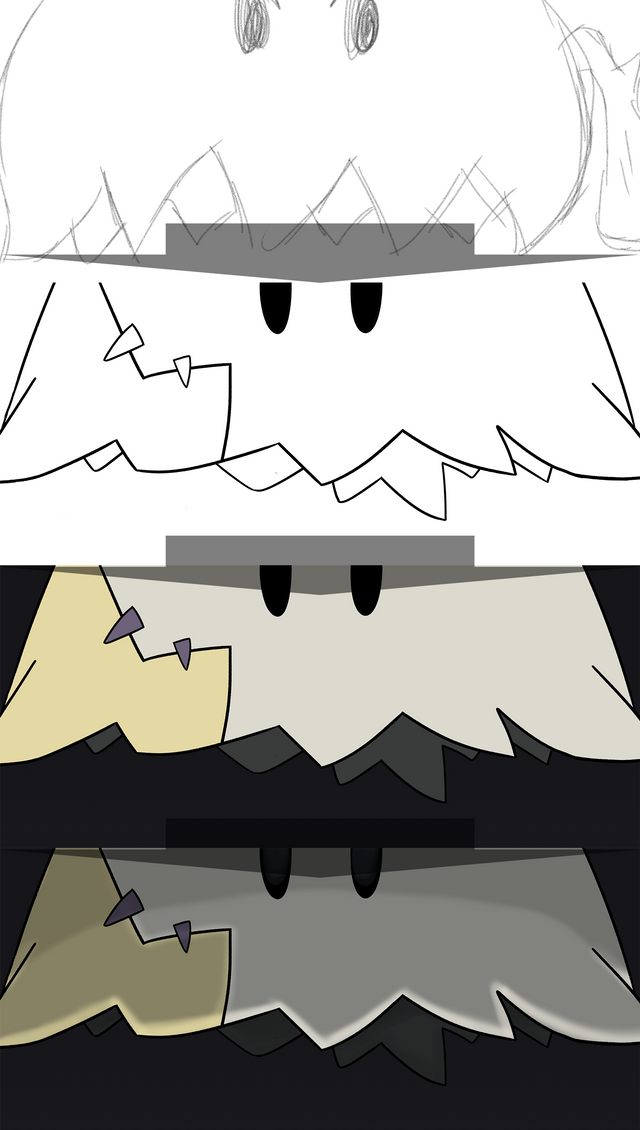 Acerola:


Then I proceed to made a background. Since Mimikyu is the protagonist, and it's a Halloween theme, why not using a dark forest? Since the exclusive Mimikyu's Z-move: Let's Snuggle Forever takes place in a dark forest. I used a Texture Pen with different colors and then lowered the opacity of each layer, using Multiply and Screen blending modes, to make the final result. First I made the floor, then I made some grass with a Calligraphy Pen, then I added some bushes and then some trees. Here is the process: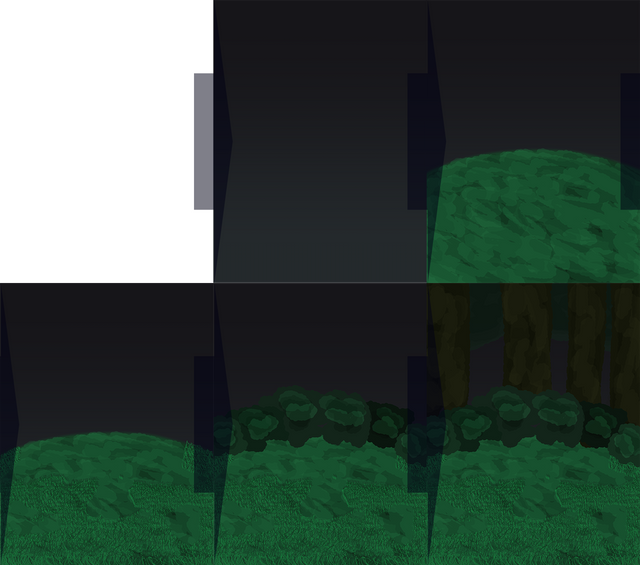 As suggested by @gabo7, I added afterwards some mud and rocks to the floor.
So, for the end, I had to integrate the composition, so I made some characters darker and added some shadows and of course a spooky mist for the end! Here is the overall process: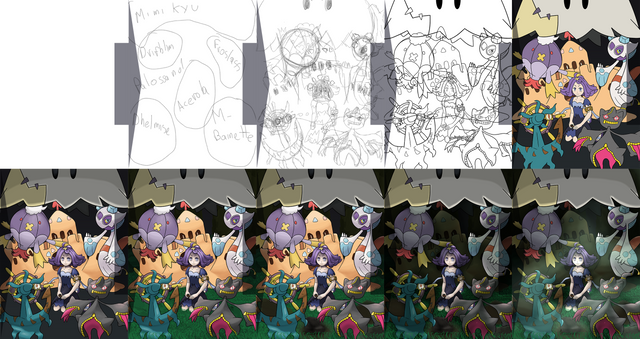 ---
Gif of the whole process: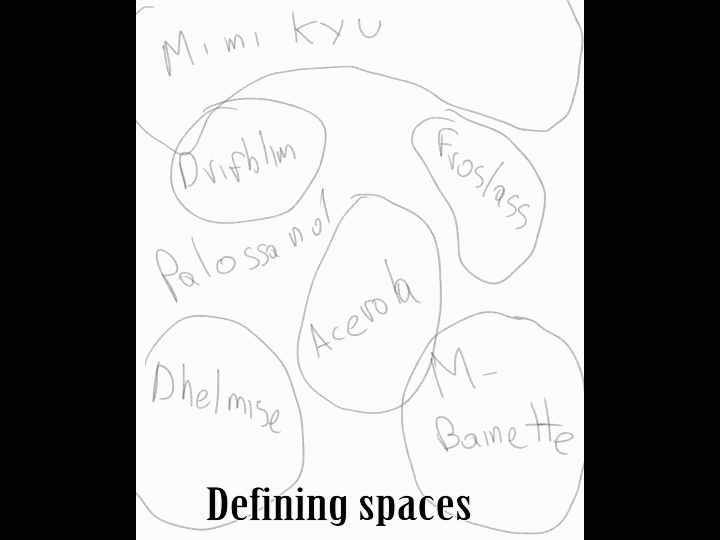 A better quality video of the process can be found here.
Watch it on DeviantArt.
---
Well, thank you for reading me, I hope you liked my content! As always, questions, comments and suggestions are welcome.
GC6