🎨 Hawuawuashka tryptocarrier - Original painting + Progress & details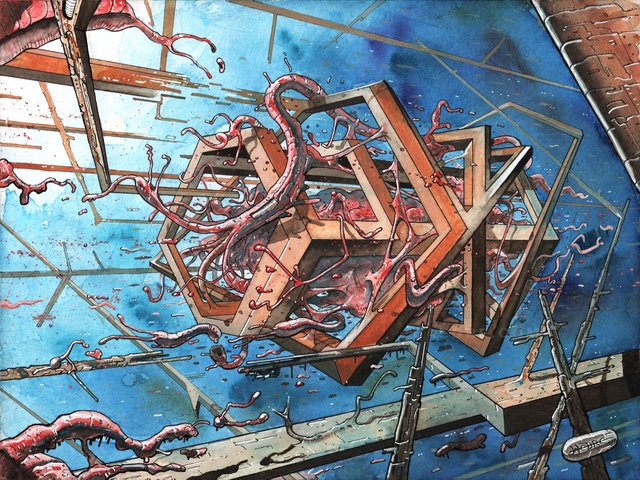 Hawuawuashka tryptocarrier.
Watercolour and black pen on paper. 2018.
32 x 24cm (12,5 x 9,4 in)
A cargo vehicle spotted travelling in the hyperhedron, shot at an absurd 42.64231 parachronial metaspeed (PCMTS) in the neuro-haedron plane GWA TT321119.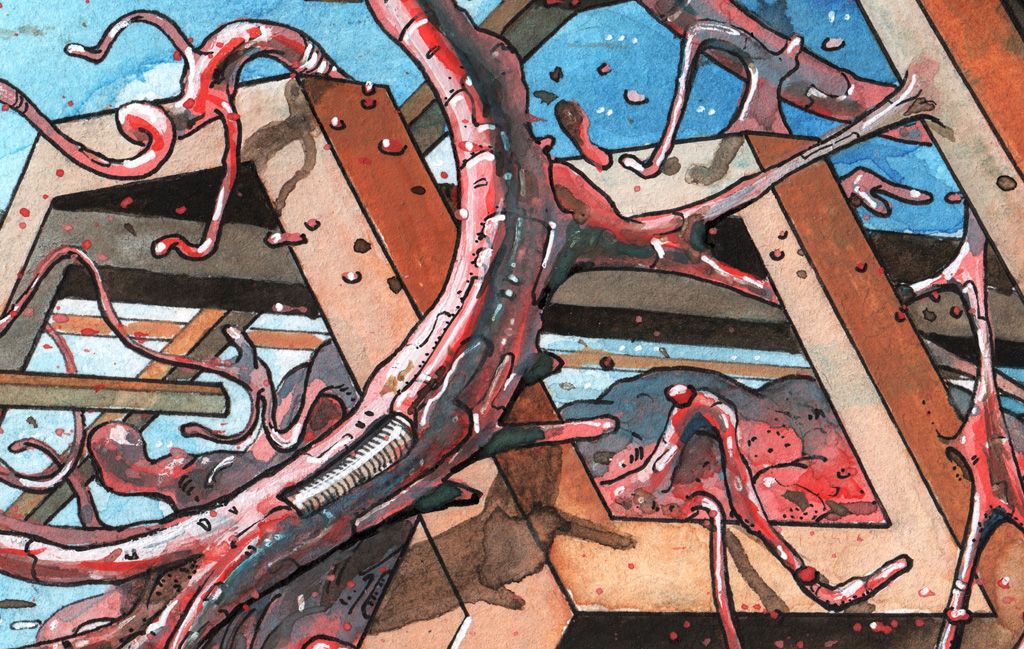 The meaty, blobish and cybernetic form is Hawuawuashka. A tier biologic, tier synthetic (nano-based) and tier virtual substance that is known for inducing 72 hours orgasms, sought-after throughout various universes (See "The Technopriests" for cross information).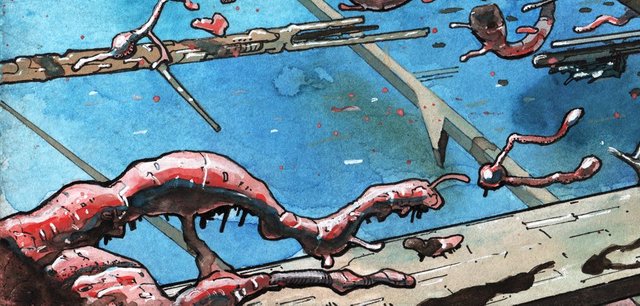 Travelling in the Hyperhedron is theoretically impossible but in practice it is often done. It can nonetheless provoke partial dematerialisation and structures unentangling.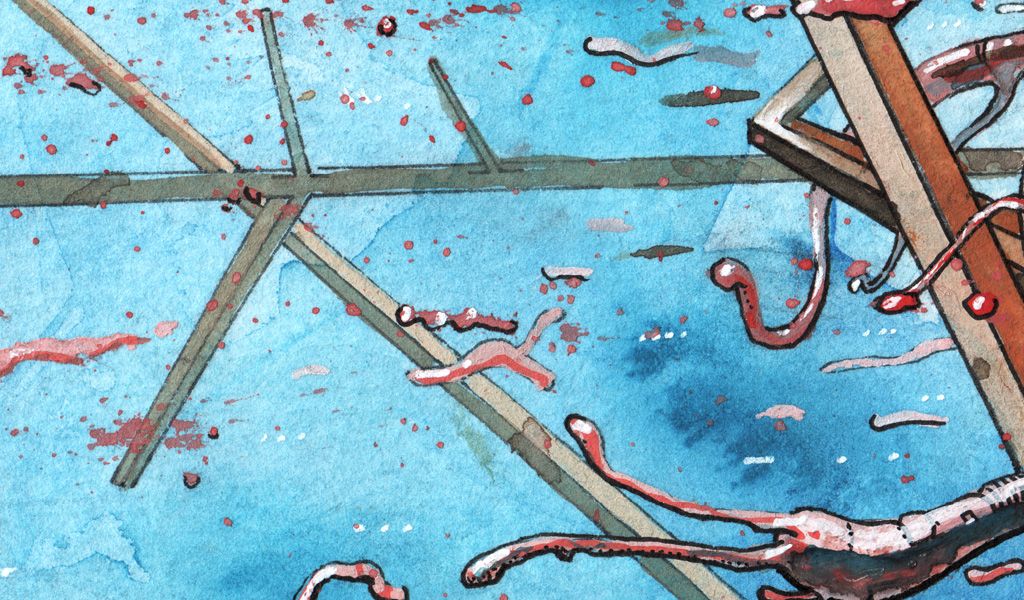 ---
---
This artwork is an entry to the "Visionnary art contest" hosted by @elohproject and @slothicorn!
I found the proposed thematic of the "hyperdemensional object" totally fitting with my work since my illustrations and comics are set in a world I built and called "The Hyperhedron".
"Hedron" comes from the greek particle "Hedre". You won't find it alone but attached to words, for instance in "Dodecahedron". Obviously the idea of the Hyperhedron is a sort of technologic, A.I. masterminded multiverse with many planes, reals and virtuals.
Enough meta-wank, let's have a look at the process.
In this painting I used a cheap block with side sticked paper to avoid the watering preparation.
The sides are sticked so it does holds a bit the paper to prevent warping but it is definitely not that efficient as a proper tensing with water like I usualy do (See previous posts with progress reports).
First, a bunch of perspectives lines and a main block. I put some marks around the paper on my table in case I need the vanishing points again (which are also drawn on the table of course!).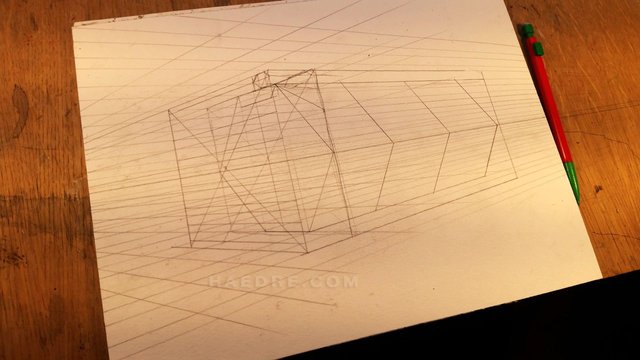 After trials and erasings, something appears!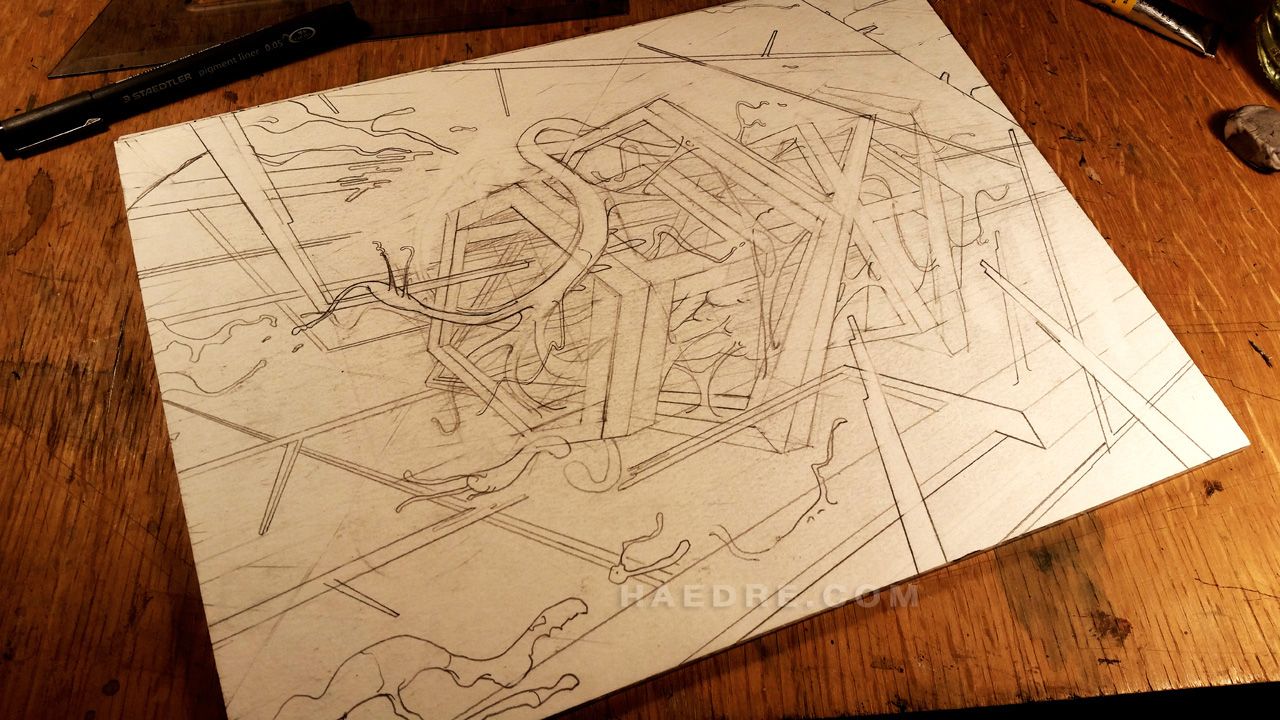 Now, basic inking. Refining the shape in order to get an equilibrated and dynamic composition.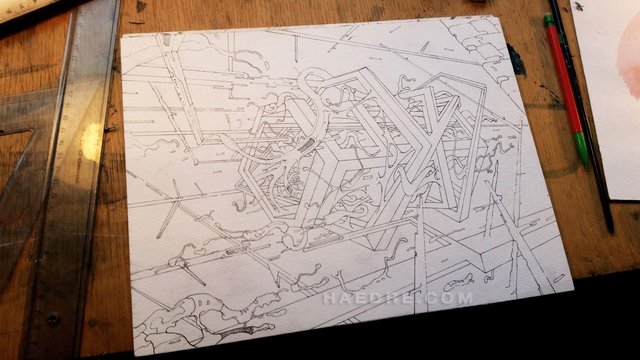 This paper cannot cope with masking fluid, it'd rip off when I'd take it out. So I haven't used any altough I would have liked to. At the end I went brutally on painting the background, going over the central shape, totally scrupleless.
During this part I am usually assaulted by thoughts like "what the hell is this sh...t! I have just ruined all that nice inking" ...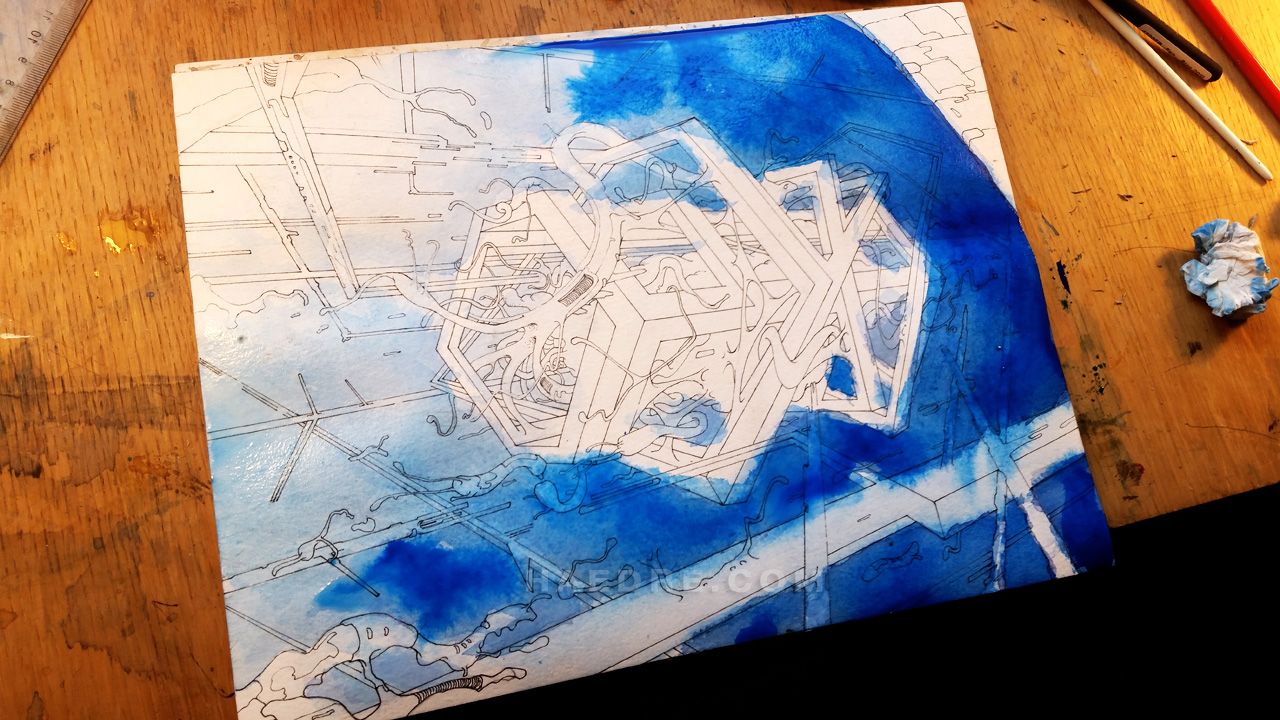 ... but I am used to that so I continue. Once the background was "done", I mixed colours (mostly ochres and burnt sienna) with a base of white gouache for a stronger covering and headed straight for the shadow parts of the impossible shape. It'll give quickly more volume and this just helps me to better oversee.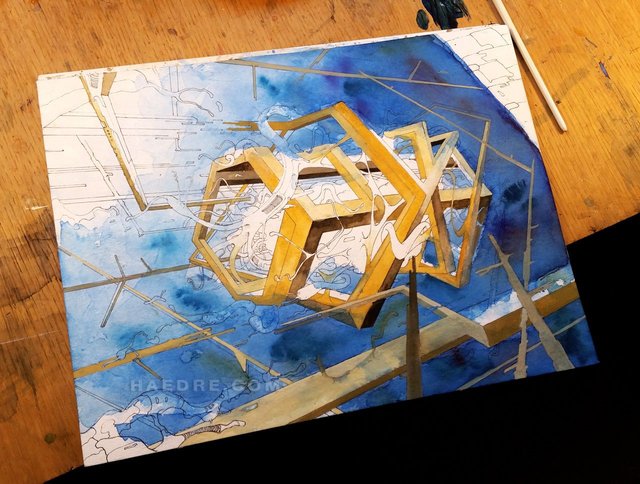 Now getting to the meat. A mix or oranges and crimson red. Just a bunch of rather random clumsy brush strokes.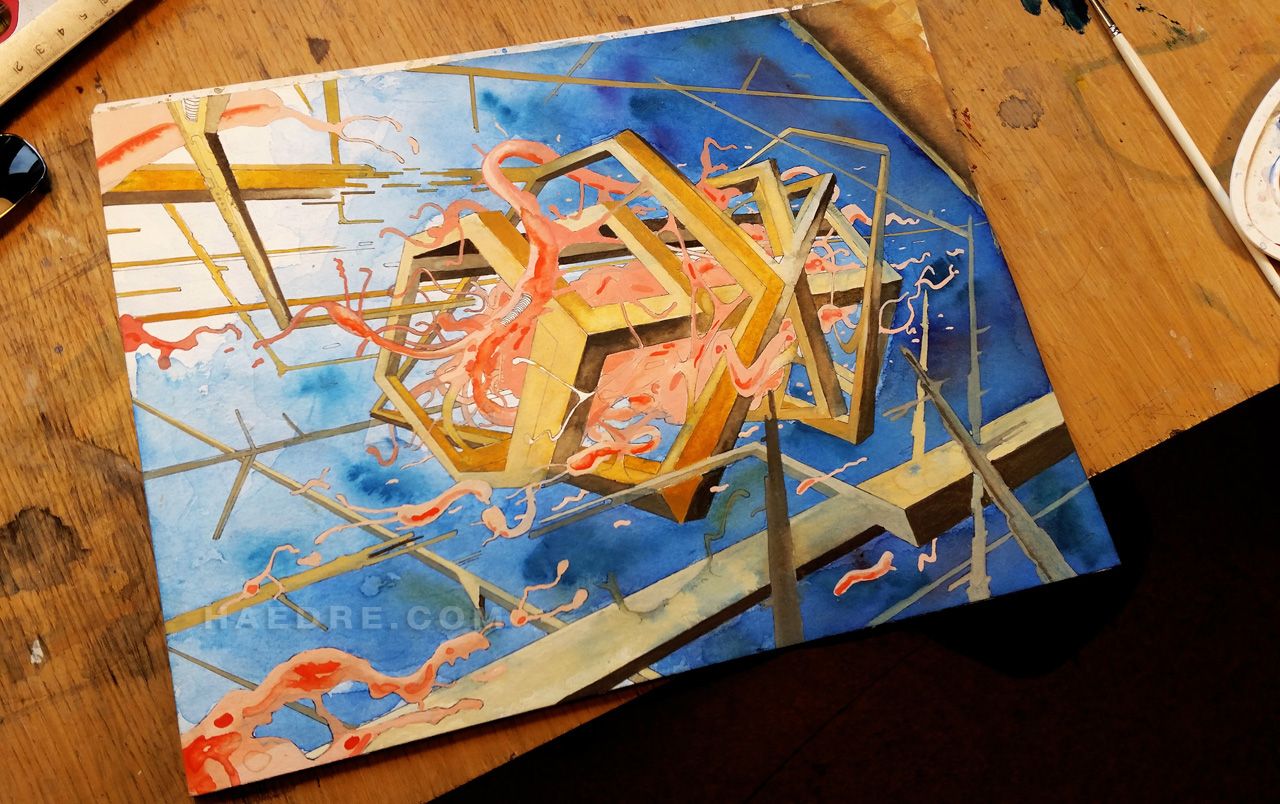 Let's have a closer look.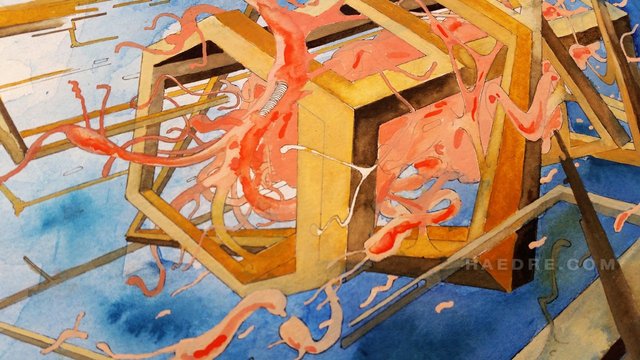 Adding the meat shadows, some burnt sienna mixed with blueish.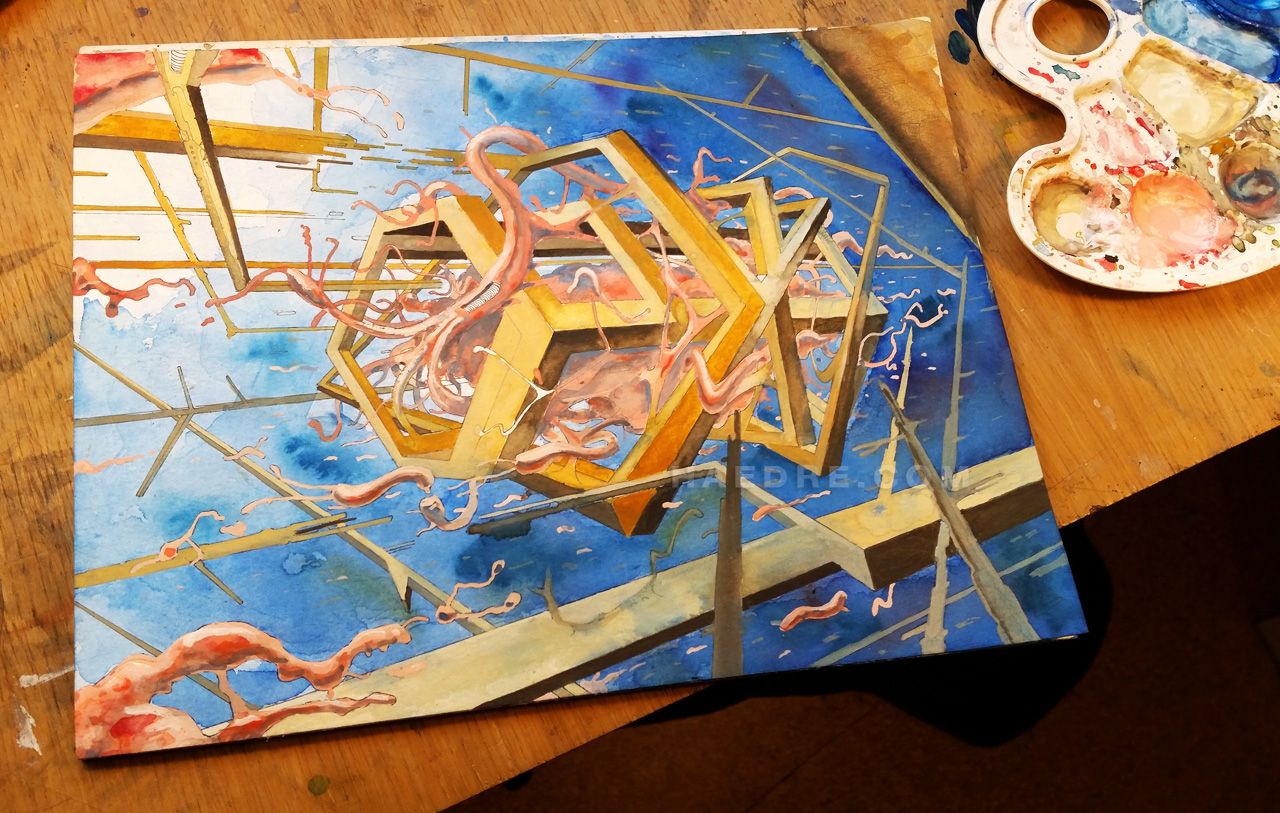 Adding more ink for the outlines with thinliners. Finally it commences to stick out of this mess. Everything that is beyond the vehicle is left without outlines.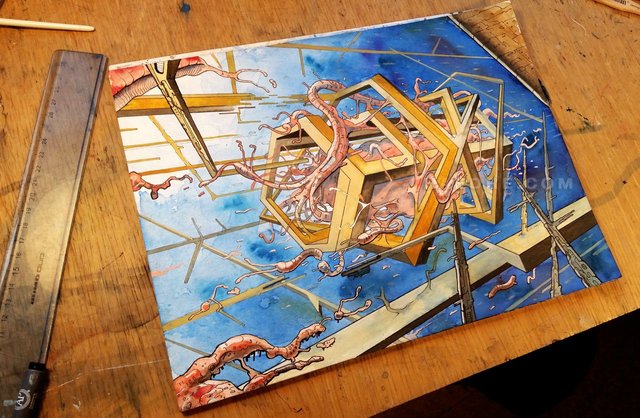 More ink, more details. White acryl, gouache and thinliners for the touch up. And again shadows and light.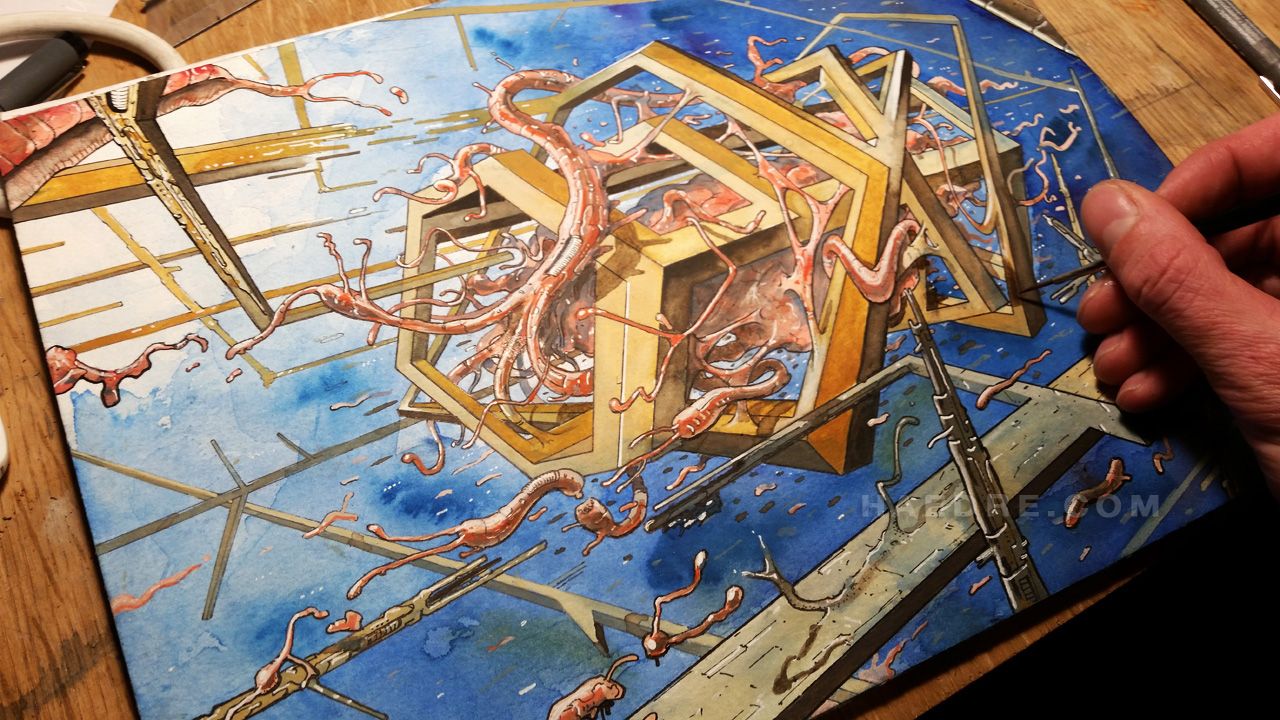 All right, after much more splats and details ... we're at 99,999% or the final render.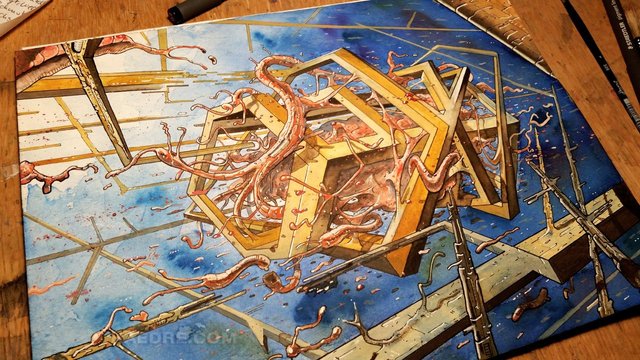 Remember, I used a rather cheap paper and I haven't tensed it. So, at the end it had like a hollow in the middle. After having waited it to be absolutely dry, I have gently wet its back. Then put the front side down on a clean board, put kitchen paper on top (so on the back), then a glass, then a carton, then a heavy pile of books and weights. Waited the night, .. and got a perfectly flat artwork!
Ah! And during the work, I have mostly listened to "Pollen", an album from an obscure 70's French psychedelic band called "Pulsar". I have also listened to the audio books of H.P. Lovecraft, "The temple" and "The nameless city".
---
Thank you for having checked my post, I hope you enjoyed it!
---
Check my official website for more art! http://www.haedre.com
Support me through http://www.patreon.com/haedre
And/or directly with cryptos!
BTC: 13crkJP7G23sPeud2WnBmM9hbjze57f4o9
ETH: 0xa7B61e88d8ce1aBD543f80924F5f6D9f33E85648
Thanks again! Please don't forget to