My Holiday Art Making🖌️🍃 watercolor portraits
I painted quite a lot!
Let me share my paintings and talk a bit about my experience making them!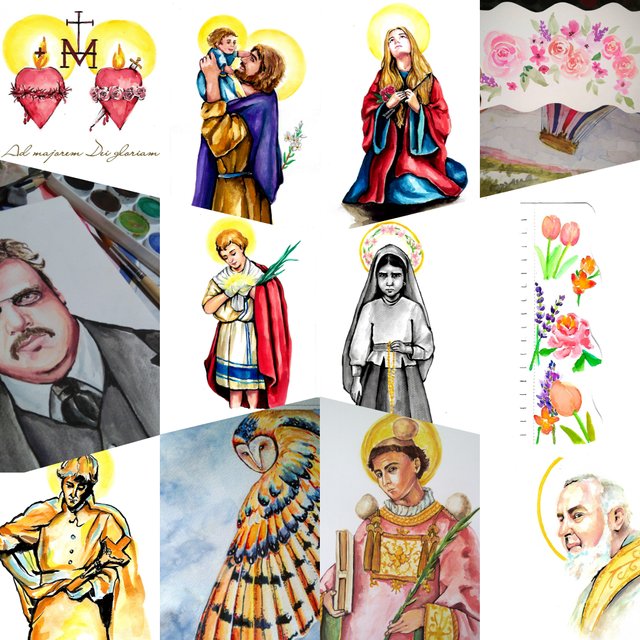 I started late December and up till 6th January. Really fun!
I made a series of artworks, after our Christmas party, there was almost a three week break where I tried to connect more into my spiritual side and artsy side. I have been terribly busy with my studies "auf Deutsch" and I really felt a need to fill up what I've been missing for some time now. Art, and always, just more of God and family.
St. Padre Pio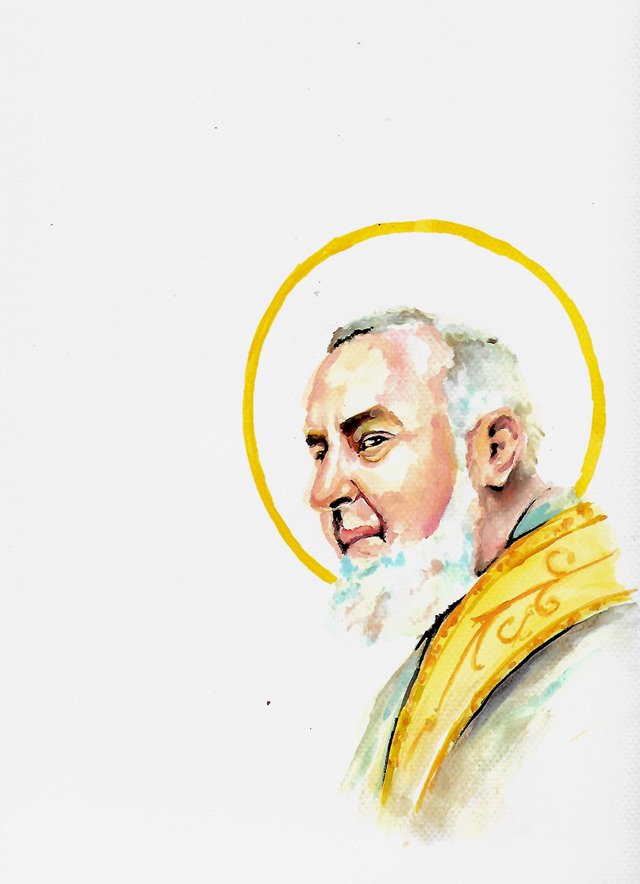 ⚜️ I started with Padre Pio with my basic art tools and I just went with the flow. I don't sketch so I just start with yellow and peach color, some white and just fill out the light spaces. Adding pigment and shadows. I did a wet on wet, I didn't know how this would really turn out but it went well, better than I expected. I actually think I can't do anything like this again if I tried. But, I really should try because it would mean that I have mastered watercolor to actually repeat a skill I did before. I definitely will repeat this, or another picture of Padre Pio. We will see!
Work in progress photo
I was very much in the art zone that I did not take any work in progress except one, when it was done. So here it is: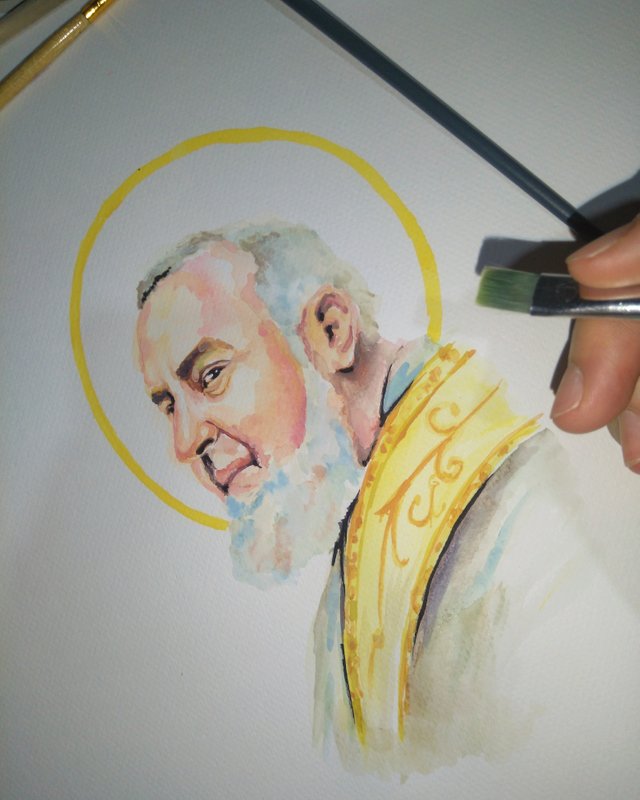 If you notice the halo is oblong and not circle. Okay, that's one mistake as well.
How do you make eyes look realistic?
You fill the supposedly white areas of the eyeball with a grey and fleshy colored tint. Then, the pupils and iris should be dark too with some gradation. Then I add white acrylic as highlights, so it looks a bit 3D.
It really wont matter if some areas don't look too realistic or if they fade out, the eyes just have to look real and it should emotionally connect to the audience/ viewers.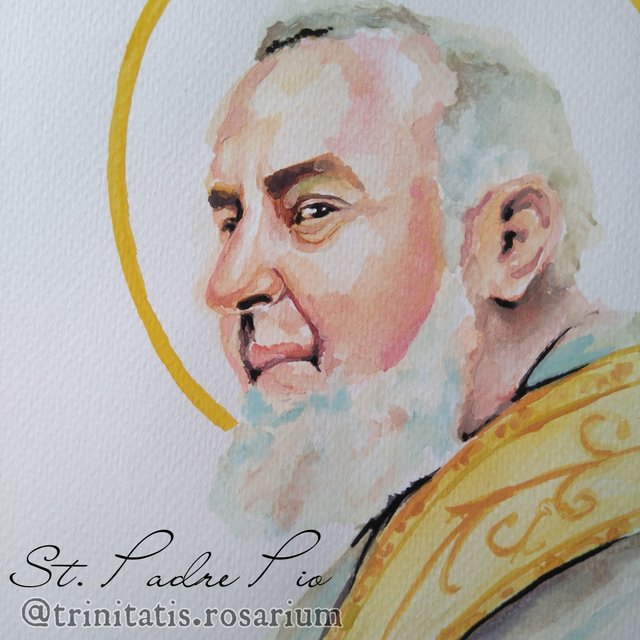 ⚜️ This is a picture of the Painting. You'll see more texture. That's my Instagram name btw.
St. Stephen, the first martyr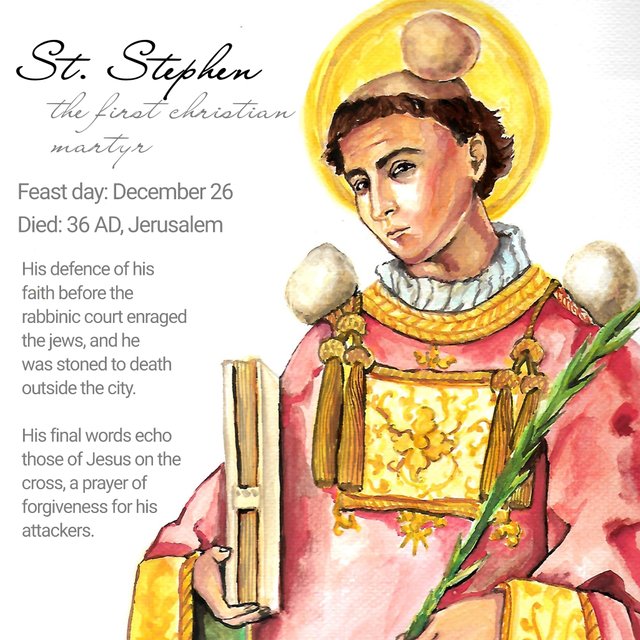 Original picture and the work in progress photos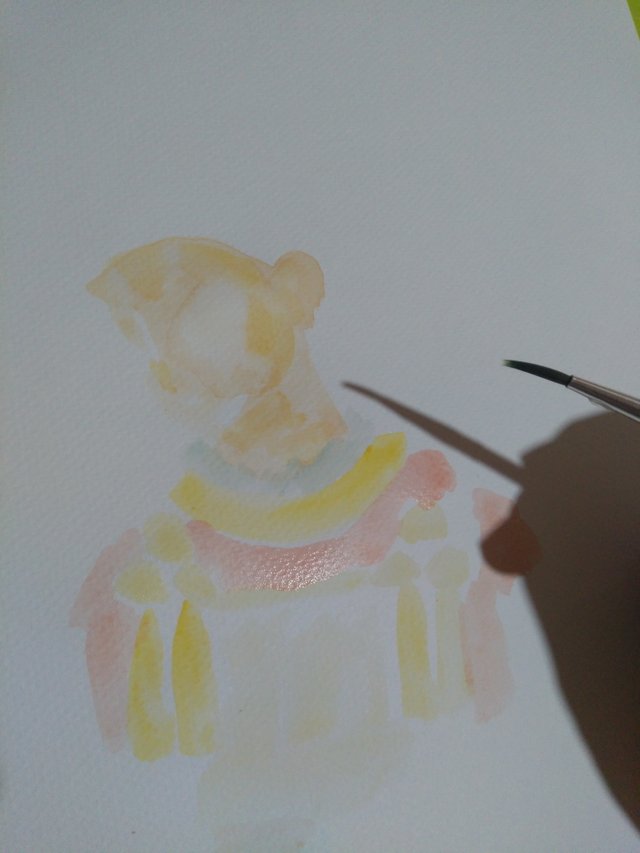 ⚜️ This is how vague I start my artwork. At this stage I'm at a 50/50, thinking "oh this is messy", and "this will be goooood".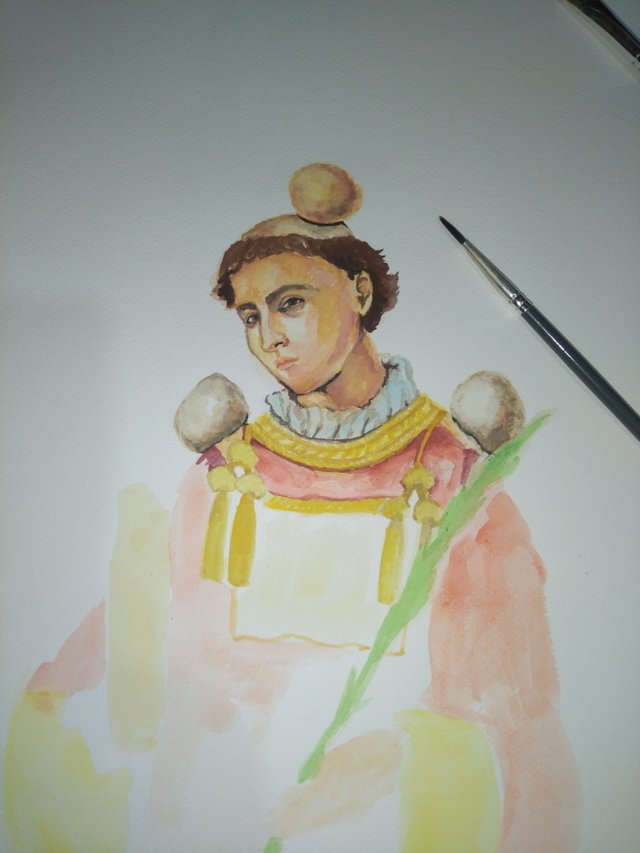 This becomes better as I continue and form the shape and fill in colors and shadows.
White shades are usually done with blue, grey, a bit of yellow and green for me. It creates the shadows for the white cloth you are trying to paint.
Here I'm making the yellow design on the clothes, light to dark.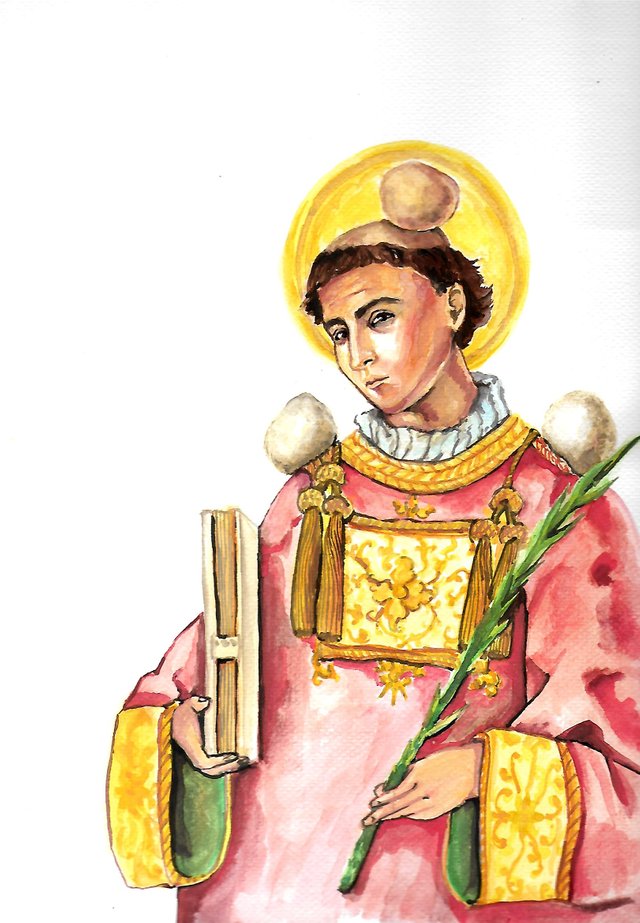 The mistake here is making the stomach area too wide. And yes I do have reference photos.
St. Louis De Monfort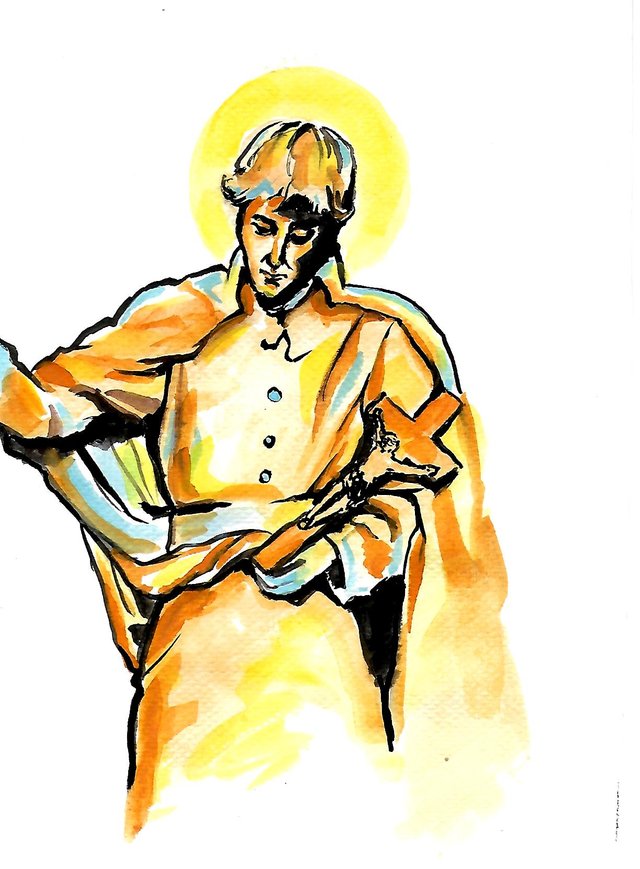 ⚜️ My first attempt of st. Louis was a disaster so I made this easier one.
My Owl art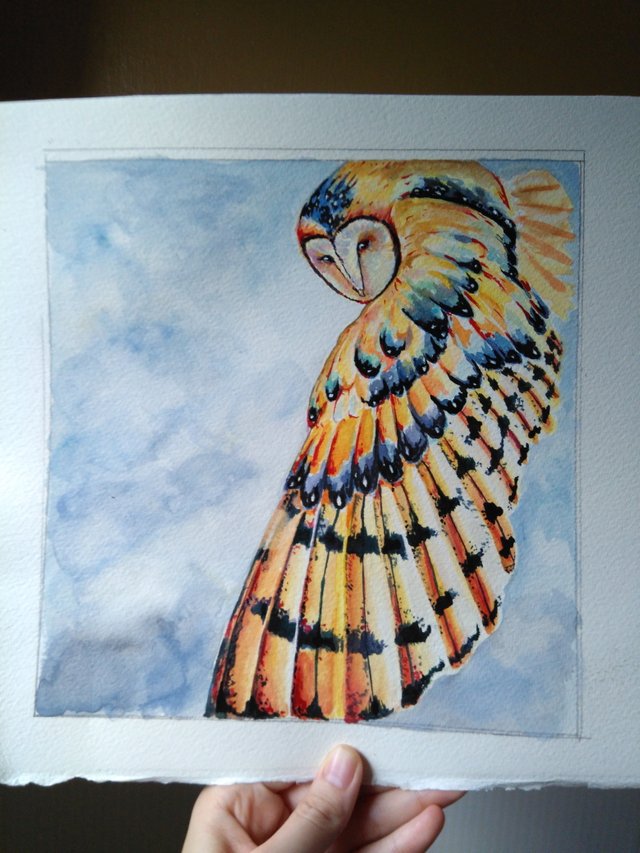 I painted an owl! Kind of missed painting owls but I was totally not satisfied with this.
Anyway here are the WIPs: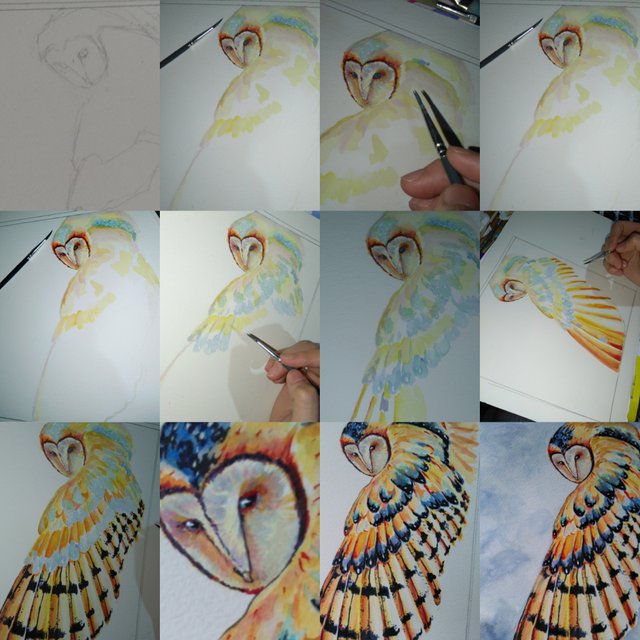 I've lost patience and rushed it, I spent a day painting this. Its an addition to my collection.
St. Jacinta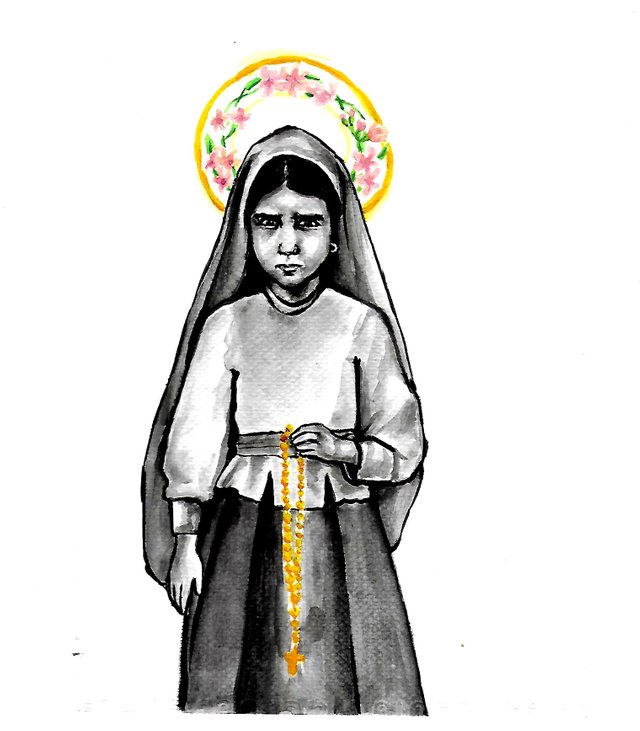 🌺 St. Jacinta's is painted on gray-scale here. I used yellow and browns to make the halo and rosary gold like in hue.. this way they're contrasted and it pops out.
Let's see if I have work in progress photos: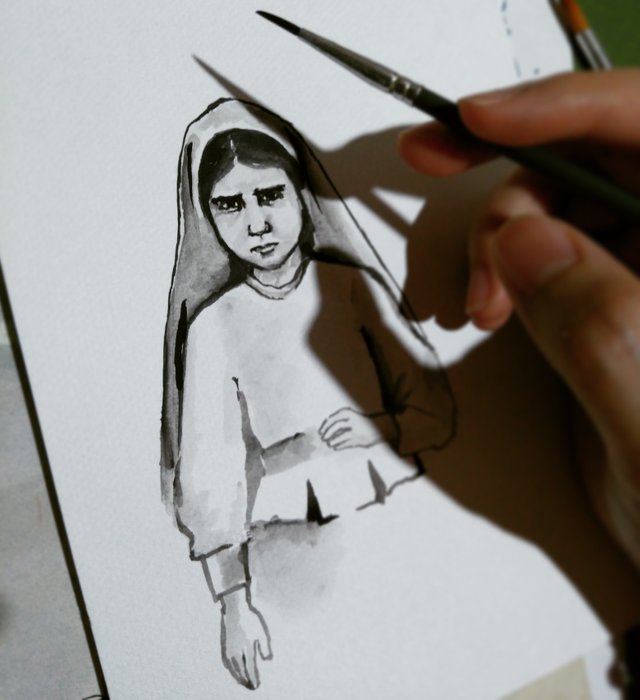 Here's a pic with less shadows on it.
St. Tarcisius🌿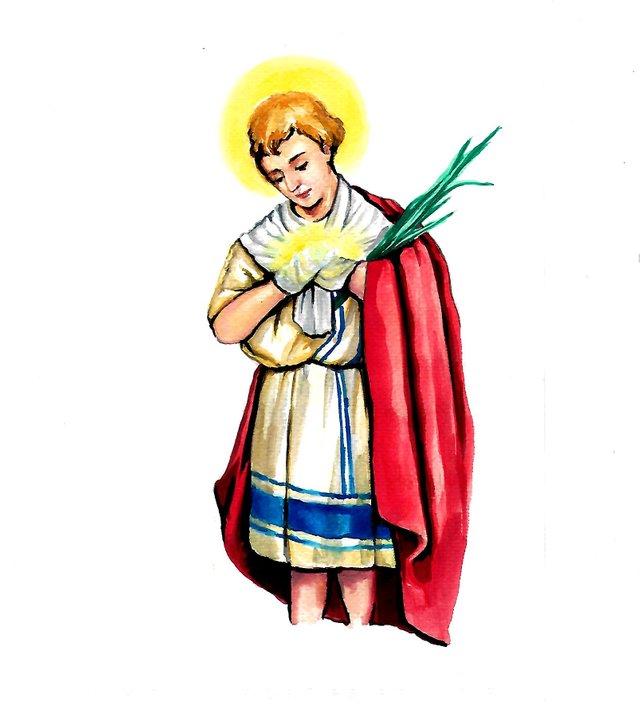 ⚜️ I love how this turned out. In this painting, I did sketch because I needed to make sure the anatomy is right. And it became a success. Perhaps sketching with a very light pencil really is advisable. There's higher result on accuracy.
I have a little video of me painting st. Tarcisius. Just starting with light shades before layering darker ones.
St. Philomena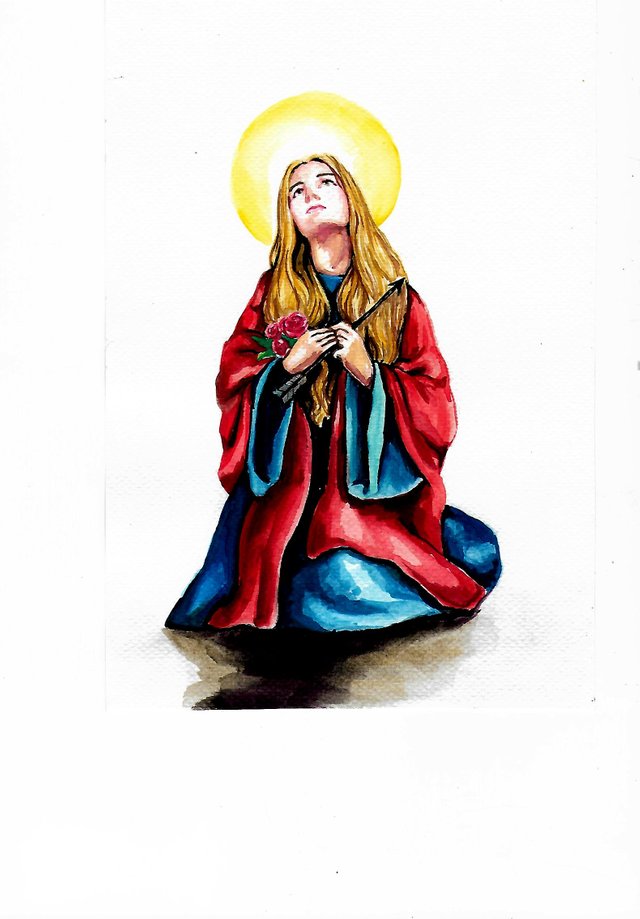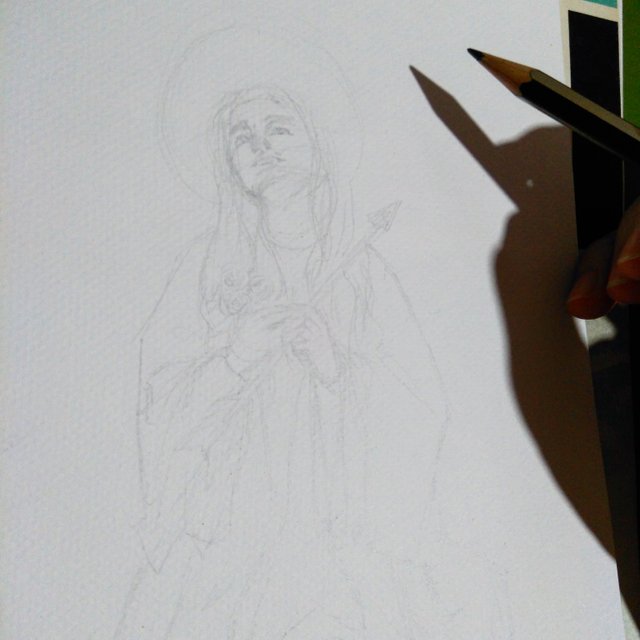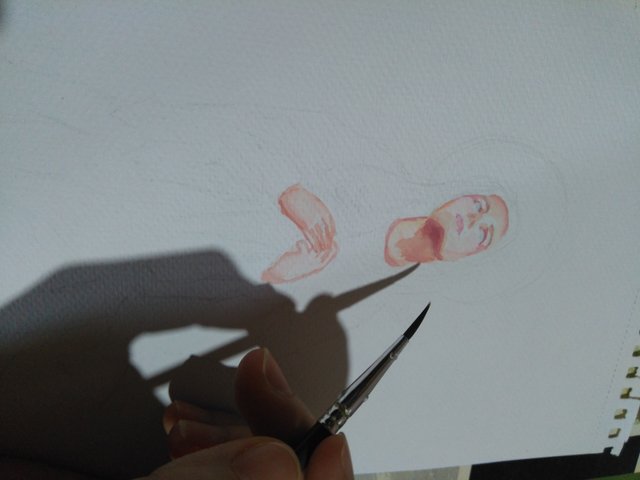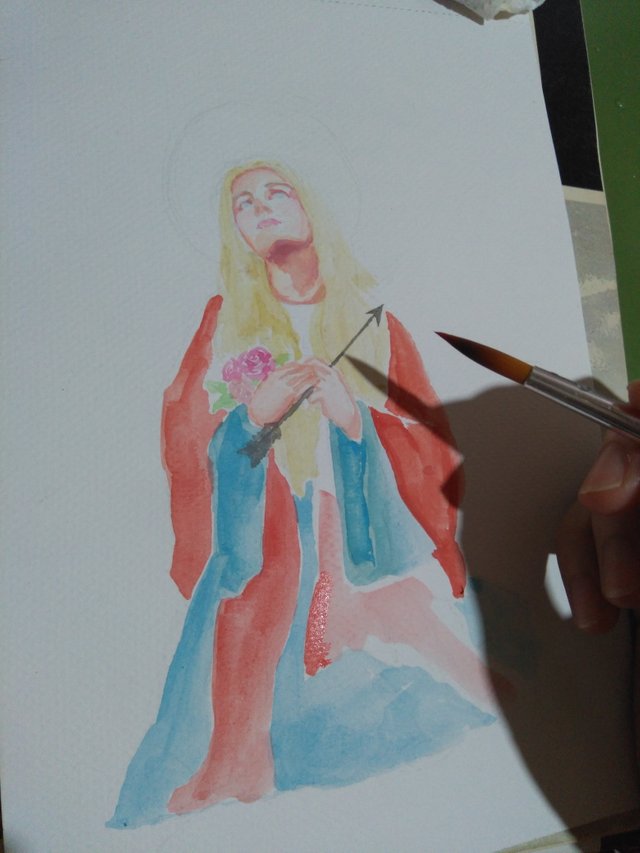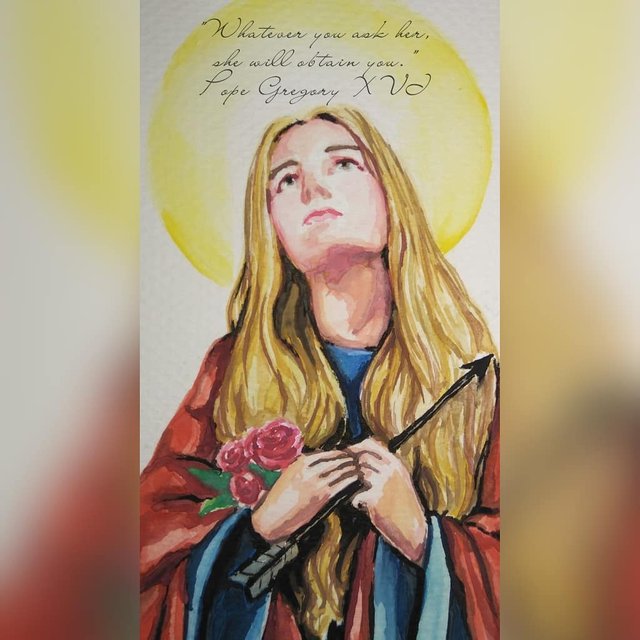 I made this also in just a day, I copied a picture of a friend who dressed and poses as her.
⚜️ St. Joseph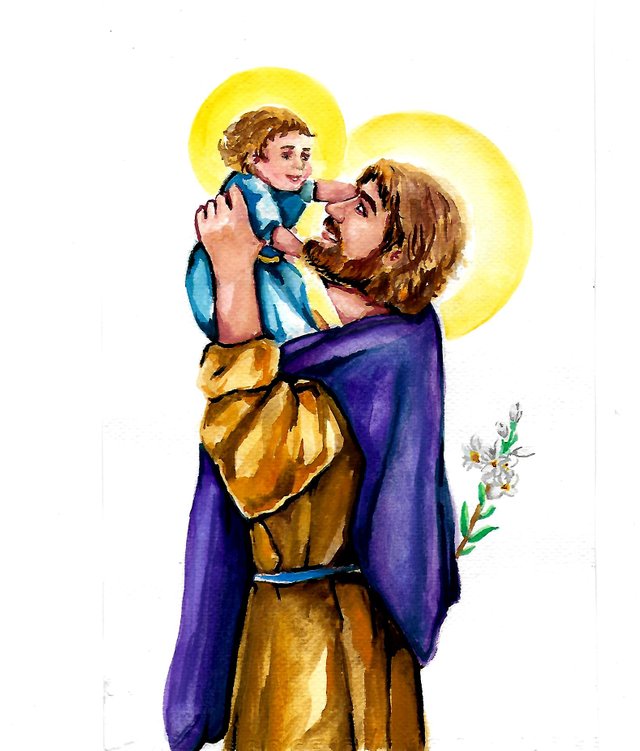 Model of all fathers.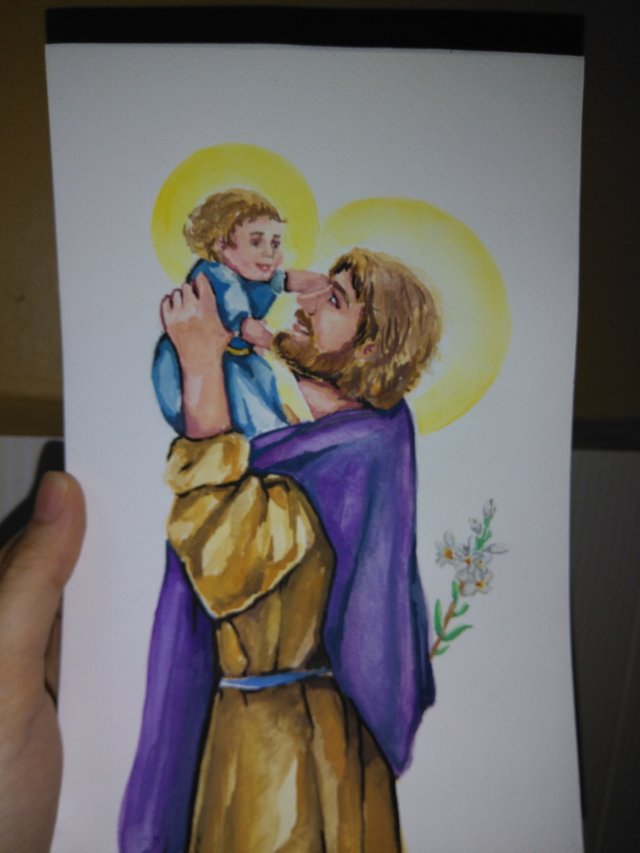 I don't have any work in progress photos. Sorry!
This is just also the same process as the others, and yes, I did sketch.
Spring flowers
To add to my practice, I painted loose flowers. They're light and fast to paint. I followed two particular tutorials.
First by Emma Lefebvre and then Sheyda Campbell, (did I spell it right?)
Anyway, here are the scans and the work in progress pictures! Enjoy.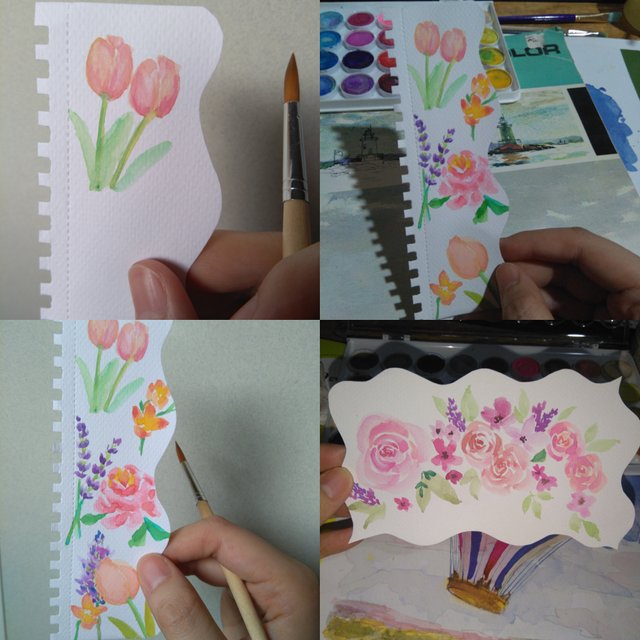 Links to tutorials I followed:

My output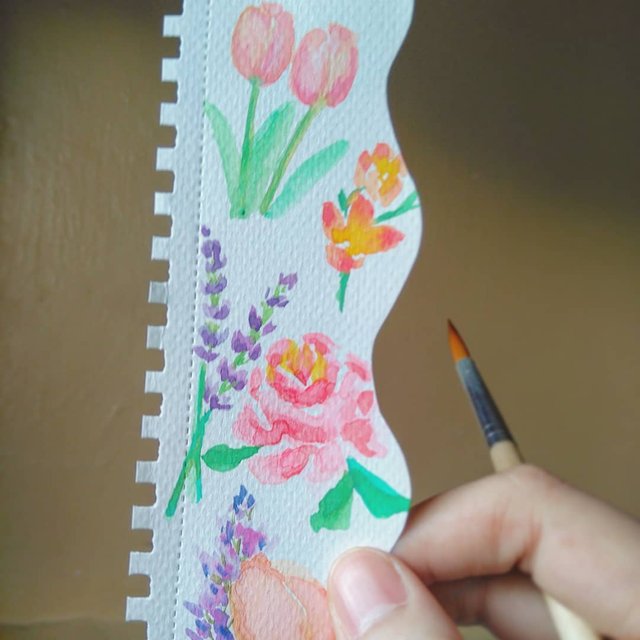 A little bookmark!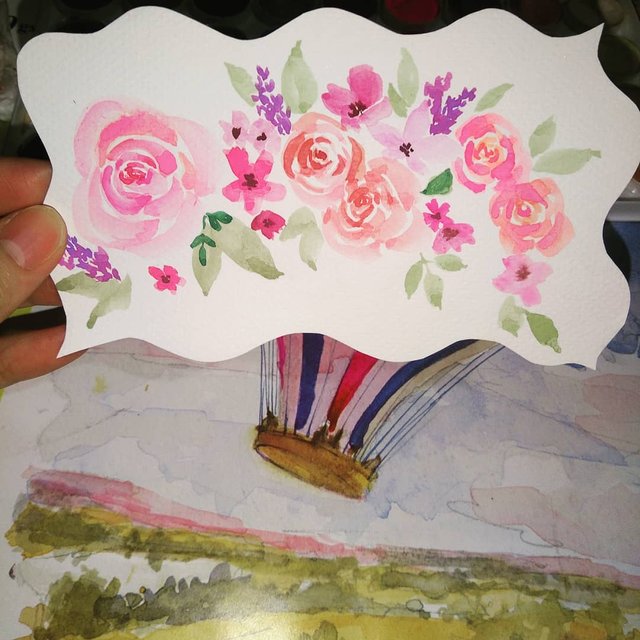 Can be a little greeting card!
Im really relaxed after making this. No stress, easy to do especially because these loose flowers don't need much shadows, but rather just stronger pigments.
Another thing, I get to paint over cards and "recycled" or excess Watercolor paper. And they will still look real good.
I also tried to paint GK Chesterton but it failed so I don't think I should post it? Haha.
This exercise was super fun, hopefully I can continue my practice over weekends.
I will leave some other pictures. God bless you all, I hope you learned something from my Blogpost, hopeful that it could help your art journey.
Thank you so much!
See you!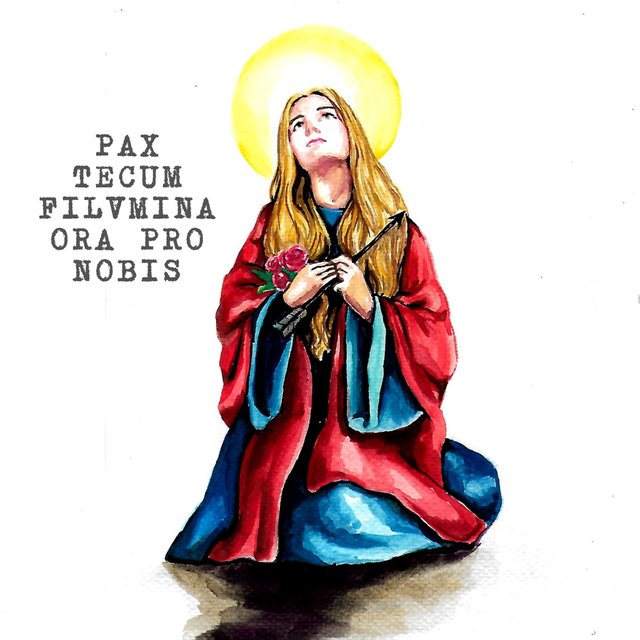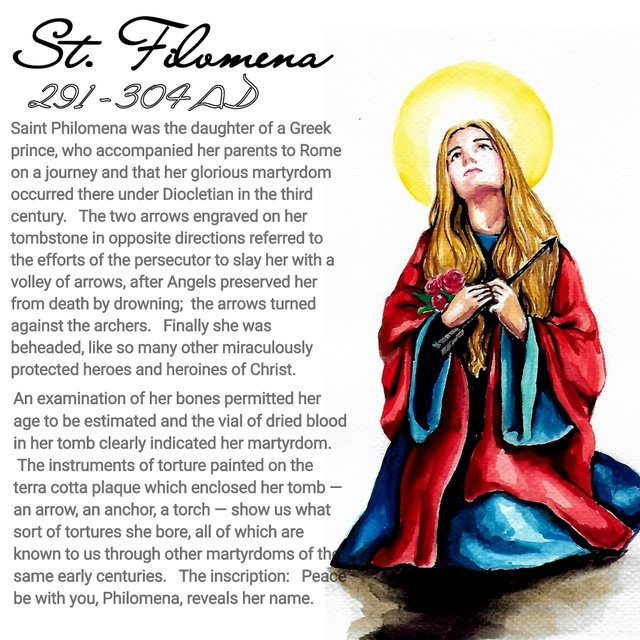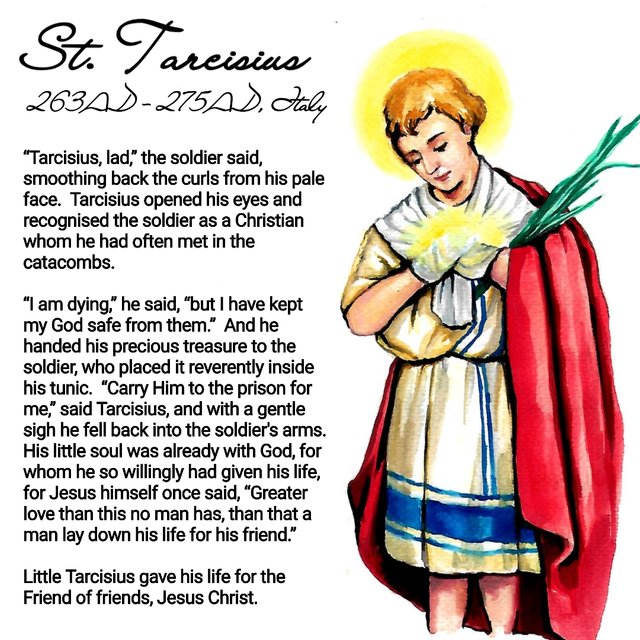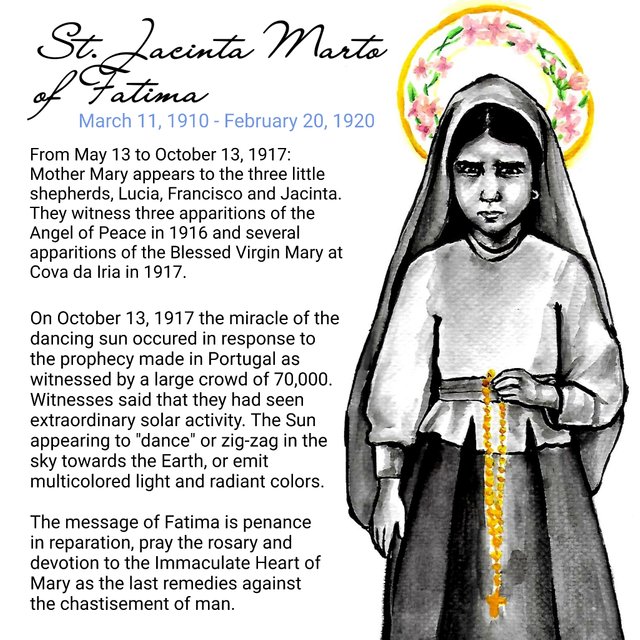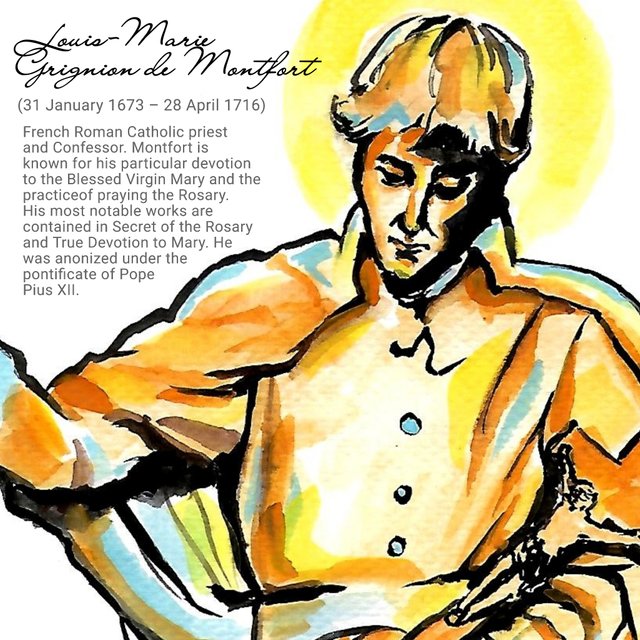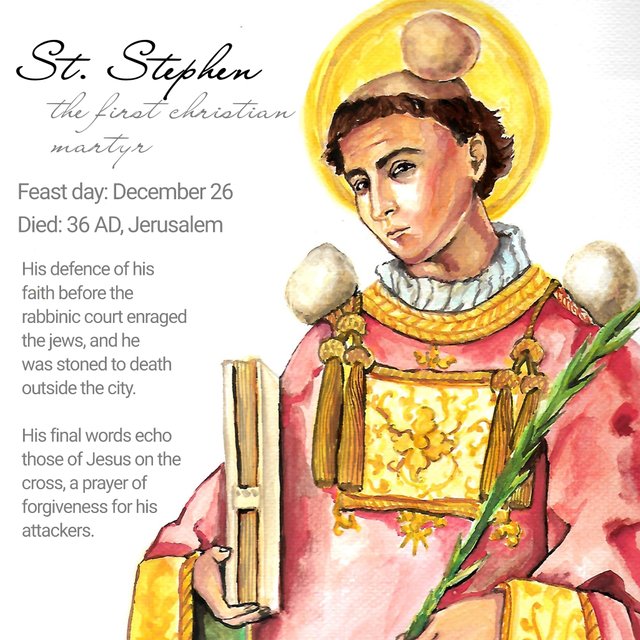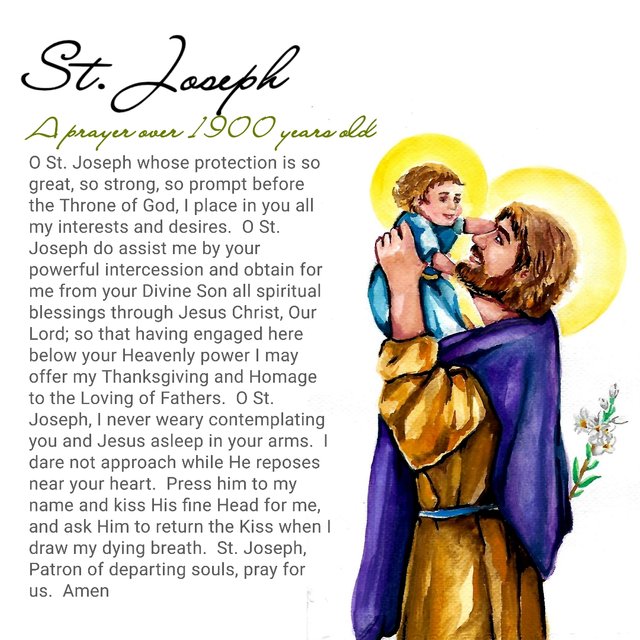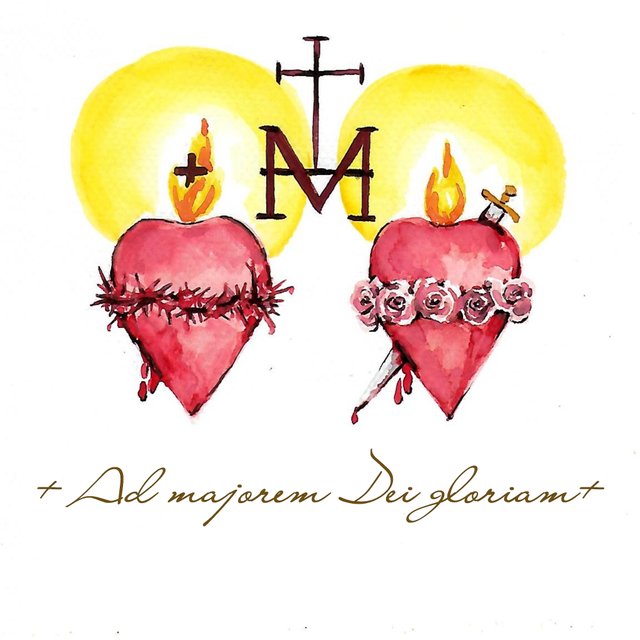 I made this too!

Thanks for stopping by!

🌍🌎🌏
THE ENVIRONMENT CALLS FOR YOU
HELP SAVE HER ♥️✨🕊️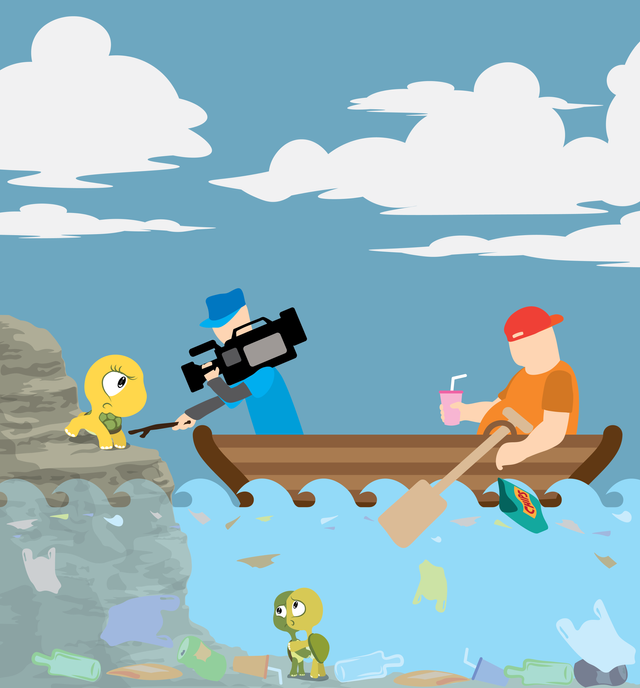 Protecting the Wildlife has never been so essential in the history of humanity as it is now. Bring awareness worldwide!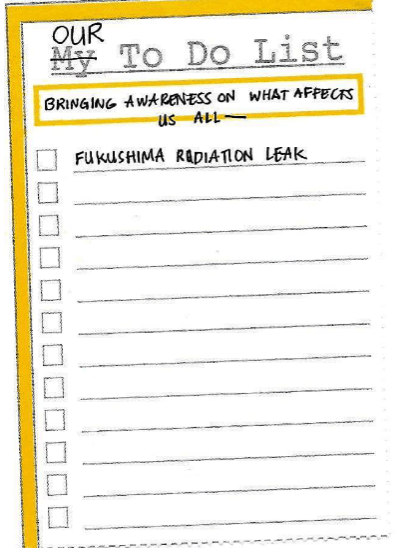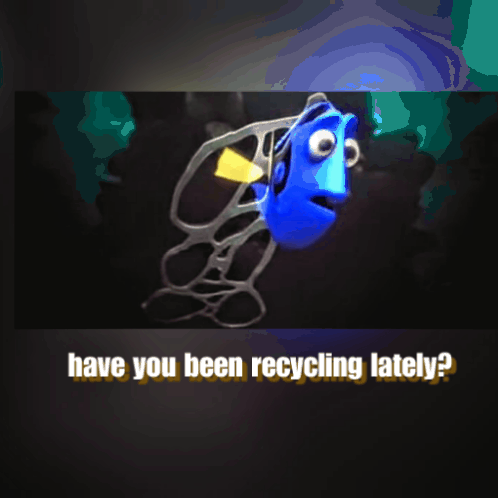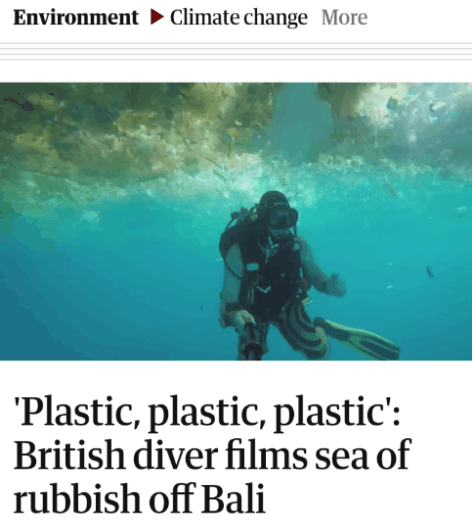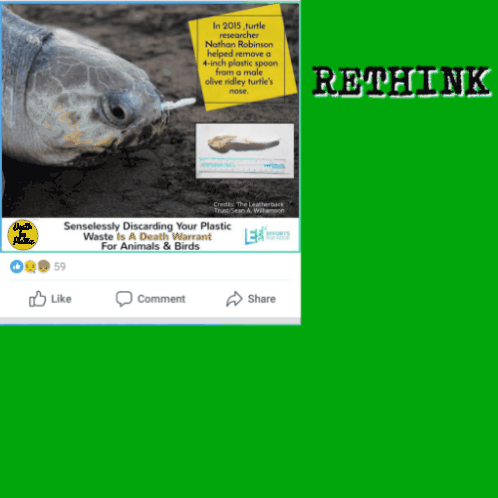 WE DO NOT INHERIT THE EARTH FROM OUR ANCESTORS, WE BORROW IT FROM OUR CHILDREN
🌏🌎🌍

😱IT IS IMPORTANT TO VOTE FOR WITNESSES☝️
I recommend:
@steemgigs
@blocktrades
@precise
@cloh76.witness
@ausbitbank

SOME AWESOME BLOGGERS
You don't want to miss😉
@gems.and.cookies
@anomadsoul
@surpassinggoogle
@topkpop
@hiddenblade
@deveerei
@korinkrafting
@fukumineko
@sethlinson
@mattphilleo
@deemarshall

That's all folks!
XOXO 💋
@jacinta.sevilla