LOST BOY - MAKING OF
The Lost Boy, my latest acrylic painting, was inspired by a poem with the same title, written by Reham Yeshar.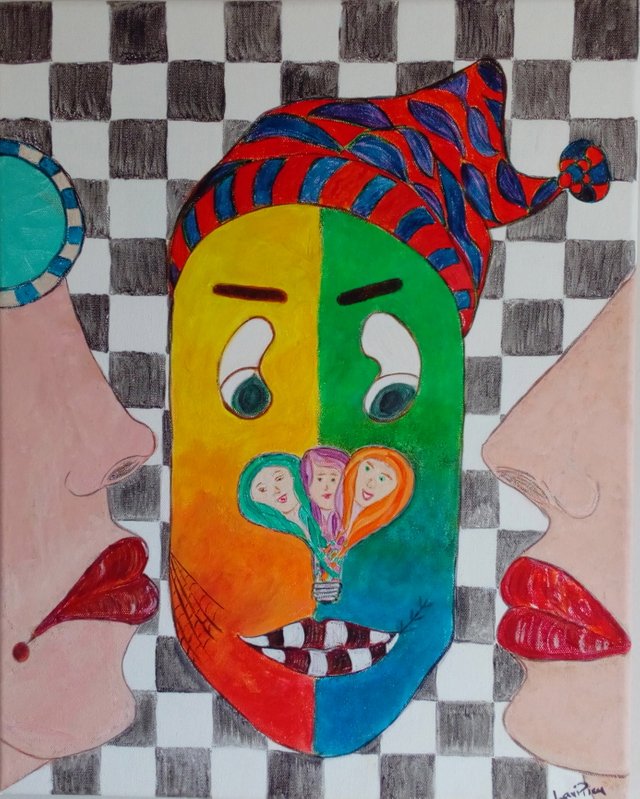 Beware of the lost hearts,
They tend to leave broken pieces behind
Beware of the wavering minds
They cling so loosely to our hands
We are fooled by boys who wear the skin of men
Who let their pride speak while their desire is silenced
Who think their scars are a story of failure and weakness
Who own a tongue drenched in lies
A journey I will not share, regardless if I care
You will not find yourself in me,
And you will not break me as you look for yourself

First, I made a sketch using wax coloured pencils and the following day I moved on to the canvas. The canvas was already primed, thus I did not have to apply any primer or gesso on it. This was a 16" by 20" canvas.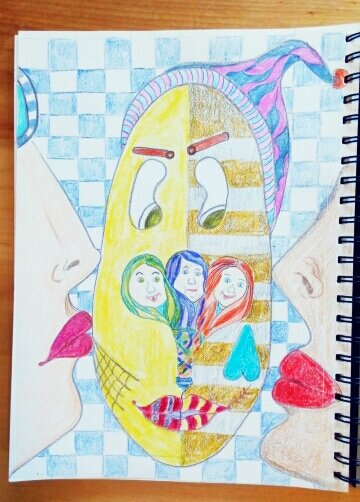 I had to draw once more the Lost Boy and his two god mothers along with the checkered background and some other details.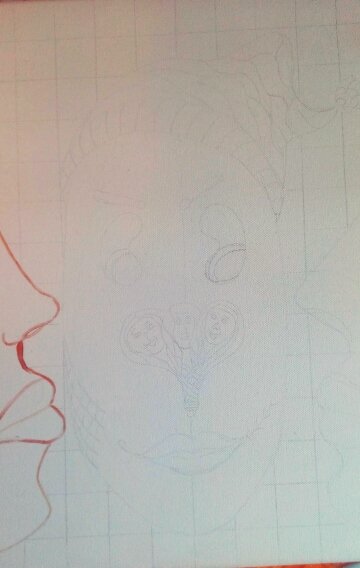 I used a raw burnt sienna and a watercolour brush with a small tip to colour the outlines.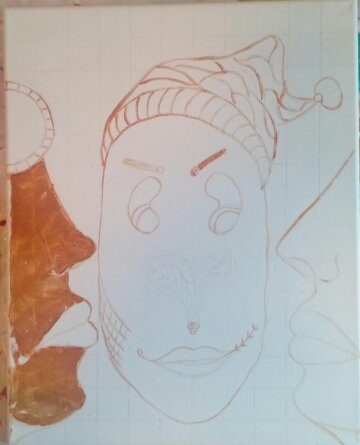 I applied the first layer of colour with the palette knife for one of the god mothers. Note that I selected a dark colour to create more natural looking shades later on.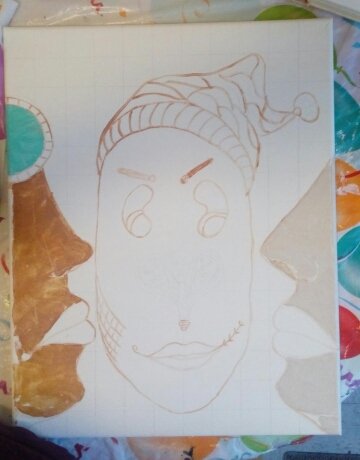 The boy's face and the second godmother received an initial coat of primary yellow which was applied also with a palette knife. At the moment I was looking for a smooth surface. Later on, I added a slight texture with palette knife.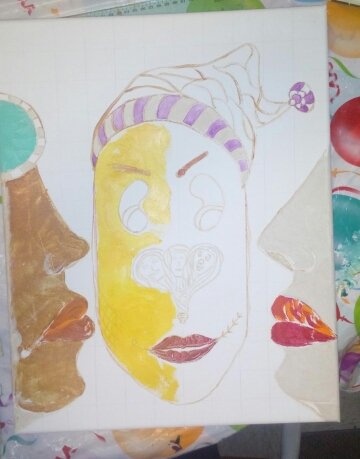 I used two complimentary colours, yellow and violet for the boy's hat.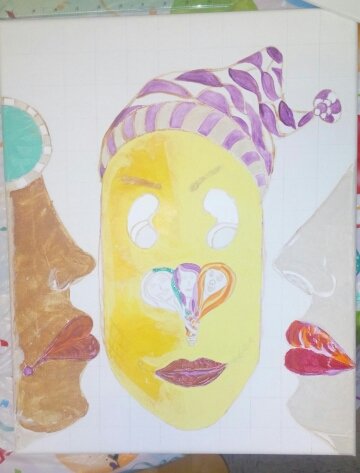 The checkered background was coloured using micaceous black and titanium white. You can see that the brush strokes are vertical.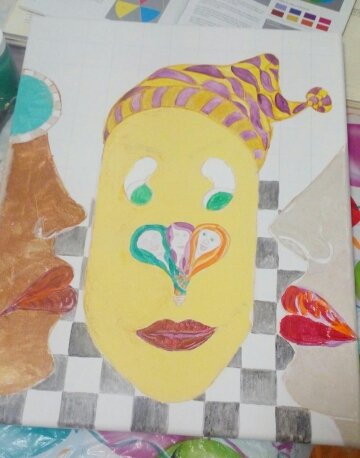 I repeated the process three times to ensure all the squares are fully covered with paint and have a nice depth. I did not want to have a simple black, but a nice greyish tone.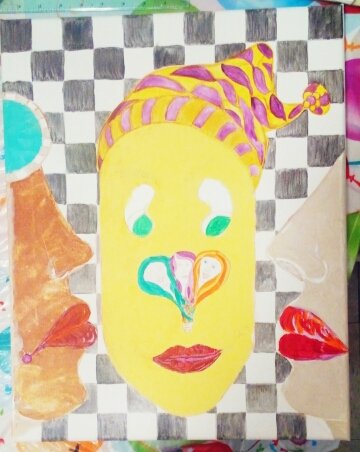 The stripes applied on the face are supposed to enhance the following layers of paint. On the left side of boy's face, I added some stripes: a layer of gold followed by another one of micaceous black.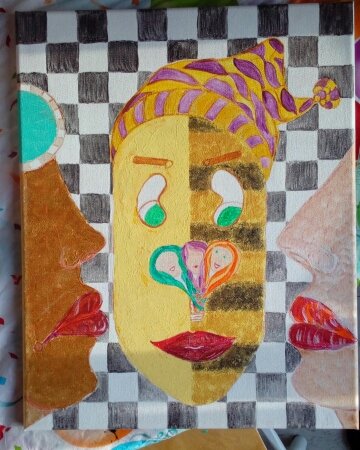 The two profiles were covered in another layer of paint (raw sienna, titanium white and red mixture for subtle skin tones) using a dabbing sponge. Next, I covered the orange on the hat with a darker shade of red.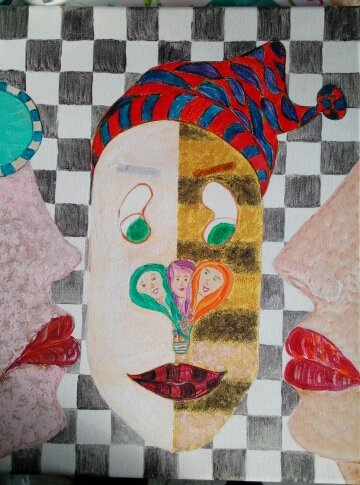 Although in my sketch I had used different colors for the boy's face, I decided to go with more vivid ones. I wanted something that draws more attention to the face. Therefore, I thought a smooth transition from yellow to orange and from green to blue would do the trick.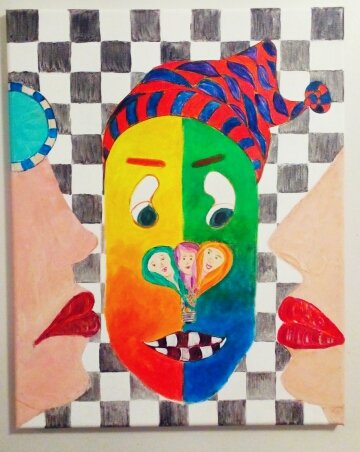 At last, I move to the last details: the nostrils, the girls in the bulb, tracing the outlines and correcting small mistakes.
Let's have another look at the final result! Drop me a line in the comments below if you'd like to see more of my artworks!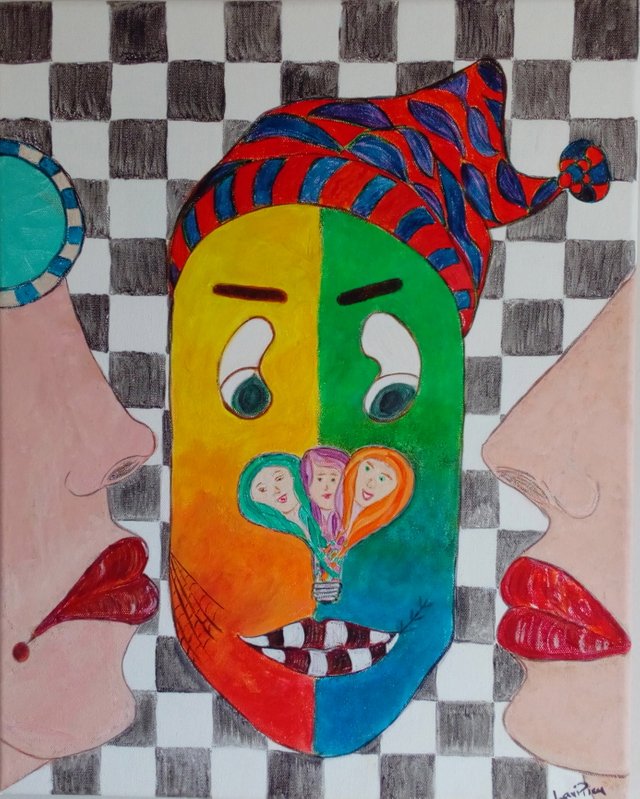 Here are some other art related posts that you may enjoy reading:
BENEFICIAL EFFECTS OF DOODLING
JAMAICAN MAZE
THE WORLD IS MINE - MAKING OF
DRAGON STEPS, MAKING OF
THE POND - MAKING OF
FLUID ART - WORKING ON COMMISSION DURING MY VACATION
BLAZE - MAKING OF
VANITAS SERIES
LET YOUR INNER CHILD IGNITE YOUR CREATIVITY
UNDER THE BLUE -MAKING OF
DRAGON - MAKING OF
ART THERAPY, WHAT THE HECK IS THAT?
FUN WITH ACRYLICS
MAGICAL UNICORN- MAKING OF
MUSHROOM TABLE- DIY
OTHER PAINTINGS
WHAT SPARKS YOUR CREATIVITY?

If You Are Interested In Purchasing Any Of My Works,
check out my Saatchi online art gallery page
HERE