COLLAGE | Live and let love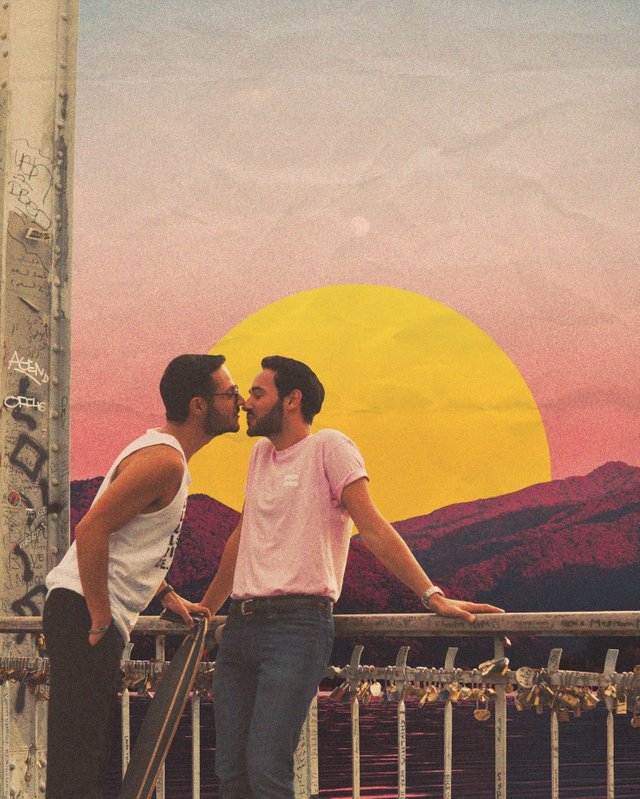 You ask me if they're two men and I shake my head. No, I see two souls, a couple of ethereal bodies who recognize each other and connect with the divinity through the sacred ritual that is the kiss, the completeness.
I don't see two men, I repeat. I see two human beings. I see a thirsty mouth in full communion with his pair. No fears. No taboos. Slowly they surrender to the holy contact that biology calls for.
Love is free...
If you can't understand what I'm saying, shut up. Don't try to ridicule what your light moral prevents you from assimilating.
If your speech is pure judgment and sin, again, shut up. Nobody wants to hear your hypocrisy made a verb.
Sometimes I wonder what the world would be like if society and the Church lashed out with equal force against the** lazy, the idolater, the liar, the angry, the proud, the envious, the greedy, the fornicator and the obese**, poor devils who are just as damned as we are. I wonder, really. If hell really exists, soon enough we're all gonna be there.
Fucked on either side, I choose to love. I couldn't stand a life plagued with pain and since I hate being judged, I don't judge. I love and love is not so bad, if you see it well.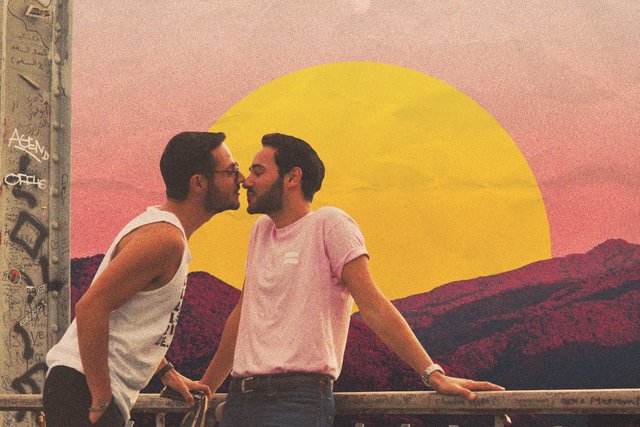 First, the preconception should be thrown in a sac. Cutting ties is the principle of freedom. That's where love comes in, but not the shabby one that was taught to us, no, I speak of an intimate one, that which emanates towards the same source.
The love that takes care of and seeks silence, that accepts the error and when learning from it, transforms it into a success. Love that doesn't bend because it is firm and believes and also says I trust you.
I speak of love in the only sense of the word, which can only be unconditional and perfect. The one that always chooses you first. Love that knows how to say goodbye and in the most silent and profound pain is the most honest and wise.
Love that knows about kisses in the mirror...
Once love abounds and there's true internal acceptance, there will be room for others. Life will be a party where color, status, identity and map do not matter, and where divisions do not start wars. It will be a place where there will be no judgments and love will dress as they please.
Let's be part of that world. Let's contribute with empathy, tolerance and respect, willing to accept those who think and feel differently. Let's spread kindness and become agents of inclusion and equality. At the end of the day we all look for happiness, but what are we willing to give for it?
"Authentic equality does not prioritize sexual orientation, it does not put any gender or race in the center ... What it does is centralize love. And when love is fully centralized, all doors open for everyone." Anne Hathaway.
---
Collage was made by me with Adobe Photoshop