"The Green Cactus" - The Backstory - An Artist's Tales
Happy 4th of July everyone! 😀

I hope you're all having an awesome day, especially those in the U.S.

I will be sharing with you another backstory of one of my glass art pieces.

This particular one is entitled "The Green Cactus".

I have featured this artwork many many months ago, but never had the chance to talk more about it. So, here's the story behind
The Green Cactus.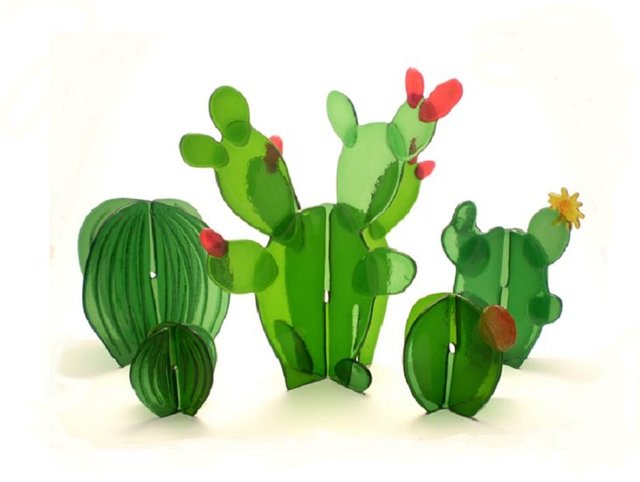 The Green Cactus is one of the first glass artworks I've made when I started my glass studio, and one of them is now presented in Eretz Israel Museum in Tel Aviv.

This piece was inspired by cardboard and paper works which have slots that allow the pieces to connect and disconnect without using any glue or other binding materials.

It's made out of glass sheets from a factory called "Spectrum". The glass sheets were cut using a glass diamond knife and a special glass ring saw, which enabled the creation of slots and complicated shapes.

The different parts of each cactus were fused together in the glass kiln, and which also made them smooth and gave them beautiful round edges.

What do you think about this piece? 😀
Cactus has never looked this cute, right? 🤣
---

By the way, this glass art piece is up FOR SALE the moment Eretz Israel Museum's exhibition will be over! 😀 If you are interested, express your interest by leaving a comment below! I'll be more than happy to answer questions or provide more details about this artwork. Don't worry - This work can be assembled and disassembled very easily, and can be shipped in a flat box all the way to you. Once again, for more details or to reserve "The Green Cactus", leave a comment below. Thank you very much!