Nov 29, 2019 2019's 365 days art challenge- Day 333
Hi Steemians! I've been doing my 2019's 365 days daily art challenge and so far today is already Day 333...I'm almost completing the full year! It's been a personal New Year resolution of mine to diligently create an art per day for 365 days this year. I'm so proud I'm just a little over a month away from completion!
Note: My personal 365 days challenge journey is NOT affiliated with any Kickstarter, Indiegogo, Patreon, or any funding project. This means I am not funded to make this happen; it's really me having my personal challenge, managing my own leadership and time management and organizational skills...also testing out my own patience, managing my many frustrating emotional days this year when I'm really busy or tired and didn't want to illustrate. I'm #drawing all these and not asking for money for the hours per night taken away...instead of going out with friends, watch movies, doing outdoor activities that I enjoy...I'm at home, or at a coffee shop, illustrating :)
I've chosen to start reflecting my own #journey, especially #today, because it's #BlackFriday and instead of heading out shopping I've decided to update many of my social media and to continue creating my artwork for today. Black Friday used to be one of my favorite days of the year! This is my dedication and commitment to this #daily #365days #art #challenge, staying at home still drawing, and posting on Steemit; I hope you all like my #artwork!
My 365 days art challenge is posted in my Official I M PAW: Kiki website: https://www.impaw.com/blog-1/
I am also committing myself to weekly Sunday website (Already completed Week 47 out of 52 weeks), also posted in my website: https://www.impaw.com/minimalism-comic/
Once again, similarly with my weekly Sunday #webcomic...I am not getting funds from Kickstarter, Indiegogo, Patreon or any of those sites...purely my own time and commitment, ON TOP of my 365 days daily art challenge!! Talk about going over the top with my New Year resolution :)
Please support me by commenting or liking my post! I'm wiping a tear of joy as I'm writing this because I really worked hard on it, and I'd have to say not many people will commit a year of 365 days art challenge for starters, and even less so (almost non-existent) with people who will commit to one that there's no monetary funding for any backup support for the many hours of commitment per day. I'm proud of where I'm at now (end of November 2019) and glimpsing bright light near the end of my silver lining....almost mastering my goal of last artwork on December 31! And of course my #birthday time! :D
I've decided to post this artwork as: If you're not going all the way; why go at all?
My heartfelt feeling, wiping another tear of joy, as I'm expressing my feelings on here!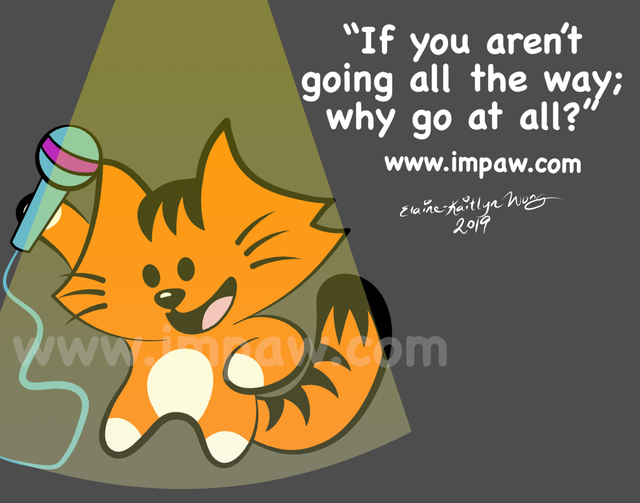 Kikimoji- Feelings Sticker pack: https://apps.apple.com/us/app/kikimoji/id1465790982
Website: https://impaw.com
Instagram: https://www.instagram.com/impaw_kiki/
Twitter: https://twitter.com/katmeisteradore
Facebook: https://www.facebook.com/katmeister.adores.16
Tumblr: https://www.tumblr.com/blog/impawfans