QUEEIRISA'S TOP 5 INKTOBER DRAWINGS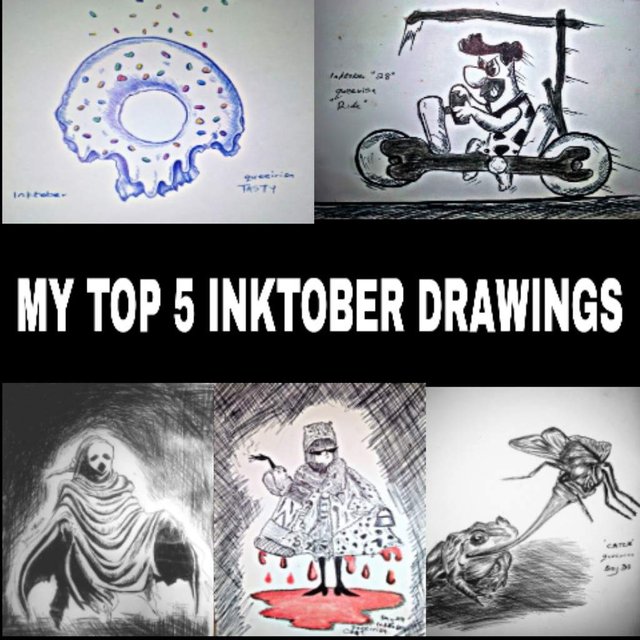 Hello guys!!!😘😘
Today I went through all the art works and drawings I did in October and was pretty amazed at how well I had improved in drawing with a pen and soft pastel. I decided to make a post on my best posts and share with you a few things you need to know about them.
GHOST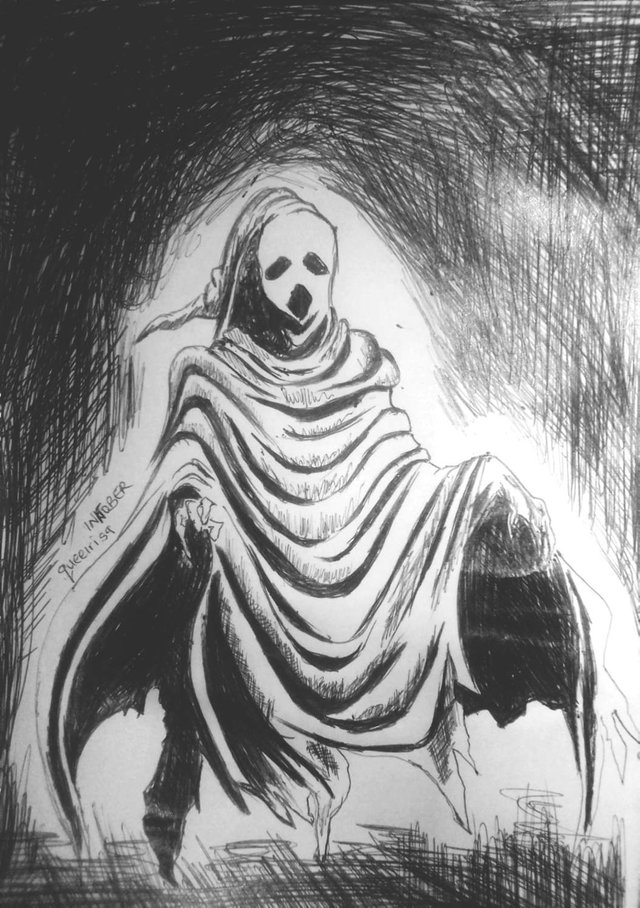 In folklore , a ghost is the soul or spirit of a dead person or animal that can appear to the living. So many traditional groups often thought and believed that ghosts were deceased people looking for vengeance or imprisoned on earth for bad things they did during their lifetime. A ghost is often regarded as an omen or portent of death so I had to make a drawing to portray that. This drawing was made using a black ball point pen to give a scary and terrific impression of a ghost and it got a good feedback from the steemit community.
TASTY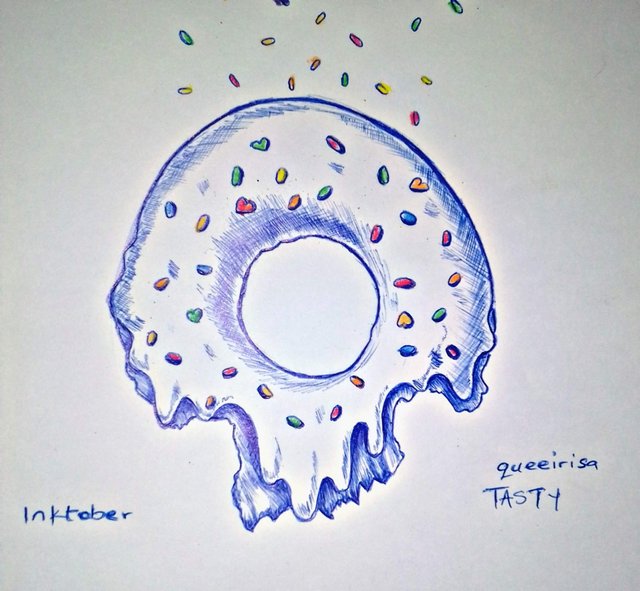 This drawing was one of my most beautiful sketch. It was a straight forward and colourful drawing of a doughnut dripping with cream and sprinkles, Hmmm...yum yum☺️🤗. I used a blue ball-point pen and a soft pastel for the drawing.
COAT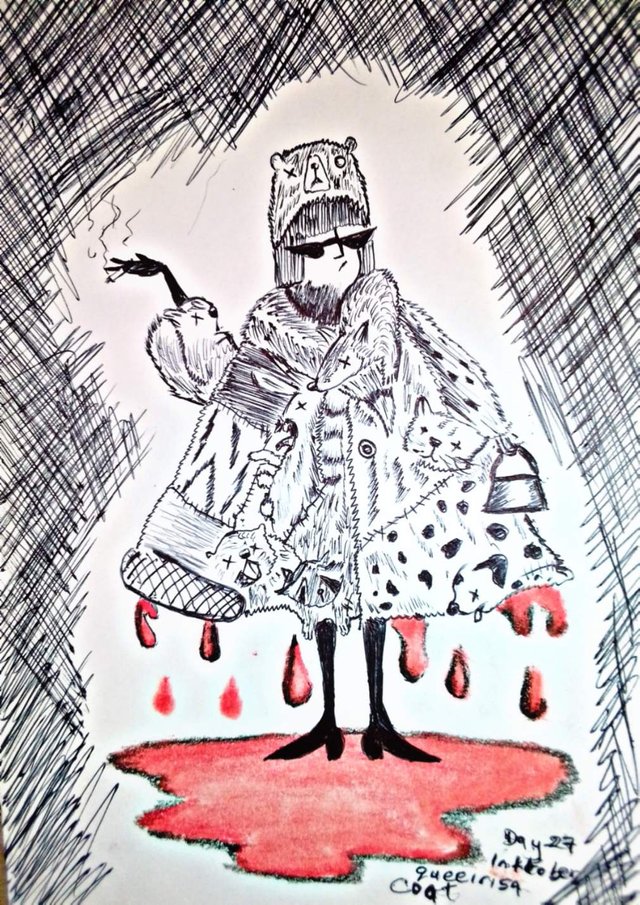 This was one of my most creative inktober drawing. The drawing depicts a lady wearing a furry coat which is actually made of the skin of some dead furry animals. A cat, dog, rabbit, raccoon, bear and squirrel can all be seen on the coat which is dripping of blood from these animals. To spice it up, I added shades and a cigarette to make her look like a villian.
CATCH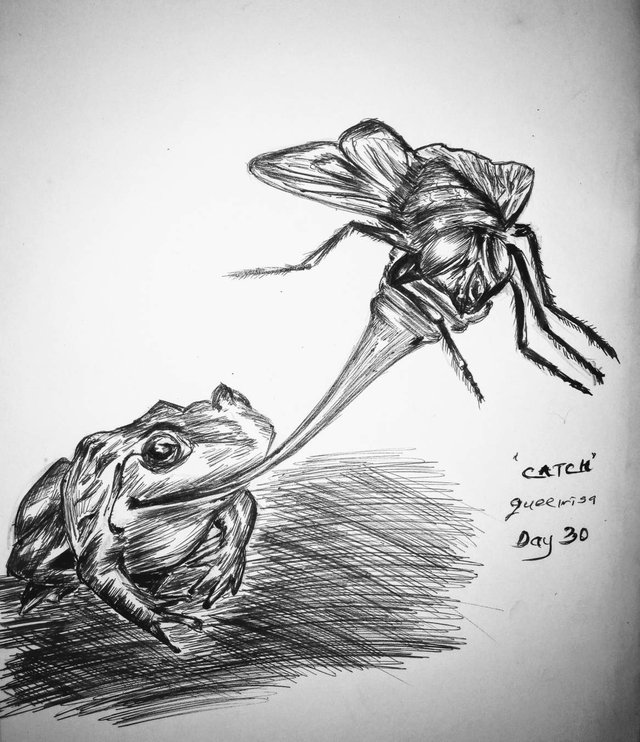 This drawing was one of my bad ass drawing with a pen. I really admire the strength in this drawing. The drawing depicts a toad catching a housefly with it's long, sticky strong tongue. This drawing took me about an hour to make which was my longest so far on a sketch. I'm glad it came out pretty good
RIDE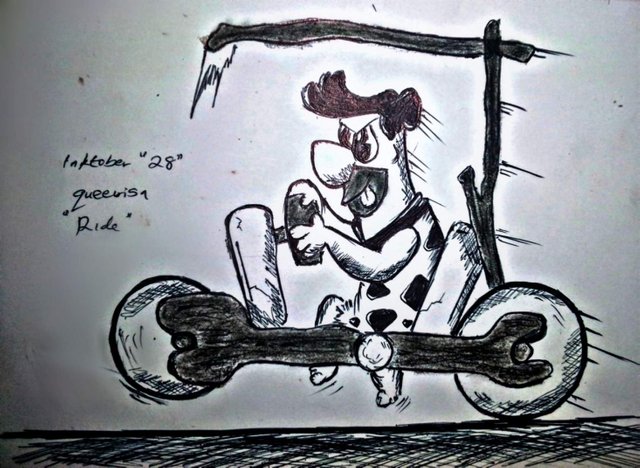 The last but not the least drawing is that of this popular funny character. The drawing depicts a funny way of riding a "sticks and stones" built car. I thought of making a catchy drawing here with my black ball point pen and I was impressed at the outcome. This drawing brings back alot of memories.
So guys, there they are!!!😃😃
I want to sincerely thank @ocd and @ocdb for their support to all steemit artists during the course of the Inktober challenge, for rewarding originality and for giving artists the opportunity to express themselves while exploring creativity through their art.
I also want to thank everyone who supported and showed love for my art in one way or the other, you guys are the best. Stay tuned for more art post and steem related post soon.
Comments and suggestions are highly welcomed friends🙂. I remain your art queen, Queeirisa. Ciao!!!😘😘
Posted using Partiko Android