"Morgenhimmel und Nachtgrund" - "Brillo del Alba y Fondo de Noche" - "Shining Dawn and Deep Inside the Night"
Dies ist ein Werk aus meinen ersten Jahren in Spanien. Im Grunde ist es ein Hinterglasbild, aber wie man sieht, kein normales ...
Wo es nach einem Rahmen aussieht, handelt es sich um Glas, das mit Blatt-Weißgold hinterlegt ist.
Die Malerei in den drei farbigen Scheiben ist mit etwas Bleistift und viel Acrylfarbe ausgeführt, zum Abtönen nutze ich gerne Aquarellfarben.
Die metallischen Stege, die teils die Fortsetzung gemalter Linien bilden, bestehen aus Zinn und dienen auch der mechanischen Verstärkung der Sturktur.
Der Titel des Bildes sagt meiner Meinung nach genug aus, um die Darstellung interpretieren zu können - ich habe hier keine tieferen Bedeutungen eingearbeitet. Meine Absicht war nur, Stimmungen zu vermitteln, angenehme Gefühle zu erzeugen, wie sie entstehen, wenn man einen strahlenden Morgen begrüßt oder die beruhigende Stille tiefer Nacht genießt.
Es sei noch angemerkt, daß die dunklen Flächen auf der unteren bemalten Scheibe nicht in Schwarz, sondern in sehr dunklem Blau ausgeführt sind. Auf dieser Scheibe müßte auch meine Signatur versteckt sein, was auf dem Foto leider nicht herauszufinden ist - ich mache manchmal solche Sachen ...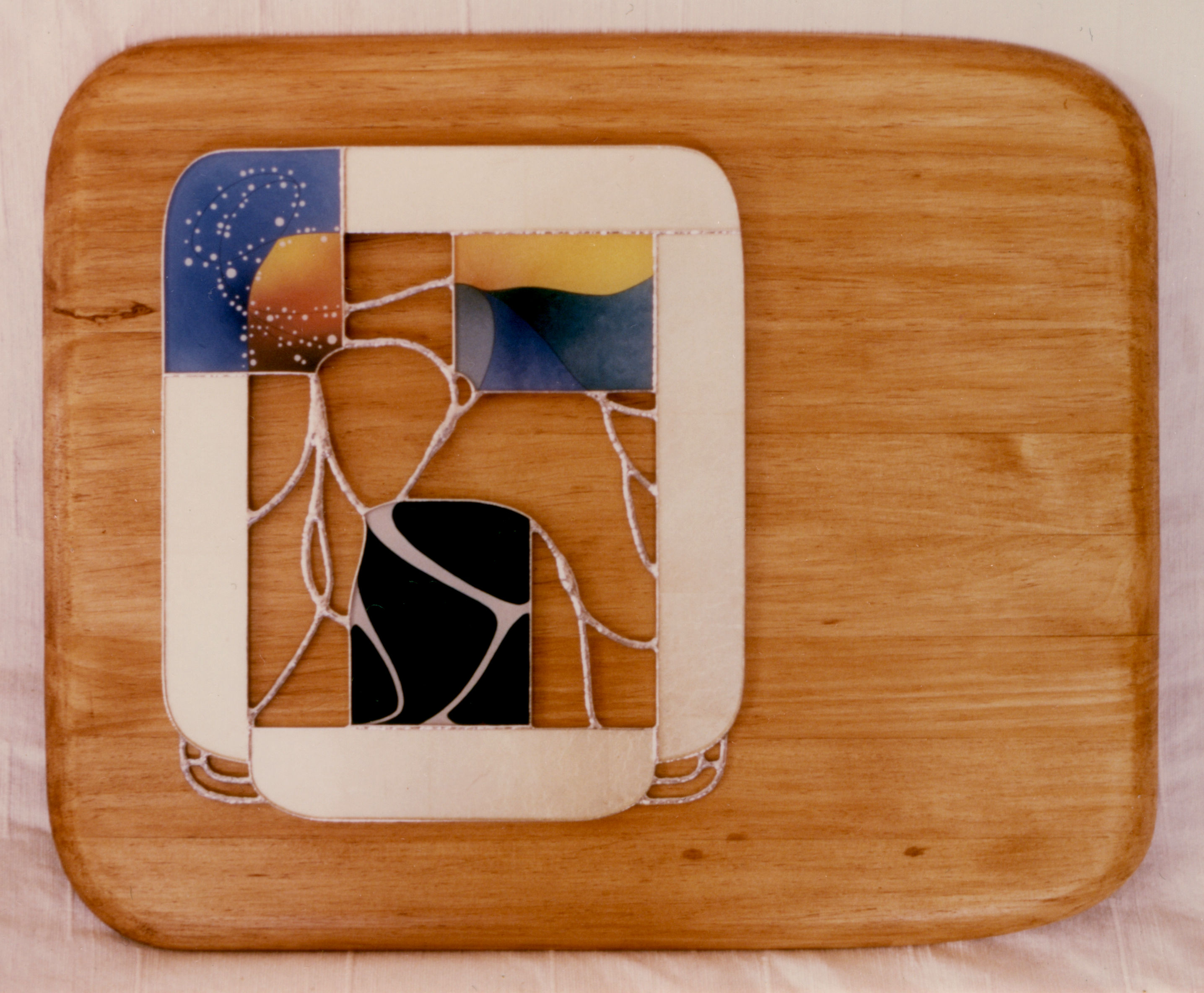 Brillo del Alba y Fondo de Noche
Este es un trabajo de mis primeros años en España. Básicamente es una pintura en el revés de un cristal, pero como se puede ver, no de las corrientes ...
Donde parece un marco, se trata de vidrio cubierto con pan de oro blanco.
La pintura en los tres cristales con color está hecha con un poco de lápiz y mucha pintura acrílica, suelo usar acuarelas para teñir las acrílicas.
Los cordones metálicos, que en parte forman la continuación de líneas pintadas, están hechos en estaño y sirven también para reforzar mecánicamente la estructura.
En mi opinión, el título del cuadro dice lo suficiente para poder interpretar la representación - no he incorporado aquí ningún significado más profundo. Mi intención era sólo transmitir emociones, crear sensaciones agradables, como las que surgen cuando uno saluda a una mañana radiante o disfruta del silencio calmante de la noche profunda.
Quisiera señalar que las zonas oscuras en el panel pintado inferior no están realizadas en negro, sino en azul muy oscuro. En este cristal también debe estar escondida mi firma, lo que desafortunadamente no se ve en la foto - a veces hago esas cosas....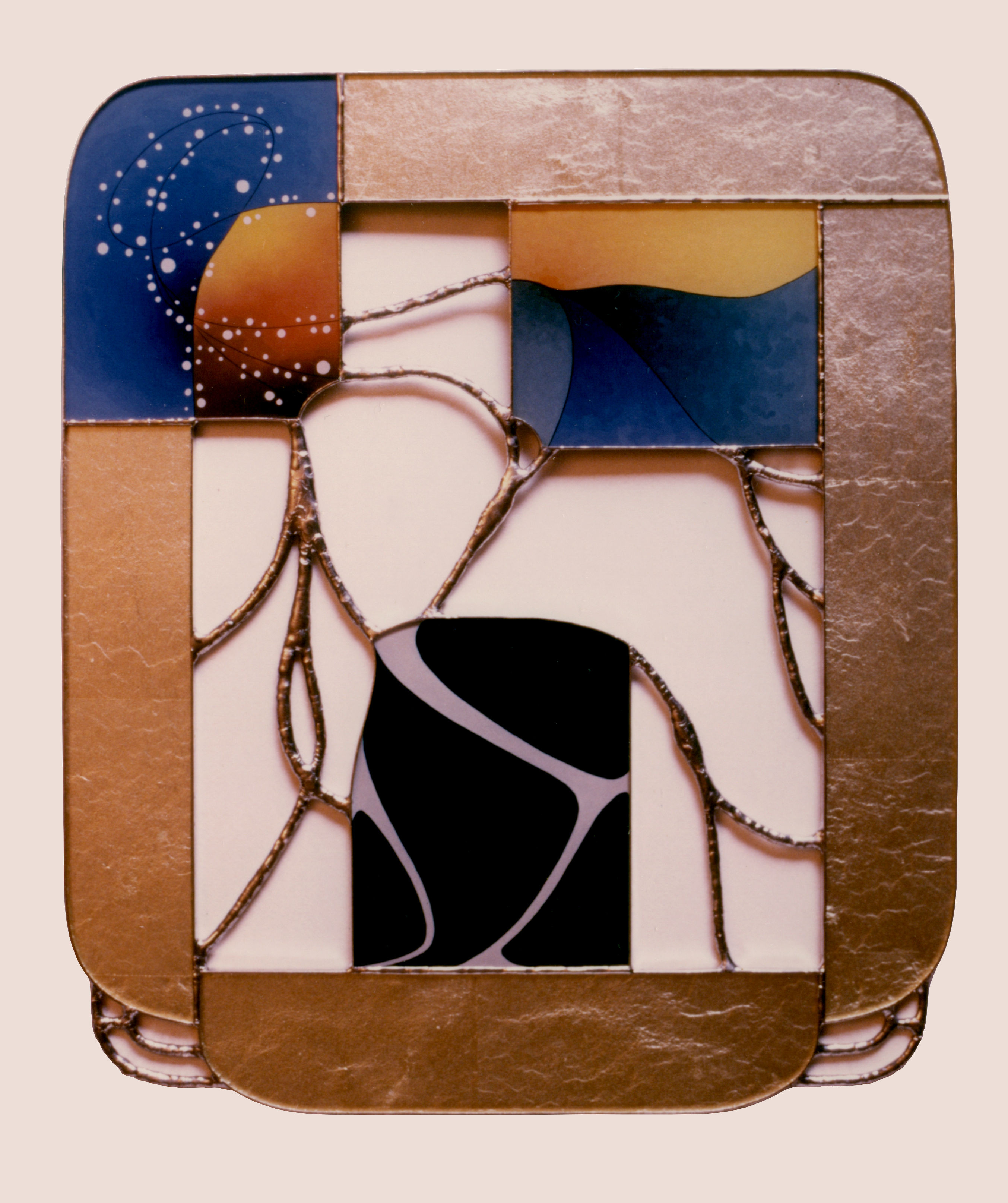 Shining Dawn and Deep Inside the Night
This is a work from my first years in Spain. Basically it's a painting behind the glass, but as you can see, not of the usual kind ...
Where it looks like a frame, it is glass that is backed with white gold leaf.
The painting in the three coloured panes is done with a little bit of pencil and a lot of acrylic paint, I like to use watercolours for tinting the acrylic.
The metal cords, which partly form the continuation of painted lines, are made of tin and also serve to mechanically reinforce the structure.
In my opinion, the title of the picture says enough to be able to interpret the representation - I have not incorporated any deeper meanings here. My intention was only to transmit moods, to evoke pleasant feelings, as they arise when one greets a radiant morning or enjoys the calming silence of the deep night.
It should be noted that the dark areas on the lower painted pane are not done in black, but in very dark blue. On this piece of glass my signature must also be hidden, unfortunately it cannot be discovered on the photograph - I sometimes do such things...