Shiny Forest Ghost Sticker Series - With a Tiny Bird
❤ ❤ ❤ Hello Dear Steemit Friends! ❤ ❤ ❤
Today I have for you a Shiny Forest ghost together with his little friend: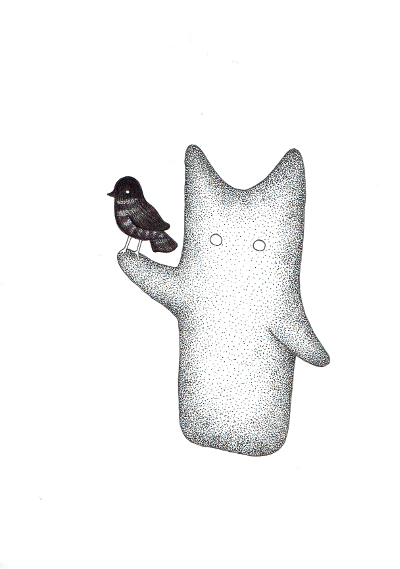 Pen and ink on paper, 29,7x21 cm
I enjoy imagining forest ghosts in their natural habitat, but so far I've portrayed them almost always half-hidden, still, wary and observing only. Now I've started drawing them in relaxed, playful poses. I'm calling that a progress (and also my subconscious is demanding more rest, I guess ;P)
THE INSPIRATION AND THE STORY BEHIND TODAY'S GHOST
Aren't they both adorable?
Oh how I would love to be able to have a bird on my shoulder like the forest ghost does in this drawing! I should consider working in a bird shelter, I guess :)
This particular drawing is a manifestation of my great wish to somehow change sparrows' dire situation for the better. From my earlier posts you might have found out that I became very passionate (and totally emotional haha :) ) about the sparrows in Warsaw city, and that I support several charity organizations here in Poland.
I have big plans, but I'm starting small, as I want to be realistic and truly effective. This isn't going to be some temporary craze of mine, I would like it to be a sustainable project. I have several ideas in mind and they're starting to gain more and more shape and sense. Please wish me (or rather, the sparrows!) luck!
Below you can see two nesting boxes I received from Psubraty Charity Organization to hang in the vicinity.
My skillful brother helped me fix their inlets with a holed block of wood, which made them much wider and enhanced. This is an important way of securing the inlet, as this way the nesting box will be harder to penetrate for various predators (woodpeckers, martens, magpies, squirrels, cats even) which could otherwise easily put their paw into the nesting box and pull out eggs, chicks or parent birds. And now, after the fixing, these two nesting boxes can be a safe hiding for birds, instead of a deadly trap.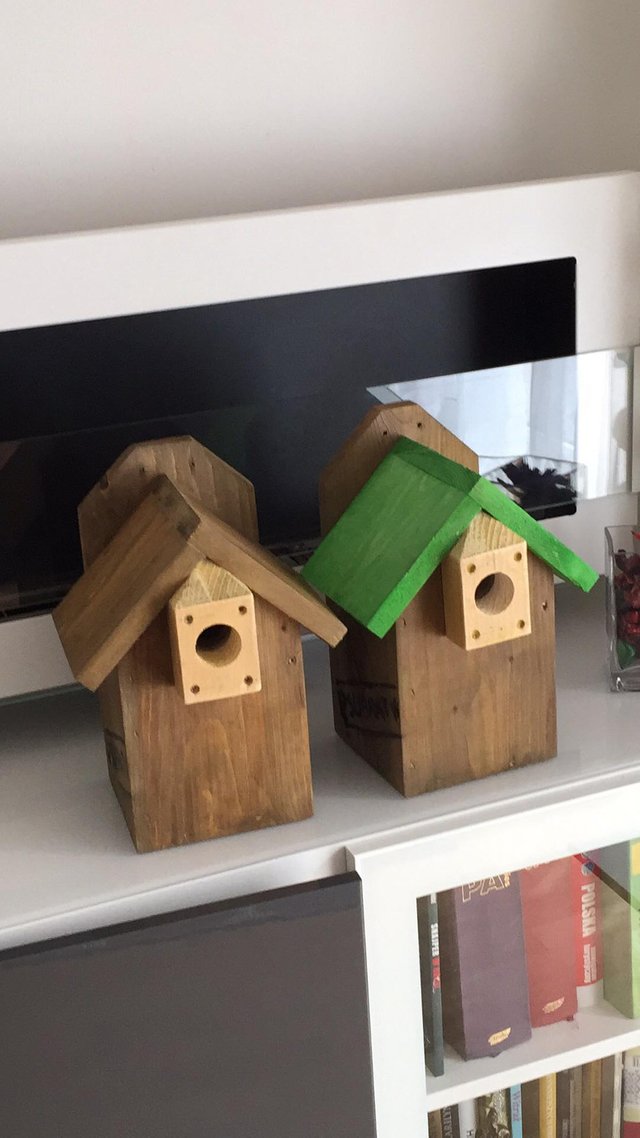 A photo of two fixed nesting boxes, made with my brother's Iphone hehe
As I'm writing this post for you, I can hear the joyous chirping of the sparrows that hide in a bush, in neighbour's garden opposite to my window. It's a sunny, cheerful day and this all gives me a big grin, but also reminds me of the need to help those poor fellows, and help them quick! ❤
What makes my heart grow is the fact that there are many generous, thoughtful and caring people who are already involved in helping the animals in need. A lot can be done in group.
If you're passionate about animal support too, you could also visit the blog of our dear fellow Steemian @shlomit, who is a big support for Animal Care Austria. Shlomit helps by volunteering, photographing their furry pupils, spreading good word about the Organization and donating her Steemit earnings to doggies (read more here: Happy #TongueOutTuesday from the Svilos dogs! | Animal Care Austria | My adventures as a volunteer photographer) :) Thank you @shlomit for being a huge inspiration to me!
And when it comes to the drawing itself, I present you:
THE STAGES OF ARTWORK
I started with a delicate pencil sketch! I wanted the bird to have a very cute shape.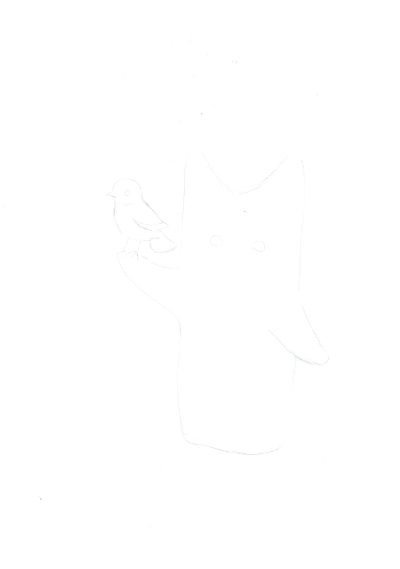 As always, I proceeded with a pen outline :)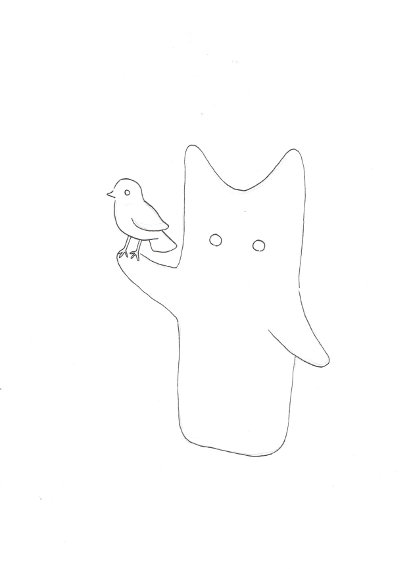 Then I started dotting and giving texture to the ghost and birdie.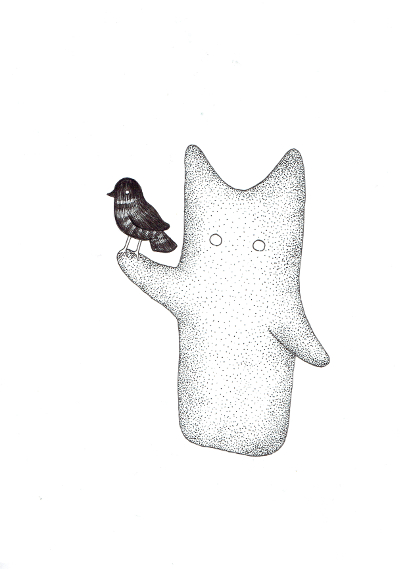 After some time I decided that both friends are finished. Do you like how they look?


At this point I would actually like to ask for youradvice. Do you know any tool in Photoshop (or preferably in GIMP or Affinity) or any setting in some tool that would allow me to create such stippling effect? It would be great to recreate digitally the textures of my original art :) Besides, I'm very curious what is your experience with digital art, how close to or how separate from are your digital creations to your traditional art?
STEP BY STEP GIF
Below you can see a gif animation showing the process behind the final result: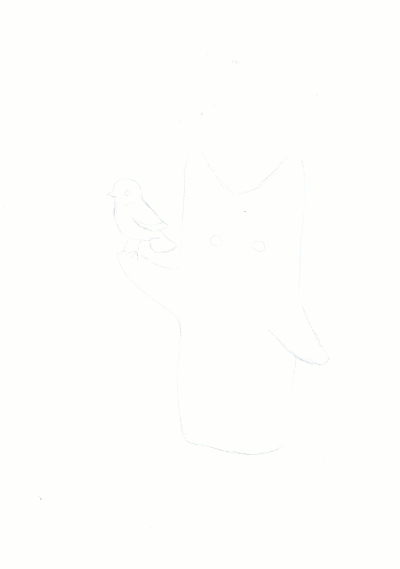 Here you can see all the previous Shiny Forest ghost Stickers:
I hope you've enjoyed my Shiny Forest ghost with his little feathered friend :)
Please keep your fingers crossed for our little friends, they love you and they wanna stay close to you in your city, town or garden ❤
I'm very grateful for all the kindness, support and inspiration I've received so far here on Steemit! I appreciate you a lot, guys, and as always...

Love,
Klaudia