Two Shiny Forest Ghosts from past epoch
❤ ❤ ❤ Hello Dear Steemit Friends! ❤ ❤ ❤
I'm coming back to you with some new watercolor forest ghost art: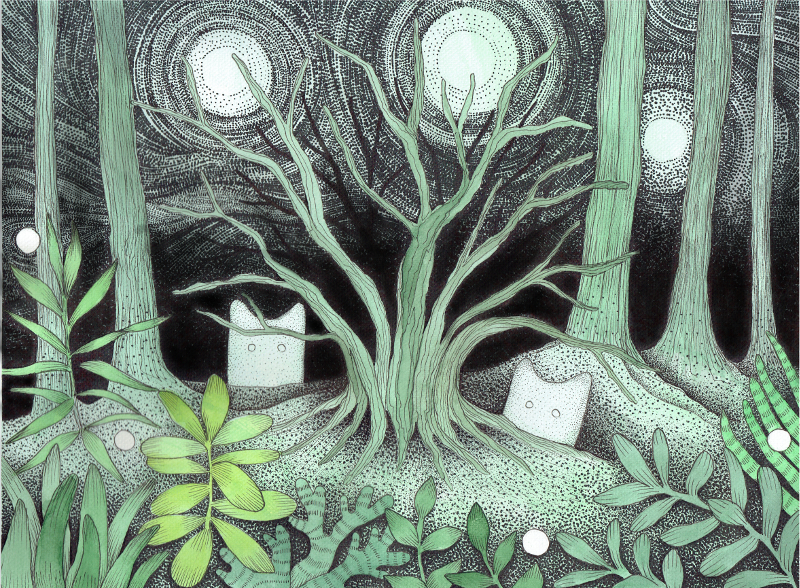 Watercolor, pencil, pen and ink on paper, digitally processed in GIMP, 30 x 40 cm
THE INSPIRATION AND STORY BEHIND TODAY'S GHOST
I enjoy imagining forest ghosts in their natural habitat, but so far I've portrayed them almost always half-hidden, still, wary and observing only. Now I've started drawing them in relaxed, playful poses. I'm calling that a progress (and also my subconscious is demanding more rest, I guess ;P)
But these two buddies are from the past epoch, I think - all scared, wary and hidden :) I've created this artwork quite some time ago, even before The Shiny Forest Ghost Sticker Series, and only recently I've decided to post it. Anyway, summer is the time of linocuts- I will be creating some new linos at the request of my customers. This makes me think of a very talented Polish artist foggyturtle whom I met at a Warsaw Fantasy Fair in March. His linocuts are seriously mind-blowing, they have many cool classical as well as pop culture references, lovely crude texture and in general are very intricate and beautifully balanced. I especially love his linocuts with medieval pokemon, the one you can see below with the golbat in the left bottom corner is my all time favourite!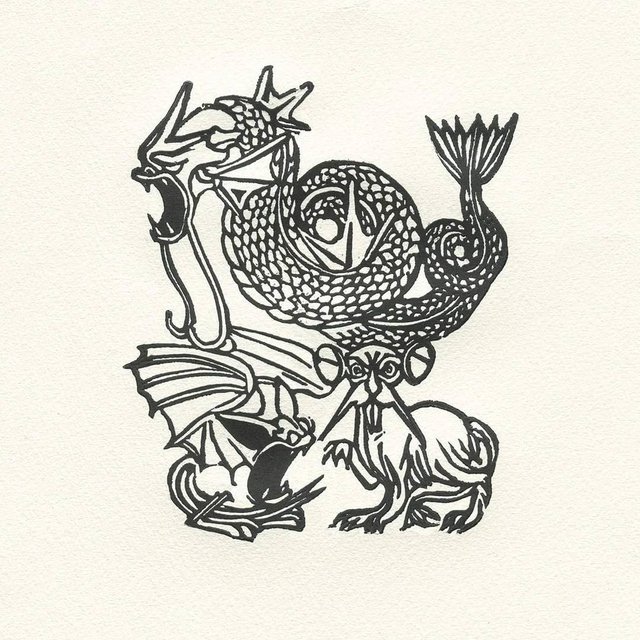 The source: foggyturtle's Instagram feed
Don't you think foggyturtle's work is terrific? I warmly invite you to follow him on Instagram if you love this kind of creative design :)
In other news, today I'm very happy because after some time I was finally able to hang two nesting boxes that I wrote you about in one of my previous posts. Below you can see how they look already up on the trees. They may need some time to get inhabited, as small birds tend to be very cautious when choosing a place to nest, but I'm optimistic :) The general rule is, the longer the nesting box hangs, the bigger the chance that it'll get inhabited. Let's keep our fingers crossed, there are many small birds in the vicinity and they could use some safe space :)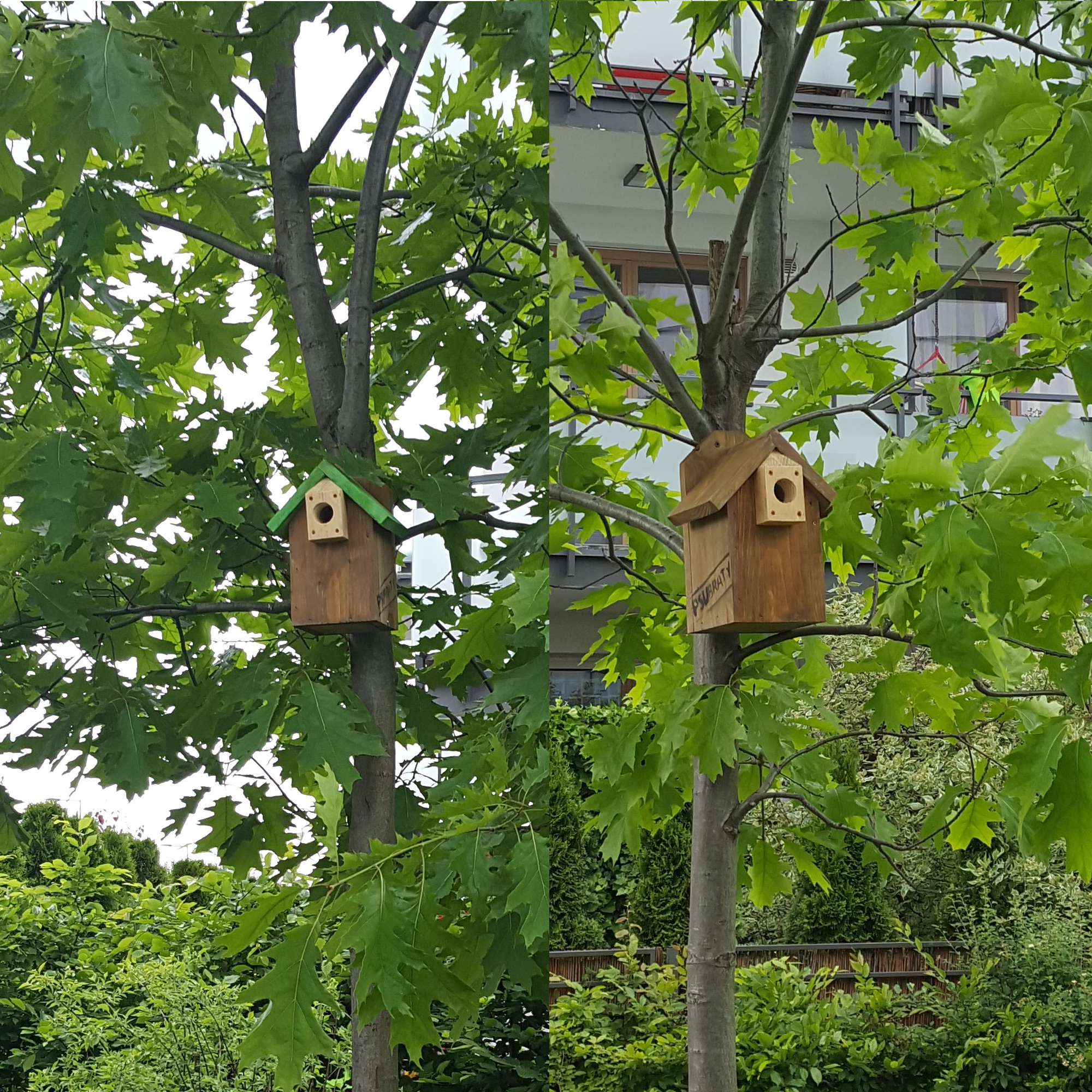 Two nesting boxes in my residential backyard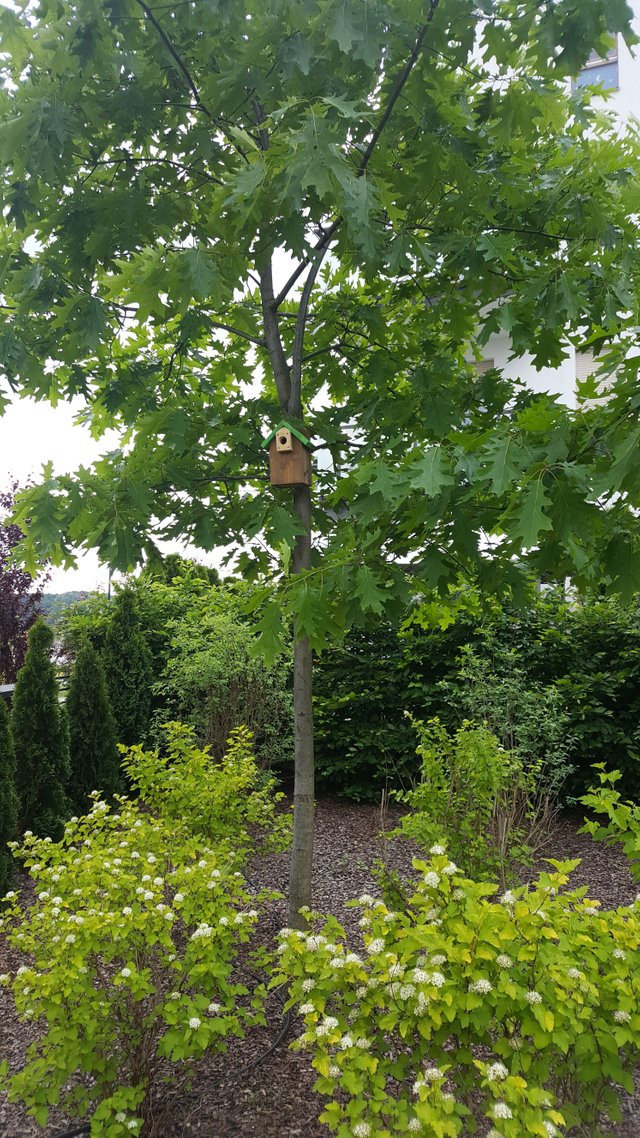 There are many bushes around, which will help fledgings (young birds) with growing safely up to the point when they will be able to fly
Do you have any nesting boxes at your place? Are there many small birds in your vicinity? I would love to know!
And now to tell something about the progress of the artwork!
STAGES OF ARTWORK
First, an accurate sketch with a pencil.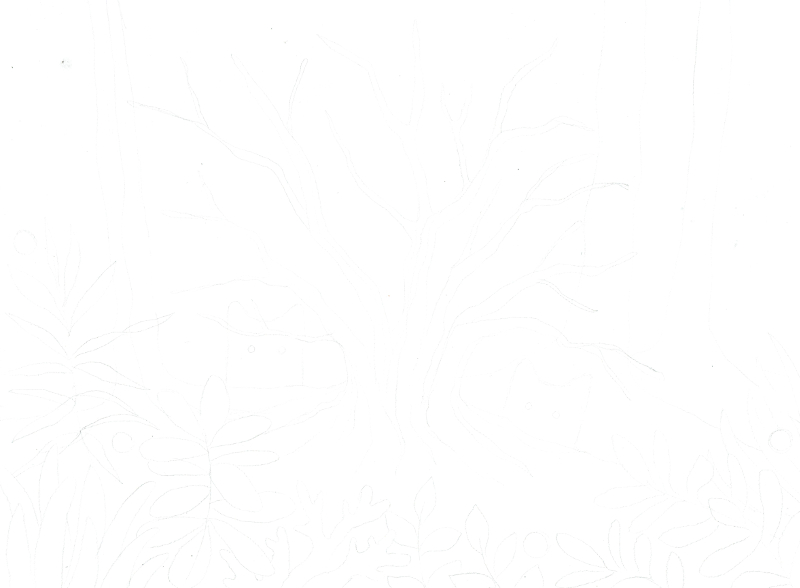 Then there was an initial layer of watercolor on wet paper :)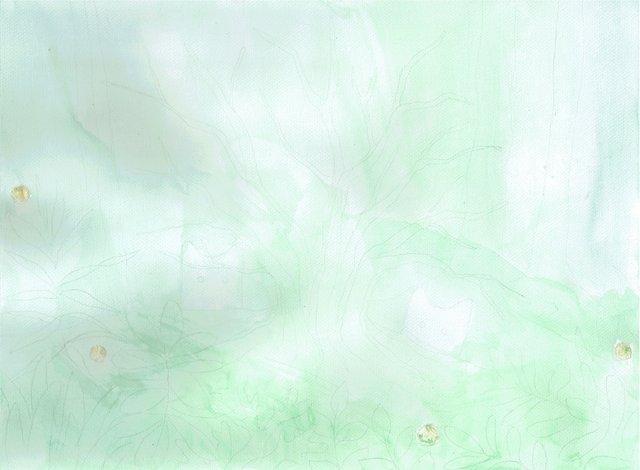 And another layer- plants and tree trunks. I got rid of the masking fluid after the watercolor dried.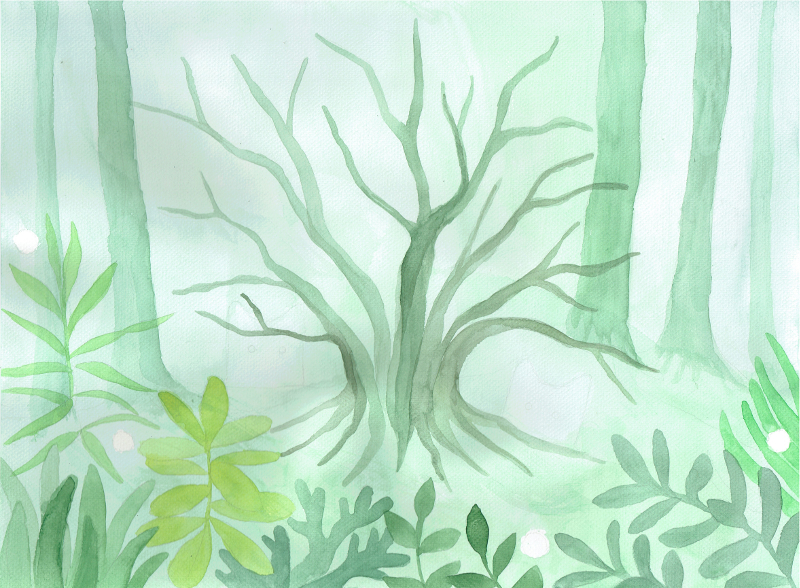 Next there I added outlines and started to fill the background with texture.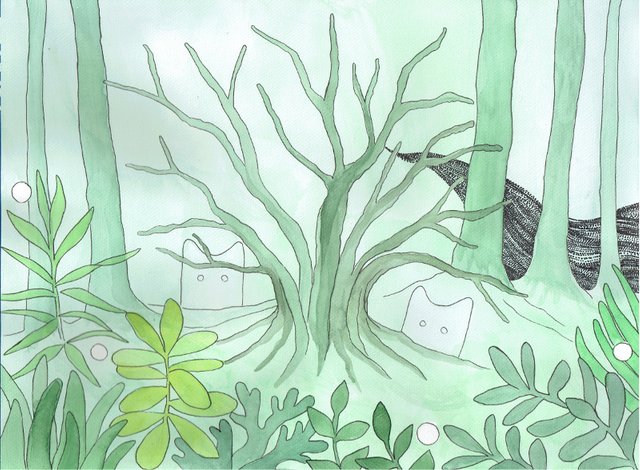 This was the stage when the background was more or less complete.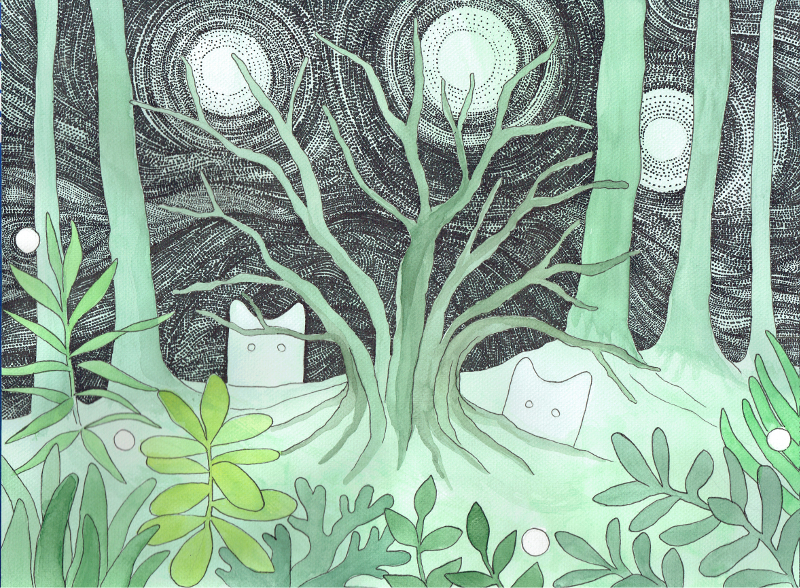 Looking back at it, I must say that this was some very troublesome piece. I had couple of ideas that I wasn't very satisfied with- namely the black outlines on the branches or dot/line texture on the ground.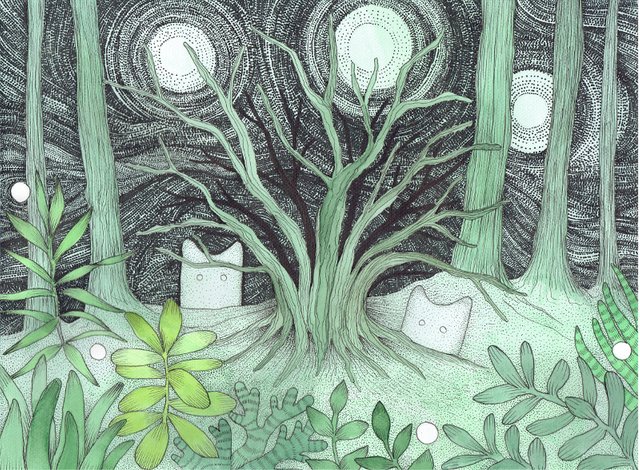 And then another little nightmare happened haha- the black 'grass' outlines. Well... at this point I thought that either I resort to GIMP or I will bury this piece deep down in some dark corner of both my memory and desk. When I'm mixing watercolor with pen and ink I tend to overdo the art, which results in a cacophony of effects, shapes, textures etc. Next time when I'll be creating art using this technique, I'll make sure to hold my horses and keep things steady and harmonious. Wish me luck ;) Do you happen to have similar issue with your art sometimes, guys?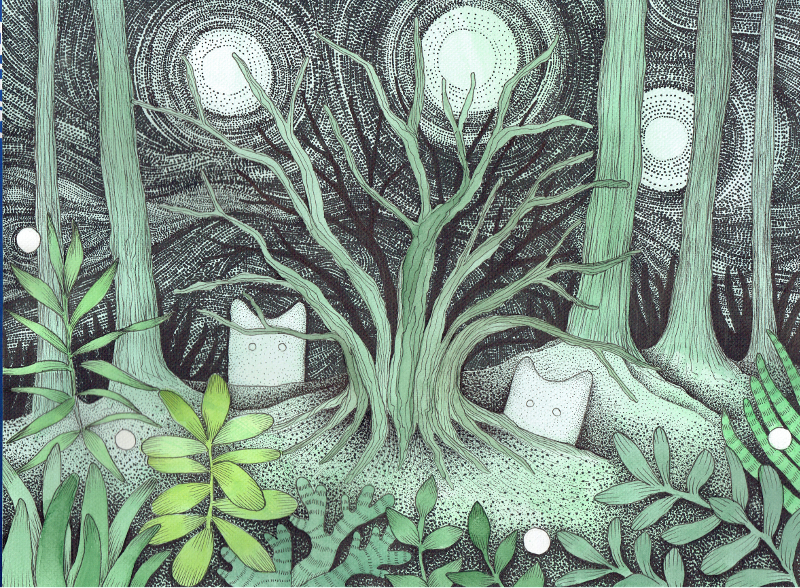 Here you can see the final piece, touched with black paint brush tool in GIMP. Much better than before :)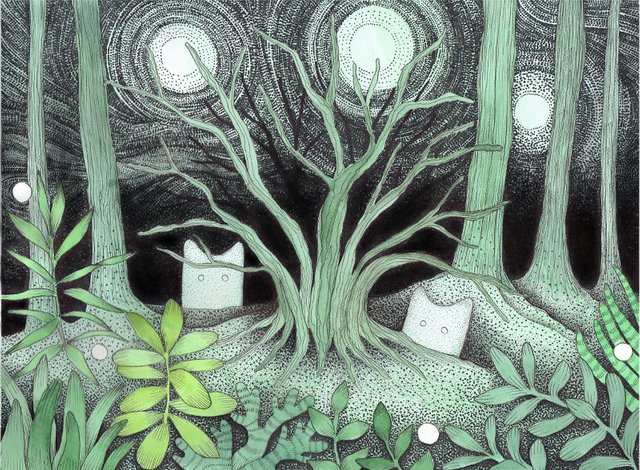 STEP BY STEP GIF
And here's a GIF animation showing the details of my troubled artwork :)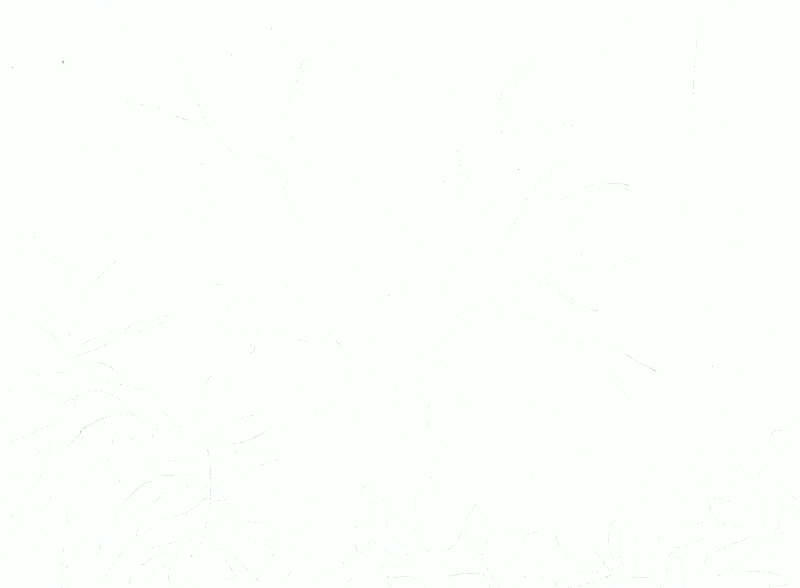 If you liked this post, perhaps you'd like to see my Shiny Forest Ghost Stickers:
I hope you've enjoyed this post, friends :) Thanks so much for staying with me to the end.
I'm very grateful for all the kindness, support and inspiration I've received so far here on Steemit! I appreciate that a lot, guys, and as always...



Love,
Klaudia